Billy Liar stylish pop art print.
Re-imagined midcentury-style poster of "Billy Liar"
A mid-century inspired poster design by Art & Hue, featuring Billy himself along with the three women in his life, Barbara, Liz & Rita, plus Mona Washbourne & Wilfred Pickles as Billy's parents Geoffrey & Alice Fisher.
Mona Washbourne
A mainstay of British film, just some of Mona's film credits include "THe Winslow Boy" with Basil Radford & Stanley Holloway; "The Huggets Abroad" with Jack Warner & Dinah Sheridan; "Doctor in the House" with Dirk Bogarde & Donald Houston; "John & Julie" with Moira Lister, Sid James, Peter Sellers, Molly Weir, Katie Johnson & Joseph Tomelty; "Yield to the Night" with Diana Dors, Yvonne Mitchell & Liam Redmond; "The Good Companions" with Hugh Griffith, Janette Scott, John Fraser, Joyce Grenfell & Carole Lesley; "A Cry from the Street" with Barbara Murray; "No Love for Johnnie" with Peter Finch, Mervyn Johns, Dennis Price, Fenella Fielding & Gladys Henson; "Night Must Fall" with Susan Hampshire; "My Fair Lady" with Audrey Hepburn & Gwendolyn Watts; "One Way Pendulum" with George Cole, Glyn Houston, Graham Crowden & Trevor Bannister; "The Collector" with Terence Stamp; "Two a Penny" with Cliff Richard, Dora Bryan & Earl Cameron; "If…." with Richard Warwick; "The Bed Sitting Room" with Frank Thornton & Harry Secombe; "Fragment of Fear" with David Hemmings, Yootha Joyce & Kenneth Cranham; "O Lucky Man!" with Rachel Roberts; "Identikit" with Elizabeth Taylor & Ian Bannen; and "Stevie" with Trevor Howard.
Wilfred Pickles
Wilfred Pickles OBE started in the variety tradition with performances in music halls such as Blackpool's Palace Theatre.
Snapped up by radio, the comedy show "Have a Go", co-presented with his wife Mabel, was hugely popular, with millions of listeners each week, and long-running, from 1946 & 1967.
Pickles went on to star with Irene Handl in the long-running sitcom "For the Love of Ada" which got the big-screen treatment in 1972. Pickles also appeared in the films "Serious Charge" with Cliff Richard & Wilfrid Brambell, and "The Family Way" with Hywel Bennett, Windsor Davies & Liz Fraser.
Television credits include "Public Eye" with Alfred Burke; "City 68" with Doris Hare; "A Man of Our Times" with George Cole; "Dixon of Dock Green" with Philip Madoc; "inheritance" with John Thaw; and "Yorky" with Margaret Lockwood, to name a few, as well as appearances as himself on many variety & entertainment shows including "The Golden Shot" with Bob Monkhouse, "The Good Old Days", and "Cilla" with The Shadows.

Billy Liar Pop Art
Art & Hue presents Billy Liar, stylish pop art inspired by the classic 1963 film of the British New Wave.
Step into the colourful world of "Billy Liar" with this new pop art collection by Art & Hue, inspired by the seminal 1963 film.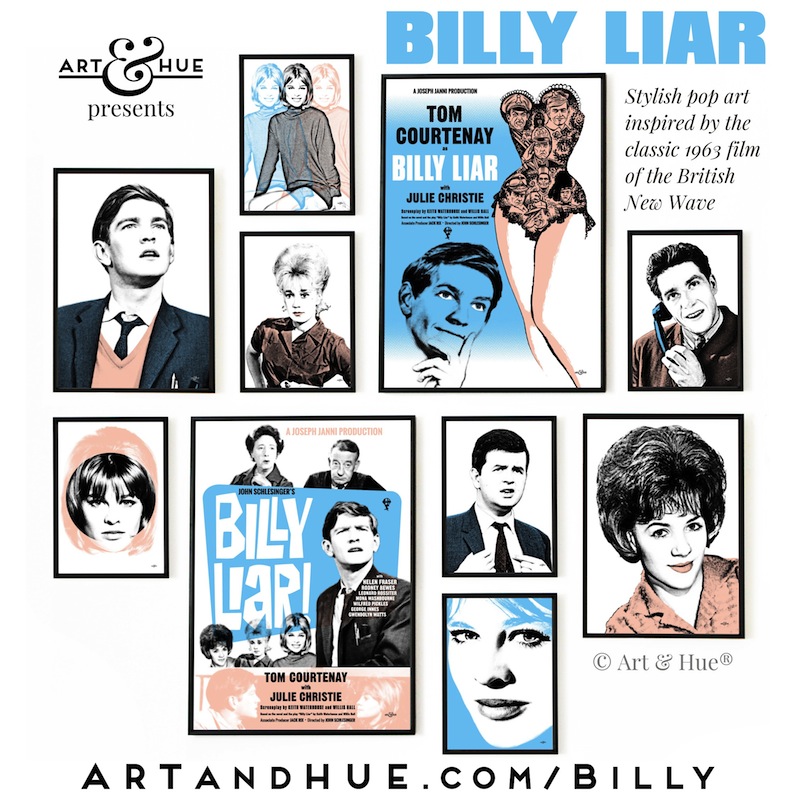 Considered one of the most significant and revolutionary films in British cinema, subverting the social realist and kitchen sink genres with its use of fantasy sequences and documentary-style location shooting, "Billy Liar" reflected the changing cultural and social landscape of Britain in the early 1960s and its influence can still be seen in contemporary cinema and television today.
An official collaboration with Studiocanal to mark 60 years of the film's innovative storytelling and groundbreaking portrayal of Northern working class characters in 1960s Britain, Art & Hue has delved into the archives to uncover images from the iconic film "Billy Liar" which have been transformed into stylish pop art prints, featuring Art & Hue's signature halftone style (halftone is an age-old technique that uses dots to make up the printed image, similar to newspapers or comic books).
Exclusively by Art & Hue, the "Billy Liar" collection is available in three sizes & many colours, printed on museum-quality archival card of 310gsm, made from 100% ethically-sourced cotton, with fine-art pigment inks for longevity.
Bring a touch of retro milk-bar chic to your home with these stylish and fun prints, perfect for any fan of pop culture or vintage cinema.
Available in A4, A3, and A2 sizes to fit standard-size picture frames. Please note that black frame is not included – for a guide on choosing a frame size take a look here.
"Billy Liar" Copyright © STUDIOCANAL Films Ltd, (1963). All rights reserved.
Copyright © Art & Hue® 2017-2023. All rights reserved.