Moira Lister Pop Art
Stylish pop art print of Moira Lister.
Born in South Africa, Moira Lister became a regular leading lady in British film, especially in productions by Ealing Studios, from Ealing comedy "A Run for Your Money" (with Donald Houston, Meredith Edwards, Alec Guinness, Hugh Griffith, & Joyce Grenfell) to dramas such as the Brit noir "Pool of London" with Earl Cameron, and "The Cruel Sea" with Stanley Baker & Virginia McKenna.
One of Moira's earliest films for Ealing was the comedy film "Another Shore" (with Stanley Holloway & Wilfrid Brambell) which premiered at the Leicester Square Theatre in London on the 25th of November 1948.
Other film credits include "The Agitator" with WIlliam Hartnell & John Laurie; "Wanted for Murder" with Dulcie Gray; "So Evil My Love" with Zena Marshall; "Once a Jolly Swagman" with Dirk Bogarde; "Love Story" with Margaret Lockwood & Patricia Roc; "White Corridors" with Googie Withers & Basil Radford; "Something Money Can't Buy" with Anthony Steel; "Grand National Night" with Noel Purcell; "The Limping Man" with Rachel Roberts & Jean Marsh; "Trouble in Store" with Norman Wisdom, Margaret Rutherford, & Joan Sims; "John & Julie" with Sid James, Peter Sellers, Katie Johnson, & Molly Weir featuring footage from the day of The Queen's coronation; "Seven Waves Away" with Stephen Boyd, Gordon Jackson, & Eddie Byrne; "The Yellow Rolls Royce"; "Joey Boy" with Harry H. Corbett & Stanley Baxter; "The Double Man" with Britt Ekland; "Not Now, Darling" with Julie Ege & Barbara Windsor; and "Ten Little Indians" with Herbert Lom.
TV credits include "Stage by Stage" with Kenneth Connor; "Sunday Night Theatre" with Jack Hawkins; "Danger Man" with Patrick McGoohan & Frank Thornton; "Somerset Maugham Hour" with Ric Young; "Theatre Night" with Ian Carmichael; "The Avengers" episode "The See-Through Man" with Diana Rigg & Patrick Macnee; "A Touch of Venus" with Rachel Roberts & Fenella Fielding; "The Very Merry Widow" with Sally Thomsett & Beryl Reid; and "Only When I Laugh" with James Bolam.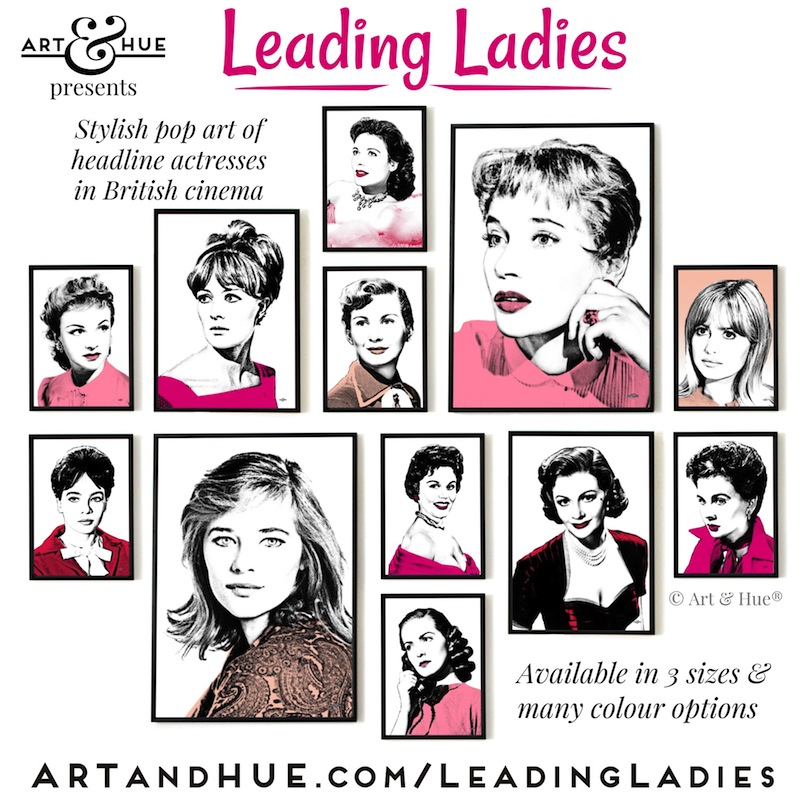 An official collaboration with Studiocanal, this print is part of the
Leading Ladies
pop art collection, featuring Art & Hue's signature halftone style (halftone is an age-old technique that uses dots to make up the printed image, similar to newspapers or comic books).
Exclusively by Art & Hue, the Leading Ladies pop art collection is available in three sizes and many colours, all printed on museum-quality archival matte card of 310gsm, made from 100% cotton, with fine-art pigment inks for longevity.
Available in A4, A3, and A2 sizes to fit standard-size picture frames. Please note that black frame is not included – for a guide on choosing a frame size take a look here.
Rewatch, or discover anew, the film on DVD from Amazon.
"Another Shore" Copyright © STUDIOCANAL Films Ltd, (1948). All rights reserved.
Copyright © Art & Hue® 2022. All rights reserved.