Steptoe & Son poster pop art print
Stylish pop art print which reimagines the film poster of "Steptoe & Son" starring Harry H. Corbett & Wilfrid Brambell as Harold & Albert.
Opening at London's ABC cinemas on Edgware Road & Fulham Road on the 23rd of March 1972, the film version of the television sitcom also starred Patrick Fyffe, and was produced by Aida Young, also the producer of "The Likely Lads" and "What a Crazy World", and written by the legendary screenwriting duo Ray Galton & Alan Simposon.
As well as the long-running TV sitcom "Steptoe & Son", Galton & Simpson wrote "The Bargee" with Harry H. Corbett & Ronnie Barker, "Hancock's Half Hour", "Hancock", "Citizen James" with Sid James, the 1964 show "Frankie Howerd", and the screenplay for the film adaptation of Joe Orton's "Loot".
This first film outing for Steptoe & Son was directed by Cliff Owen who also had directing duties on "The Wrong Arm of the Law" with Peter Sellers & Bernard Cribbins, "No Sex Please, We're British" with Ronnie Corbett, Beryl Reid, Frank Thornton, Michael Robbins, & Valerie Leon, an episode of "The Avengers", and "Ooh… You are Awful" with Dick Emery. Owen was also assistant director on the classic British film noir "Brighton Rock" and "Young Wives' Tale" with Audrey Hepburn.
Available in A4, A3, and A2 sizes to fit standard-size picture frames. Please note that black frame is not included – for a guide on choosing a frame size take a look here.
Also available as part of a
group of 6
prints, and a
pair
.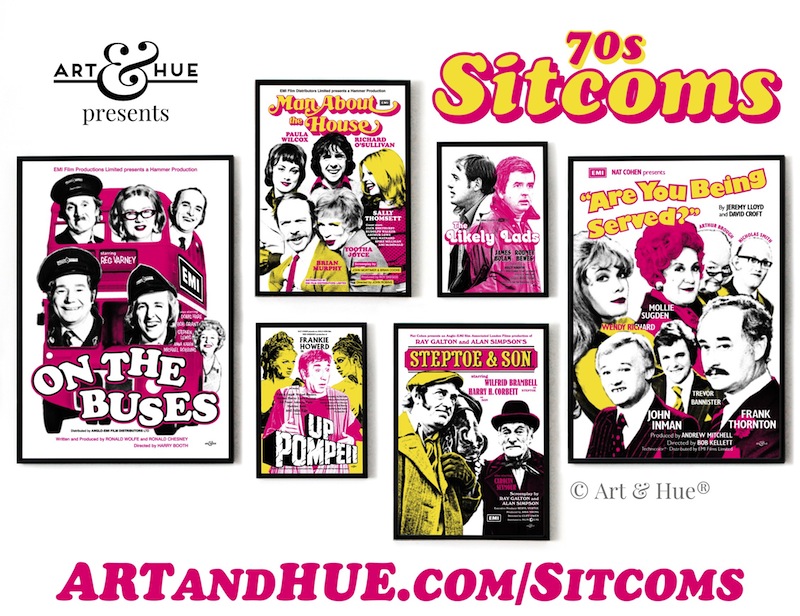 Exclusively by Art & Hue, the 70s Sitcoms pop art collection is available in three sizes and 29 colour options, all printed on museum-quality archival card of 310gsm, made from 100% cotton, with fine-art pigment inks for longevity.
An official collaboration with Studiocanal, this print is part of the 70s Sitcoms collection of stylish pop art prints inspired by film versions of 70s TV comedies, featuring Art & Hue's signature halftone style (halftone is an age-old technique that uses dots to make up the printed image, similar to newspapers or comic books).
"Steptoe & Son" Copyright © STUDIOCANAL Films Ltd. (1971). All rights reserved.
Copyright © Art & Hue® 2020. All rights reserved.