Art & Hue presents The Wicker Man
An official collaboration with Studiocanal, "The Wicker Man" collection of stylish pop art is available in three sizes and 21 colour options, including a new orange blend which references the fire & sunset, exclusively by Art & Hue.
Set on the isolated island of Summerisle, the film initially seems to be a police investigation led by Sergeant Howie, but his bewildering and frustrating encounters with the inhabitants about pagan rituals, customs, & initiations, ultimately lead to a gruesome end.
Part-horror, part-thriller, "The Wicker Man" stars Edward Woodward as Sergeant Howie, Christopher Lee as Lord Summerisle, and Britt Ekland as Willow. The film also features Diane Cilento, Sean Connery's wife at the time, who claimed to be a white witch during filming.
Despite the studio's reluctance to fully support the film at the time of release, cutting the running time and demoting it to supporting-picture status, the recognition of "The Wicker Man" has grown over the years to become a much-admired cult classic of British cinema.
Christopher Lee considered it to be his best work and the film's longevity is testament to Anthony Shaffer's great screenplay & Robin Hardy's direction – the final shot alone is cinematic perfection.
Take an artistic trip to Summerisle to keep your appointment with Art & Hue's pop art prints inspired by "The Wicker Man" below.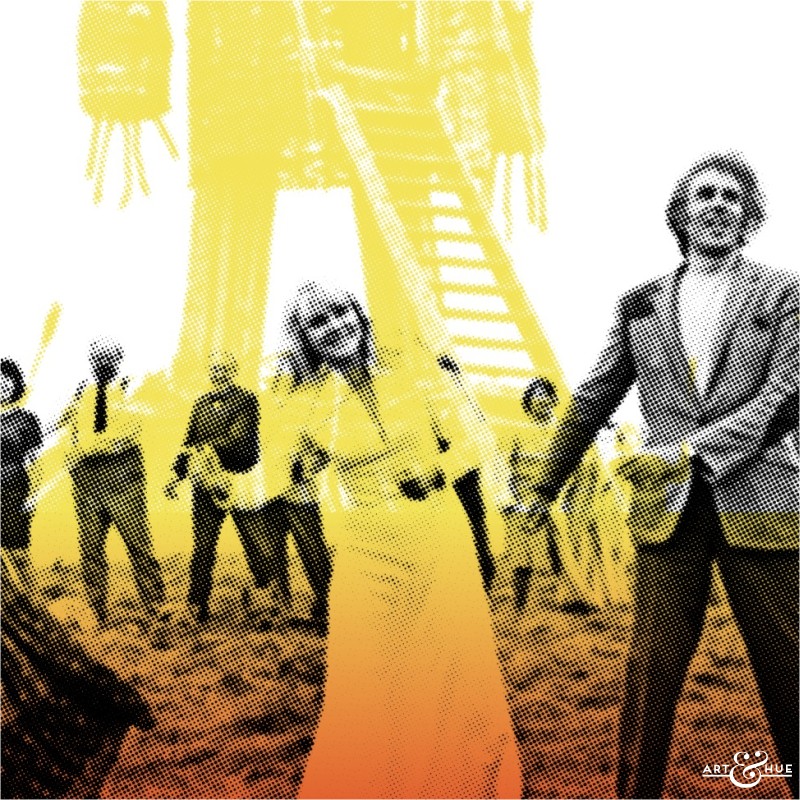 2023 marks 50 years of The Wicker Man! Opened to the public on the 6th of December 1973
"The Wicker Man" was first screened to the trade & cinema distributors on the 3rd of December 1973. Following test screenings starting on the 6th of December 1973, the first "official" public screenings were the Scottish "premieres" on the 13th of January 1974 ahead of the nationwide rollout starting in Birmingham on the 19th before the London Odeon opening in February 1974.
Rewatch, or discover anew, the classic film on DVD & Blu-ray from Amazon: "The Wicker Man" (1973) Copyright © STUDIOCANAL Films Ltd. All rights reserved. | Copyright © Art & Hue ® 2017-2023. All rights reserved.