Copyright © Art & Hue ® 2020. All rights reserved.
Lights, cameras, pop art! Studios can be special places, where all the elements combine to create memorable productions and cultural moments that connect with viewers and cinemagoers.
To celebrate the birthplaces of classic films & television shows, Art & Hue presents Studios, a new collection of stylish pop art prints featuring the iconic architecture of British filming facilities.
With many of the studios celebrating milestones this year, Pinewood, Television Centre, Ealing, Elstree, Granada, the South Bank London Tower, and Pebble Mill have been given the pop art treatment to create stylish prints, all available in a choice of three sizes & 18 colours.
Presented in the RGB colours of Red, Emerald Green, and Cyan Blue, (the three colours of the vintage TV screen spectrum), the studios are joined by a trio of cameramen on the studio floor, a triptych of prints which display well together as the lighting grid flows across all three.
Exclusively by Art & Hue, the Studios collection is printed on museum-quality archival card of 310gsm, made from 100% cotton, with fine-art pigment inks for longevity.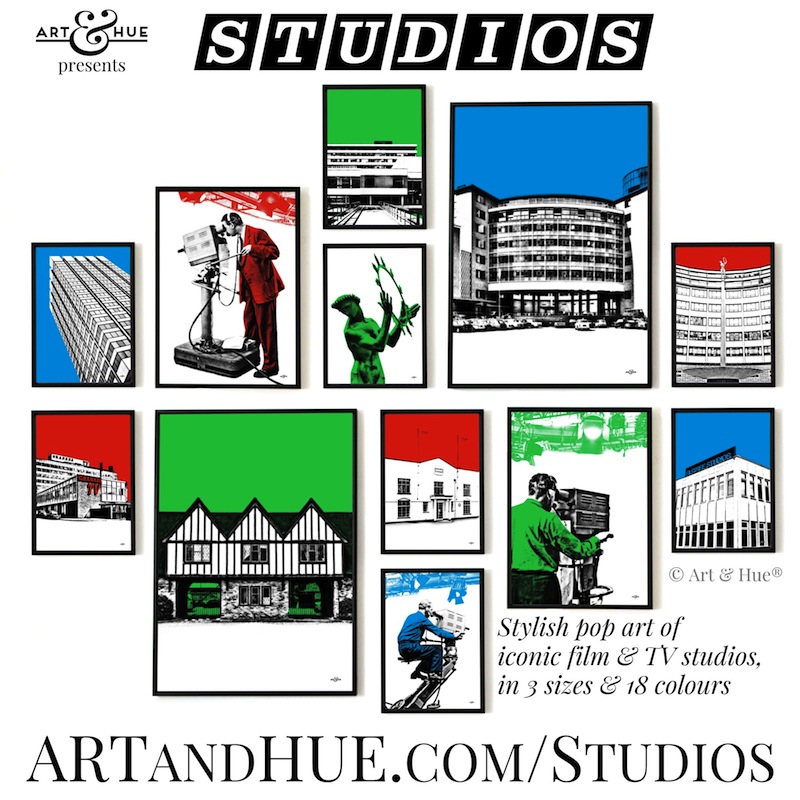 2020 marks 60 years since the official opening of Television Centre, 85 years since construction began on Pinewood, 90 years since the first Ealing film, 65 years since the Granada building was approved, 20 years since the announcement to close Pebble Mill, 50 years since construction took place on the South Bank London Tower, and 95 years since Elstree announced the building of eight studios in Borehamwood.
Copyright © Art & Hue ® 2020. All rights reserved.