Cricket
Art & Hue presents a new group of stylish cricket-themed prints, featuring players from the golden age of cricket.
With W.G. Grace, Baron Learie Constantine, J.T. Hearne, Prince Ranji, George Headley, and Richard Pilling, the collection also features cricket bats & balls, and a team photo of The 1898 Gentlemen's Team in front of a cricket pavilion.
All cricket prints are available in three sizes & 21 colour options, including a combination of sun-drenched tones of leaf green, coral, and yellow ("Multi" option).
2022 marks 295 years since the first written rules of cricket; 250 years of first class cricket; 235 years since the MCC was founded & the first match at Thomas Lord's Cricket Ground; 145 years since the first ever test match; & 140 years since the first test to reclaim the ashes.
Exclusively by Art & Hue, all pop art is printed on museum-quality archival card of 310gsm, made from 100% cotton, with fine-art pigment inks for longevity.
Featuring Art & Hue's signature halftone style (halftone is an age-old technique that uses dots to make up the printed image, similar to newspapers or comic books) along with graphic blocks of colour.
Copyright © Art & Hue® 2022. All rights reserved.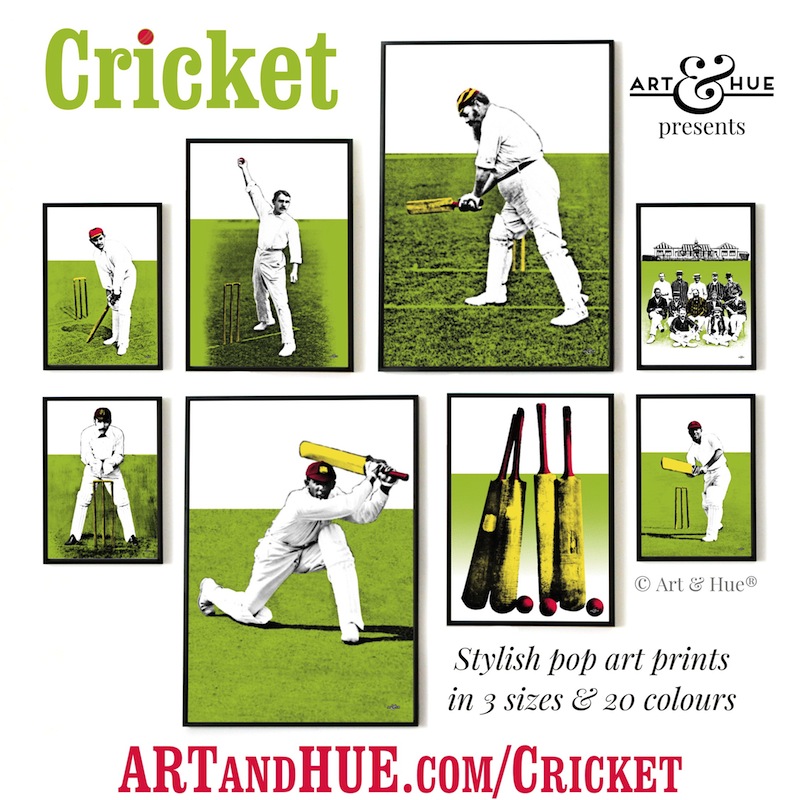 Whilst we're on the subject of cricket, British film's biggest cricket fans have to be Charters & Caldicott, portrayed by Basil Radford & Naunton Wayne.
Discover pop art of the cricket-loving pair here.