Art & Hue presents Carry On
Art & Hue is pleased to present Carry On Pop Art, inspired by the Anglo Amalgamated-era of the classic British comedy film series.
2023 marks 65 years of Carry On Films!
British film company Anglo Amalgamated distributed the first 12 Carry On films starting with Carry On Sergeant in 1958 and ending with Carry On Screaming in 1966.
Delving into Studiocanal's archives at Pinewood Studios, where the Carry On series was filmed, Art & Hue has created six pop art portraits of the much-loved stars as well as reworked the classic posters of the first 12 films into stylish fine art prints.
Unlike traditional movie posters which are printed on thin paper with inks which fade, Art & Hue has created giclée print versions of the posters printed on museum-quality archival matte card of 310gsm, made from 100% cotton, using fine-art pigment inks for longevity. Based on the first 12 Carry On films, all of the prints come in three sizes and 16 colour options, are available with or without cast billing, with most using (or remixing) the original poster imagery, and some re-imagined.
Sid James, Kenneth Williams, Hattie Jacques, Charles Hawtrey, Joan Sims, and Barbara Windsor (Dame Babs) have been given the Art & Hue treatment to create a collection of pop art portraits, also available in three sizes & 20 colours for you to choose from to fit into the design scheme of your home.
Filmed over eight years at Pinewood Studios, Anglo Amalgamated distributed these classic comedies which made household names of the cast and created enduring films that are distinctly British. There's nothing better than discovering a Carry on film on a wet Saturday afternoon and appreciating the saucy yet, by today's standards, innocent and charming humour.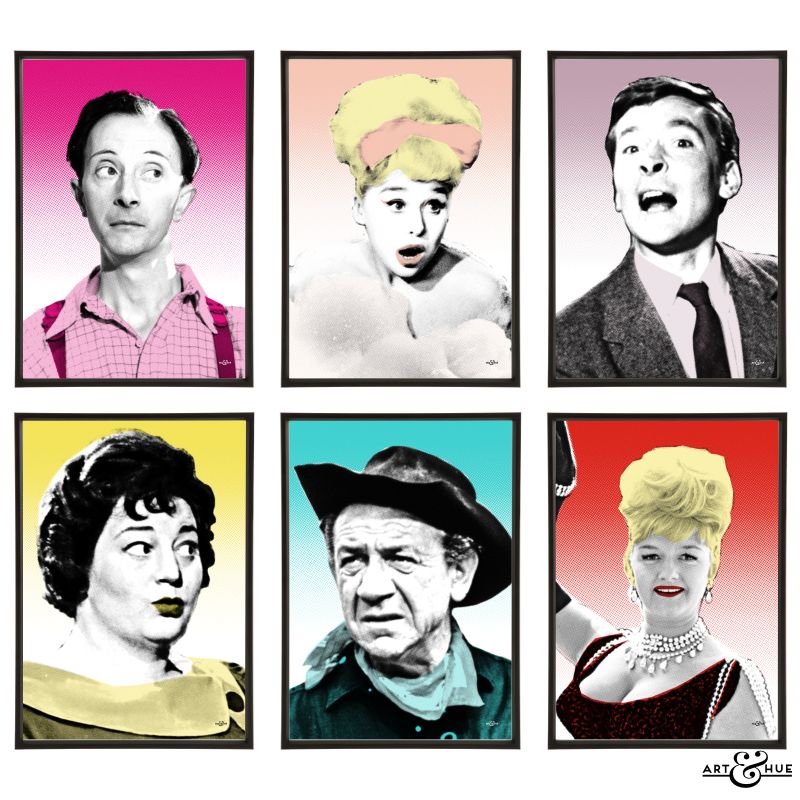 The films have maintained their cultural prominence thanks to regular airings on TV, providing a rite of passage for British children discovering the films for the first time. Carry On films are a comedic education that all of us go through, learning to laugh at the slapstick as children, and appreciate the cheeky innuendo when we get older. Repeated viewings at various stages of our lives reveal more humour we may have missed when watching the films originally.
Carry On Sergeant laid the groundwork for the most prolific British film series (yes, longer than super-spy James Bond who will need another five films to catch up). This successful first film was screened to the trade and cinema-bookers on the 1st of August 1958 after which some regional screenings were held from the 31st of August including Aberdeen & Birmingham.
It wasn't until the 19th of September 1958 that it received its London cinema release at the Plaza, and then the film rolled out nationwide on general release from the 20th of September onwards. Without the success of the first Carry On, there simply wouldn't have been all the films that followed in its path.
Carry On Screaming was the last Anglo Amalgamated film before the Rank Organisation made the deal in 1966 to distribute future productions by the franchise. As times changed, so did the Rank releases, getting racier and ruder until the original run stumbled and ended with Carry On Emmanuelle in 1978 (it would be another 14 years before the next and, to date, final release).
The Anglo Amalgamated era represents a gentler innocence, and a burgeoning confidence reflective of the cultural strides Britain was making during the Swinging 60s.
Focusing on relatable occupations for the first few films (Carry On
Sergeant
,
Nurse
,
Teacher
,
Constable
, and
Cabby
), the film themes broadened out to include travel (Carry On
Cruising
), history (Carry On
Jack
,
Cleo
, and
Cowboy
) and pastiche (Carry On
Spying
&
Screaming
). Each production was gradually cheekier and more lavish, although this was sometimes due to thrift and availability rather than ambition.
For example, the sets for Carry On Cleo were originally built at Pinewood Studios for the extravagant epic Cleopatra, but the Elizabeth Taylor production then moved to Italy. Carry On producer Peter Rogers quickly made use of the abandoned sets and costumes to create one of the most well-loved Carry Ons with Amanda Barrie in the eponymous role.
Following on from a long British comedy tradition that dates back to bawdy music halls and end-of-the-pier saucy postcards, it's the brazen cheek of the Carry Ons that makes them so irresistible and their cultural significance should not be underestimated. Whilst the humour of the Carry Ons may be derided by some as corny or dated, it's only because the films have endured and established themselves in the British psyche that the jokes now seem so familiar.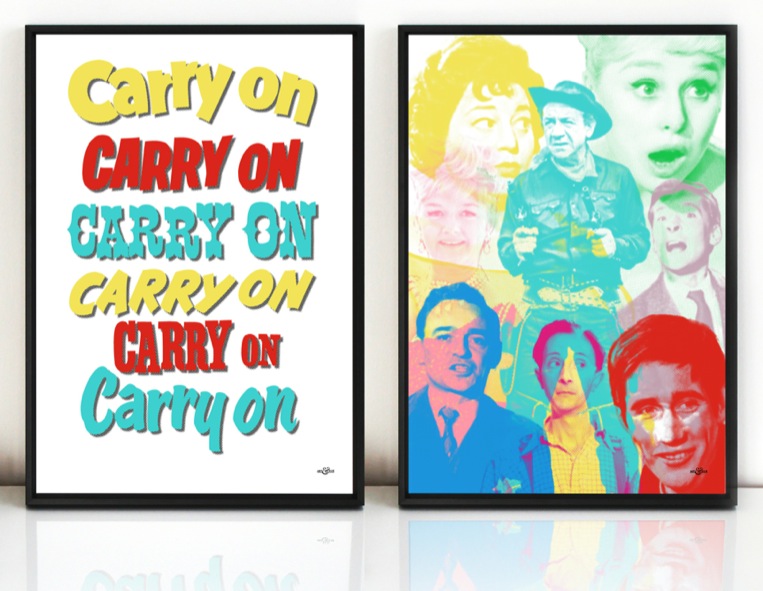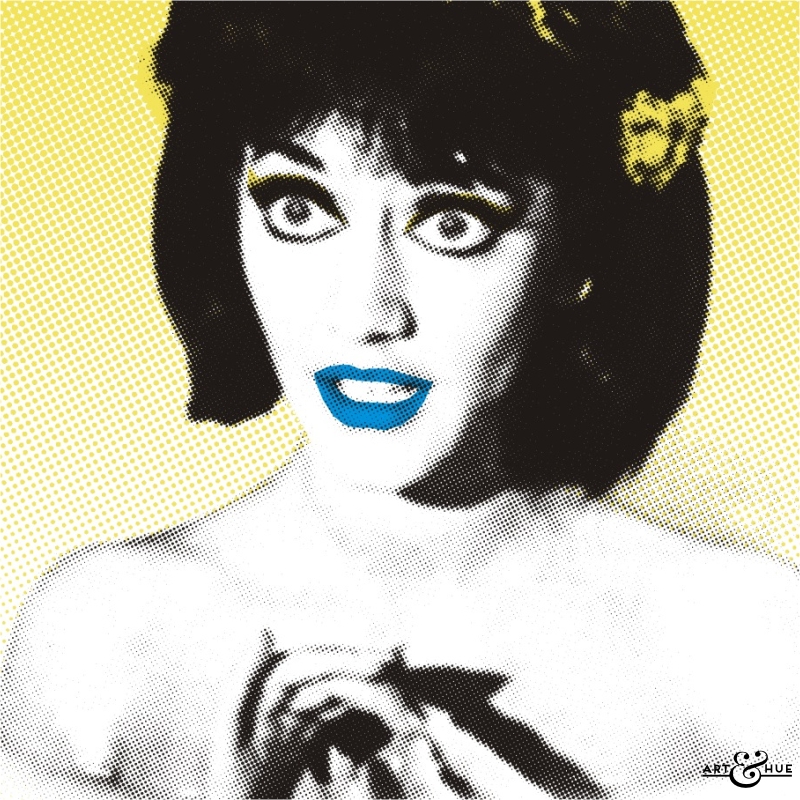 Anglo Amalgamated distributed these British films which were made at Pinewood using British actors specifically for a British audience – it's hard to point at a fully British production nowadays, let alone one that doesn't have an eye on international markets or the involvement of Hollywood (although Charles Hawtrey was reportedly crowbarred into Carry On Screaming at the last minute at the behest of the American distributors).
It's unlikely the Carry On films will be perpetually inspiring fashion designers, in the same way that other 1960s icons have (such as Audrey or Diana Rigg from The Avengers), but who can resist the joys of Joan Sims as a nurse, the high camp of Fenella Fielding as a Hammer House of Horror vamp, or Amanda Barrie as a Glamcabs taxi driver?
The Carry On films have their own distinct style that is totally unique, beloved by many, and an important part of Britain's comedy, film, and cultural heritage.
Acid-free and of museum quality, all Art & Hue prints are produced on 310gsm archival matte card, made from 100% cotton, with fine-art pigment inks for longevity.
Relive the Anglo Amalgamated Carry Ons, or discover them anew, via DVD Volumes One, Two, & Three at Amazon.
Art & Hue had the pleasure of delving into the archives of Studiocanal at Pinewood Studios to uncover the original posters and photographs of the Carry On series, which have been given the stylish pop art treatment featuring Art & Hue's signature halftone style (halftone is an age-old technique that uses dots to make up the printed image, similar to newspapers or comic books).

Carry On: Sergeant (1958), Nurse, Teacher (1959), Constable (1960), Regardless (1961), Cruising (1962), Cabby, Jack (1963), Spying, Cleo (1964), Cowboy (1965), Screaming (1966), Copyright © STUDIOCANAL Films Ltd. All rights reserved. | Copyright © Art & Hue ® 2016-2023. All rights reserved.