65 Years of Carry On Films
2023 marks 65 years of Carry On Films.
To celebrate 65 years of Carry On Films, four new colours have been added to the Carry On pop art prints: Leaf, Think Pink, Orange & Grey.
The film series made household names of the core cast, including Sid James, Barbara Windsor, Kenneth Williams, Joan Sims, Charles Hawtrey, & Hattie Jacques, as well as Kenneth Connor, Jim Dale. Actors including Bernard Cribbins, Frankie Howerd, June Whitfield, Jimmy Logan, Carol Hawkins, Milo O'Shea, Liz Fraser, Madeline Smith, Valerie Leon, Margaret Nolan, Irene Handl, and many others also appeared in some films during the long-running film franchise.
The Anglo Amalgamated era represents a gentler innocence, and a burgeoning confidence reflective of the cultural strides Britain was making during the Swinging 60s.
Carry On is the longest-running British film series with 30 original productions, including the Rank releases, plus a compilation film – even superspy Bond (who the Carry On team parodied in Carry On Spying) will need to produce another five films to catch-up.
In recent years, the films have been accused by some of being sexist by today's standards, but this misses the point of most of the plots – whilst the men may talk a good game, it's always the women who come out on top.
Still cherished 65 years on since the first ever film, the Carry On films will always have a special place in the heart of the British public.

Art & Hue had the pleasure of delving into the archives of Studiocanal at Pinewood Studios to uncover the original posters and photographs of the Carry On series, which have been given the stylish pop art treatment featuring Art & Hue's signature halftone style (halftone is an age-old technique that uses dots to make up the printed image, similar to newspapers or comic books).
Carry On Pop art collection by Art & Hue
Relive the Anglo Amalgamated Carry Ons, or discover them anew, via DVD Volumes One, Two, & Three at Amazon.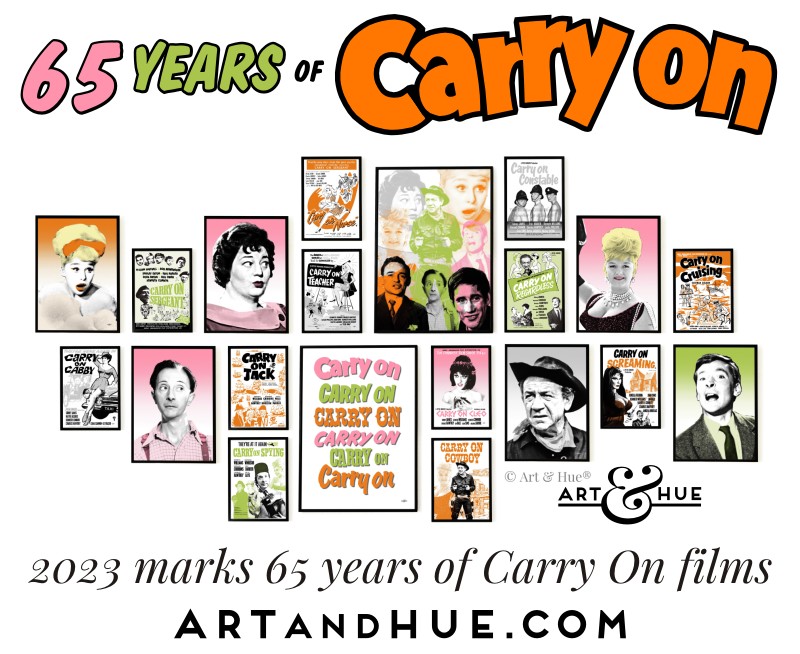 Carry On: Sergeant (1958), Nurse, Teacher (1959), Constable (1960), Regardless (1961), Cruising (1962), Cabby, Jack (1963), Spying, Cleo (1964), Cowboy (1965), Screaming (1966), Copyright © STUDIOCANAL Films Ltd. All rights reserved. | Copyright © Art & Hue ® 2016-2023. All rights reserved.