Milo O'Shea pop art print
Stylish Milo O'Shea pop art, part of the
Irish Film
collection by Art & Hue.
As well as this pop art portrait, Milo O'Shea is included on the Irish Film Map print, a stylish map of Ireland with Irish actors & actresses.
Milo O'Shea was a stalwart of British & Irish film, even making appearances in cult American productions.
His film debut was "Contraband" with Valerie Hobson, and just some of his other film credits include "Great Expectations" with Jean Simmons & Alec Guinness; "Talk of a Million" with Jack Warner; "Mrs Gibbons' Boys" with Diana Dors & Dick Emery; classic comedy "Carry on Cabby" with Sid James, Hattie Jacques, Charles Hawtrey, & Kenneth Connor, Liz Fraser; the seminal film adaptation of James Joyce's "Ulysses" with T.P. McKenna; cult sci-fi "Barbarella" with Jane Fonda, Anita Pallenberg (with the velvet voice of Joan Greenwood), & David Hemmings; Lee Dunne's "Paddy"; Joe Orton's "Loot" with Richard Attenborough, Hywel Bennett, Lee Remick, & Dick Emery; "The Love Ban" with Madeline Smith, John Cleese, Antonia Ellis, & Pauline Delaney; cult horror "Theatre of Blood" with Vincent Price, Diana Rigg, Ian Hendry, Harry Andrews, Jack Hawkins, & Dennis Price; "Steptoe & Son Ride Again" with Wilfrid Brambell, Harry H. Corbett, Yootha Joyce, & Sam Kydd; "Percy's Progress" with Leigh Lawson, Julie Ege, Barry Humphries as Dame Edna, James Booth, Jenny Hanley, & Carol Hawkins; "Arabian Adventure" with Christopher Lee & Capucine; "The Pilot" with Cliff Robertson; "The Verdict" with Charlotte Rampling; & "Only the Lonely" with Maureen O'Hara, to name a few.
Art & Hue presents Irish Film, stylish pop art inspired by classic films & actors of Ireland from Mid-century cinema.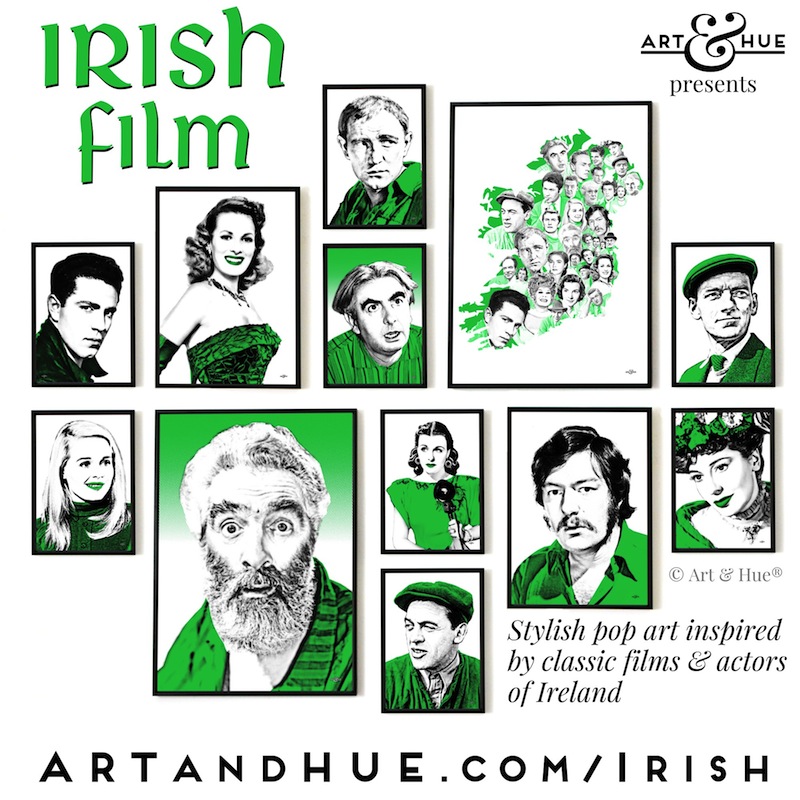 An official collaboration with Studiocanal, the Irish Film pop art collection is available in 3 sizes & 20 colours, printed on museum-quality archival card of 310gsm, made from 100% cotton, with fine-art pigment inks for longevity, exclusively by Art & Hue.
Available in A4, A3, and A2 sizes to fit standard-size picture frames. Please note that black frame is not included – for a guide on choosing a frame size, visit here.
Rewatch, or discover anew, the film on DVD & Blu-ray from Amazon: "Loot" (1970), Copyright © STUDIOCANAL Films Ltd. All rights reserved.

Copyright © Art & Hue® 2022. All rights reserved.