Valerie Hobson pop art print
Stylish Valerie Hobson pop art, part of the
Irish Film
collection by Art & Hue.
As well as this pop art portrait, Valerie Hobson is included on the Irish Film Map print, a stylish map of Ireland with Irish actors & actresses.
Featuring Valerie Hobson in the classic Ealing comedy "Kind Hearts & Coronets", the actress is a wriggle-and-chiffon vision as Edith d'Ascoyne. Co-starring Dennis Price, Joan Greenwood, Alec Guinness, & Hugh Griffith, the film is widely regarded as one of the best British films ever made.
Before retiring from acting to marry the politician John Profumo, just some of Valerie Hobson's many credits included "For Love of You" with Naunton Wayne; "Eyes of Fate" with David Niven; "Bride of Frankenstein" with Boris Karloff & Elsa Lanchester; "Jump for Glory" with Basil Radford; "This Man is News" with Alastair Sim; "Q Planes" with Laurence Olivier & John Laurie; "Contraband" with Milo O'Shea; "Atlantic Ferry" with Michael Redgrave & Bessie Love; "Great Expectations" with John Mills & Jean Simmons; "The Small Voice"; "Train of Events" with Jack Warner & John Gregson; "The Interrupted Journey" with Richard Todd, Dora Bryan, & Roger Moore; "The Card" with Glynis Johns; "Who Goes There!" with George Cole & Peggy Cummins; "Meet Me Tonight" with Stanley Holloway; "The Voice of Merrill" with Sam Kydd; "Background" with Janette Scott; and "Knave of Hearts", her final film ahead of retiring from acting after marrying the politician John Profumo.
An official collaboration with Studiocanal, the Irish Film pop art collection is available in 3 sizes & 20 colours, printed on museum-quality archival card of 310gsm, made from 100% cotton, with fine-art pigment inks for longevity, exclusively by Art & Hue.
Available in A4, A3, and A2 sizes to fit standard-size picture frames. Please note that black frame is not included – for a guide on choosing a frame size, visit here.
Also available as part of a group of four: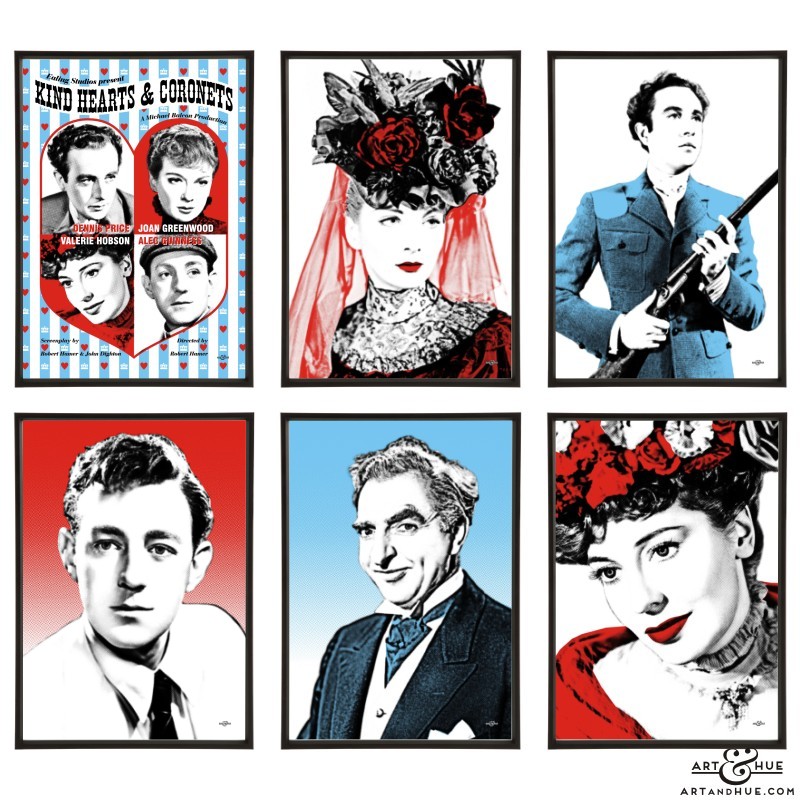 Art & Hue presents Irish Film, stylish pop art inspired by classic films & actors of Ireland from Mid-century cinema.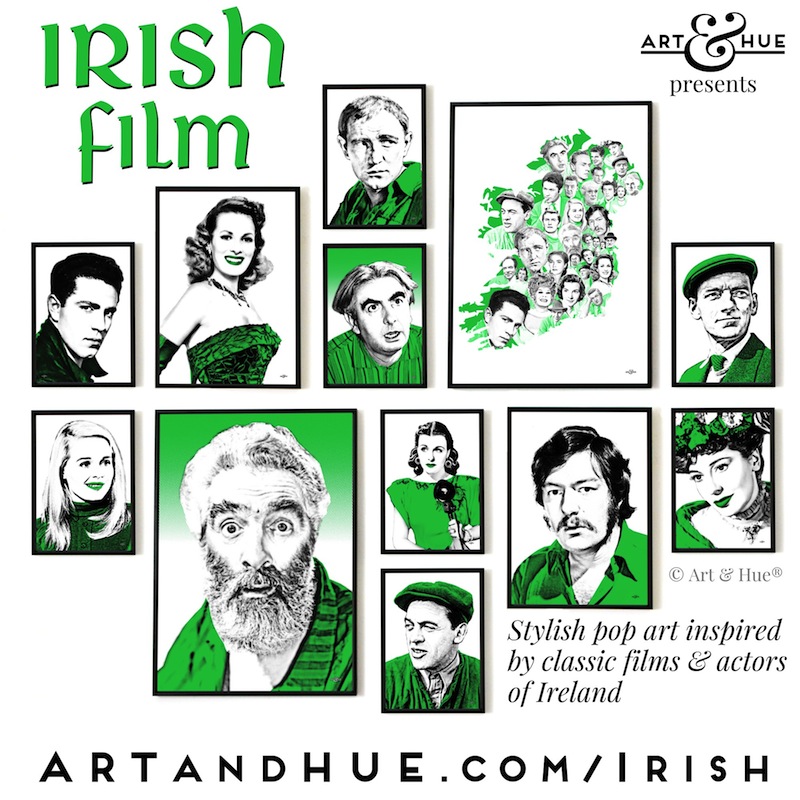 Rewatch, or discover anew, the film on DVD & Blu-ray from Amazon: "Kind Hearts & Coronets" (1949), Copyright © STUDIOCANAL Films Ltd. All rights reserved.
Copyright © Art & Hue® 2022. All rights reserved.