Glynis Johns pop art print
Stylish pop art of Glynis Johns, part of the
Welsh Ffilm
collection by Art & Hue.
With roots in Pembrokeshire, Glynis was born in Pretoria while her parents were touring South Africa. The daughter of Pembroke-born actor Mervyn Johns, she later appeared with her father in Ealing's "The Halfway House".
With a wide and varied body of work across stage and screen, Glynis segued from child actress to adult star across a career spanning seven decades. Known to many as Winifred Banks in "Mary Poppins", she was nominated for Best Supporting Actress in "The Sundowners" and won a Tony Award for her Broadway performance in "A Little Night Music", for which Sondheim wrote the song "Send in the Clowns" especially for Glynis's voice.
In 1954, Glynis Johns headlined the J. Lee Thompson film "The Weak and the Wicked", also starring Diana Dors, John Gregson, Rachel Roberts, Sid James, Irene Handl, and Sandra Dorne. Opening at the Empire Leicester Square on the 4th of February 1954, the social drama is based on the book by Thompson's wife Joan Henry, which examines the prison experience of three women.
Now retired in the Hollywood Hills, just some of Glynis' other film credits include "Miranda" with Margaret Rutherford & Zena Marshall, "No Highway in the Sky" with Janette Scott, "Appointment with Venus" with David Niven, "The Card" with Alec Guinness, "The Seekers" with Kenneth Williams, "The Court Jester", "Loser Takes All", "The Vault of Horror" with Terry-Thomas, and "Another Time, Another Place" with Sean Connery. Produced by Desilu, the actress had her own sitcom called "Glynis" on CBS in 1963, and appeared in the TV shows "The Frank Sinatra Show", "Batman" and "Cheers".
Art & Hue presents Welsh Ffilm, stylish pop art inspired by classic Welsh films & actors from Mid-century cinema.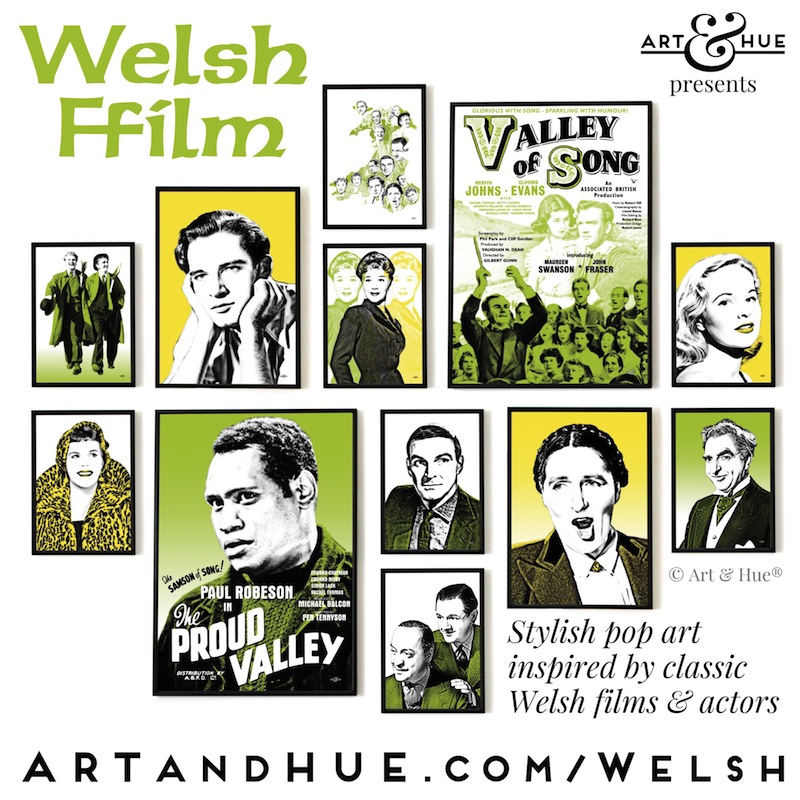 An official collaboration with Studiocanal, the Welsh Ffilm pop art collection is available in 3 sizes & 19 colours, printed on museum-quality archival card of 310gsm, made from 100% cotton, with fine-art pigment inks for longevity, exclusively by Art & Hue.
Available in A4, A3, and A2 sizes to fit standard-size picture frames. Please note that black frame is not included – for a guide on choosing a frame size, visit here.
Rewatch, or discover anew, the film on DVD & Bluray from Amazon:
"The Weak & the Wicked" Copyright © STUDIOCANAL Films Ltd. (1954). All rights reserved.
Copyright © Art & Hue® 2021. All rights reserved.