Irene Handl stylish pop art print.
If there was a classic British film without Irene Handl in it, it was either an oversight or she was busy elsewhere on another film set.
The actress appeared in over 100 British films across her prolific career which spanned six decades. A relative latecomer to acting at the age of 36, she made up for it by cornering the market in supporting character roles.
Just some of her films include "Millions Like Us" with Basil Radford & Naunton Wayne in one of their film appearances as Charters & Caldicott, "Stage Fright" with Joyce Grenfell, "Treasure Hunt" with Naunton Wayne, "Young Wives' Tale" with Audrey Hepburn and Joan Greenwood, "The Weak and the Wicked" with Diana Dors, Glynis Johns, Sid James, and Sandra Dorne, "The Belles of St. Trinian's" with Alastair Sim, Joyce Grenfell, Beryl Reid, Barbara Windsor, and Joan Sims, "A Kid for Two Farthings" with Diana Dors and Joe Robinson, "Brothers in Law" with Richard Attenborough, Ian Carmichael, and Terry-Thomas, "Happy is the Bride" with Ian Carmichael, Janette Scott, Terry-Thomas, Cecil Parker, and Joyce Grenfell, "Upstairs and Downstairs" with Claudia Cardinale, Sid James, and Joan Sims, "School for Scoundrels" with Terry-Thomas, Janette Scott, Alastair Sim, Hattie Jacques, Dennis Price, and Ian Carmichael, "Doctor in Love" with Liz Fraser, Joan Sims, Carole Lesley, and Fenella Fielding, "Make Mine Mink" with Terry-Thomas, Hattie Jacques, and Kenneth Williams, "No Kidding" with Earl Cameron, "Just for Fun" with Dusty Springfield, "The Private Life of Sherlock Holmes" with Christopher Lee and Stanley Holloway, "The Hound of the Baskervilles" with Joan Greenwood, Terry-Thomas, Kenneth Williams, and Penelope Keith, "The Wrong Box" with Michael Caine, Tony Hancock, Peter Sellers, and Leonard Rossiter, as well as many, many more.
She appeared in "Smashing Time", the 1960s comedy which filmed at John Stephen's boutiques on Carnaby Street and also featured Ian Carmichael and Valerie Leon, "Wonderwall" with Jane Birkin, "The Italian Job" with Michael Caine, Benny Hill, Valerie Leon, and iconic Mini Coopers, "Confessions of a Driving Instructor" with Robin Askwith, Liz Fraser, and Lewis Collins, "Stand Up, Virgin Soldiers" with Robin Askwith and Edward Woodward, and "Absolute Beginners" with David Bowie, Ray Davies, and Mandy Rice-Davies.
The classic British film "I'm All Right Jack" featured Irene Handl as the wife of Peter Sellers' shop steward along with Ian Carmichael, Terry-Thomas, Richard Attenborough, Dennis Price, Margaret Rutherford, and Liz Fraser, and she made two appearances in the Carry On films, the longest-running British film series, "Carry On Nurse" and "Carry On Constable".
Irene appeared in two Ealing Comedies, "Who Done It?" with
Benny Hill
and
Charles Hawtrey
, and "Meet Mr. Lucifer" with
Stanley Holloway
,
Barbara Murray
,
Gordon Jackson
, &
Joan Sims
.
Irene's television credits include "Hancock's Half Hour" with Tony Hancock, "Citizen James" with Sid James, "The Rag Trade" with Barbara Windsor, the Armchair Theatre production of "The Importance of Being Earnest" with Patrick Macnee, Ian Carmichael and Fenella Fielding, "For the Love of Ada", "Maggie & Her", "Mapp & Lucia", and "Metal Mickey".
Irene Handl appeared as the landlady in Tony Hancock's first film "The Rebel" in 1961, which was released as "Call Me Genius" in American cinemas. Alongside Tony as the tortured artist, the cast included Liz Fraser and Dennis Price.
One of Irene's films is "Two-Way Stretch" with Peter Sellers, Liz Fraser, Bernard Cribbins, and Beryl Reid. Very popular upon release in 1960, and still enjoyed to this day, "Two-Way Stretch" sees three prisoners plotting a diamond robbery. The film opened at the Warner Cinema London on the 11th of February 1960 before going on general release from the 14th.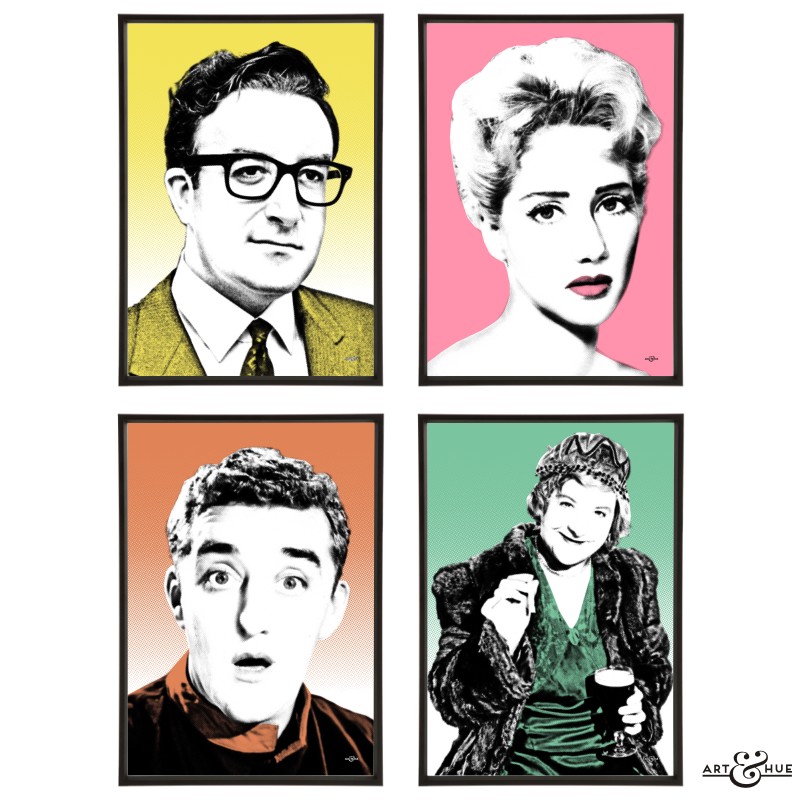 Art & Hue had the pleasure to delve into the archives for the film "Two-Way Stretch" to create this stylish pop art print of irene Handl, available in three sizes and 20 colours.
Irene Handl Pop Art
Available in A4, A3, and A2 sizes to fit standard-size picture frames. Please note that black frame is not included – for a guide on choosing a frame size take a look here.
An official collaboration with Studiocanal, this print is part of the Funny Women collection of stylish pop art prints inspired by classic British comediennes and comic actresses, featuring Art & Hue's signature halftone style (halftone is an age-old technique that uses dots to make up the printed image, similar to newspapers or comic books). As well as the Funny Women collection, discover the Funny Men pop art.
"Two-Way Stretch" Copyright © STUDIOCANAL Films Ltd. (1960). All rights reserved.
Copyright © Art & Hue® 2019. All rights reserved.