About
Thanks for visiting Art & Hue.
What started as a creative outlet separate to the day job has turned into a large collection of stylish pop art prints on various themes.
Whilst nailing a client's design brief can be rewarding (designing award-winning websites & brand identities for companies of all sizes) or consulting with brands on their creative direction and forecasting can be stimulating, Art & Hue is my very own way of creating work that reflects my personal aesthetic and interests.
I'm drawn particularly to Mid-Century Modernism, stylish film & TV of the 1960s, and the retro print techniques used at the time.
I've had the pleasure of collaborating with Studiocanal, ITV Studios, Renown Pictures, Rex Features/Shutterstock, and the estate of John Stephen, so far, and delving into their wonderful archives to create pop art collections including The Avengers, Audrey Hepburn, Carry On, British Film Noir, From Stage to Screen, Funny Men, Funny Women, Hammer Horror, Joan Collins, Joanna Lumley, Julie Christie, The King of Carnaby Street, Mod Hair, Beat Films, School for Scoundrels, The Wicker Man, and Thunderbirds – and more in the pipeline.
I've also had the privilege to install a permanent gallery of pop art at the iconic Elstree Studios, display pop-up exhibitions at the BFI and the InterContinental Hotel, as well as meet Valerie Leon, Janette Scott, David Prowse, and Dame Diana Rigg (twice! once at the BFI and also at Elstree Studios).
Have a browse through the pop art prints and sign up to the mailing list for updates about new collections.
All the best,
Odysseas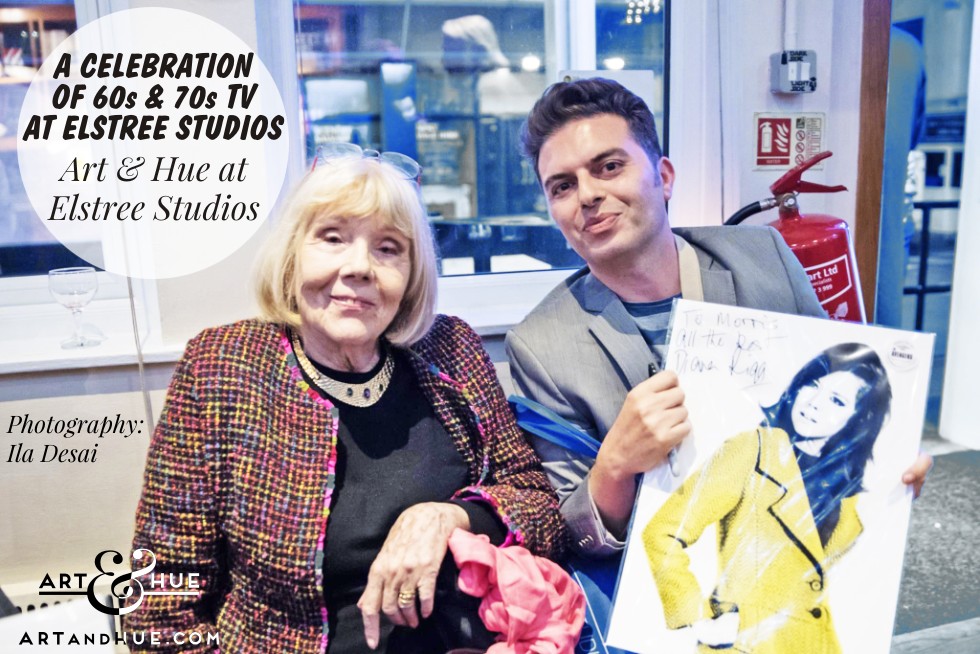 Art & Hue
Made in Britain, Art & Hue creates stylish pop art inspired by various themes including the 1960s, cult film & TV, and Mid-Century Modernism.
Alongside studio collections, Art & Hue creates bespoke art from your photographs for personalised gifts. An ideal present to commemorate a birthday, wedding, house-warming, or milestone, Art & Hue can transform your preferred photos, including Instagram snaps, into stylish contemporary pop art.
Called Art & Hue because of the combination of imagery and colour, the fact it sounds like two boys names is a delightful coincidence.
Stylish Pop Art
Images are given the Art & Hue halftone treatment before blocks of colour are applied. Halftone is an age-old technique that uses dots to make up the printed image, similar to newspapers or comic books – difficult to demonstrate on-screen but looks great printed.
As well as bespoke art prints, customised to the recipients specifications, there are "ready-to-buy" prints on many themes including royalty, London and food to name a few, available in various colours. All art prints are open edition unless otherwise specified as limited.
For a guide on frame sizes for your unframed Art & Hue print, take a look here.


Designed & Printed in Sussex.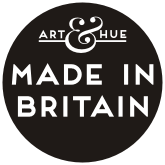 Fine Art Paper & Inks
Unlike traditional posters, which are printed on thin paper with inks that will fade, Art & Hue creates unframed art prints on 310gsm museum-quality archival matte paper, made from 100% cotton, using fine art pigment inks for longevity. The lightly-textured British-made paper is more like a thick card at 310gsm thickness.
A4 size prints are shipped flat in cardboard envelopes to protect artwork with the larger A3 & A2 sizes posted in sturdy tubes.

Feedback
It's always lovely to receive positive feedback about Art & Hue, here's a small selection:
"Fabulous Pop Art prints, very talented artist"
Emily Dean, author and radio host
"Love the item! Will buy more"

"Art & Hue are just perfect"
"I own two prints from Art & Hue, one Avengers and one custom. They are absolutely beautiful and make me very happy!"
"Thank you so much for the beautiful picture"
"I bought 8 prints and a bespoke pop art portrait! The quality of the prints is excellent as is the creativity of the artwork!"
"The most stunning, awesome, wonderful mind-blowing portrait I have ever seen. Such quality… Thank you so much. You have made my day."
"I am so happy with my purchases. I will be back for more! What a fantastic company. I made a mistake with my order and they were in touch with me within minutes and corrected my mistake. Superb customer service! I am so pleased."
"Just to say the service from Art & Hue was impeccable"
"Great prints…look just like the sample photos."
"Loving my New Queen Pop Art"
"Thank you for the great customer service!"
"Love, love, LOVE your website! Just ordered several of the "Steed" prints. The array of color choices is fabulous! Can't wait to get them!" … "Got my Steed prints this week and they are beautiful! Thank you again!"
"Really like the ones I purchased and encourage other Avengers fans to check them out!"
"Rather pleased with my @ARTandHUE School for Scoundrels artwork. As Terry-Thomas would have said…it's Bang On!"
"Am loving the new artwork from @ARTandHUE – all framed and ready to hang….."
"Excellent item. Fast service! Look forward to buying from [you] again. Thank you :-)"
"Beautiful picture I was extremely happy with it. Fast delivery. Bought as a present and the receiver was ecstatic. Thank you very much!!!"
"Beautifully made and attentive service."

"Love our new wall art"

"Absolutely love them"
"Thrilled with my purchase. Arrived in good time and in perfect condition. Thank you!"
Colour lovers check out this creative (and bright!) approach to imagery from @ArtAndHue! – Will Taylor, Bright Bazaar
"An ideal way to bring stylish and colourful art into the home" – Heart Home
"I'd just like to say a big thank you for my print, it was a birthday present for my husband of our lovely dog & he loved it! Thanks also for your lovely customer service."
"Speedy delivery and love my Joan Collins. Great shop."
"Fabulous service thank you. Will definitely buy again x"
"I asked Art & Hue to think about the feasibility of a special multi-piece bespoke art series which would form the special birthday gift I give to each of my best friends on the occasion of their 40th birthdays. Something unique. Not only was Odysseas creative with ideas, but he also had the patience of a saint and provided a truly excellent service. Always responsive and helpful, he went the extra mile to produce a genius masterpiece and ensure the artwork was more than perfect! I can't recommend Art & Hue enough!"
"Love this very well crafted pop art print. It came as pictured and as described. Quickly shipped and safely packaged… Thank You :)"
"Thank you @artandhue for my awesome print, right up my street"
""Our new pictures cheering me up no end!"
"I'm so happy I've finally got my @artandhue Mrs Peel print on the wall. It looks stella!"

"I am so happy with my #Thunderbirds pop art prints from @artandhue. Finally in frames and on display!"
"Absolutely love this. Great communication, excellent quality and fast delivery."
"Great designs and nice quality and arrived quickly."
"I love the print I eventually chose – I was given 12 variations! – and it was sent super quick. Fantastic service and communication."
"Beautiful piece – and very fast service."

"Lovely pictures. Your whole range is amazing!"
"I love the print I eventually chose and it was sent super quick. Fantastic service and communication."
"Contacted the seller to request a specific colour mix, and they responded quickly with a photo so I knew exactly what I'd be getting. Arrived safely and excellent quality, the perfect gift!!"
"Great quality, speedy dispatch and a really great image."

"Love it! Arrived quickly and I'm so pleased with my purchase."
"Absolutely gorgeous! Great, fast communication when I had questions about the color choices and it got here so quickly! Thank you!"

"Gorgeous, gorgeous poster, and fantastic international shipping. Thank you so much!"
"love this, quality print , looks amazing in the home, great price, fast delivery"