Art & Hue presents Ealing Comedies
Art & Hue presents Ealing Comedies, stylish pop art inspired by Ealing Studios' classic comedy films.
70 years ago in 1949, Ealing Studios released four comedy films in close succession and the classic British film institution of the Ealing Comedies was firmly established.
The studios had released comedies previously, such as "Hue & Cry" in 1947, but Ealing's prolific output in 1949 was a boom period for the studios, with critical and commercial success.
1949 saw the release of classic films "Passport to Pimlico", "Whisky Galore!", "Kind Hearts & Coronets", and "A Run For Your Money", all within the space of seven months.
The post-war films tapped into the public mood, presenting tales of the small underdog battling a larger enemy, generally state bureaucracy or established institutions, and whilst the morals of the time couldn't allow crime or rebellion to go rewarded, for a brief moment, audiences could will on the unlikely heroes.
The indomitable British spirit was ever-present in the Ealing Comedies and tapped into a national pride, post-war, that would lead to 1951's Festival of Britain on London's South Bank to proudly showcase Britain's talents, as the country re-built and looked to the future.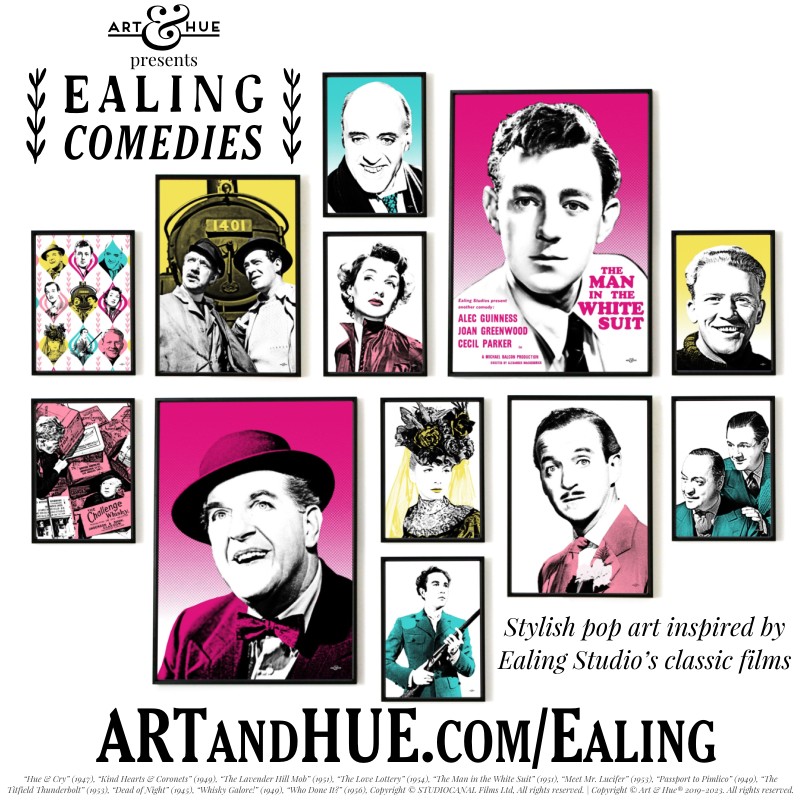 The subversive streak of the films appealed to audiences who were tired of rationing and state control, and were not only popular across British cinemas, but also around the world.
International cinemagoers were captivated by these slices of Britishness, from the rebellious Burgundians of Pimlico to the whisky-dependent Scottish in "Whisky Galore!" – the film was renamed "Tight Little Island" for American audiences and the French title inspired the name of the world's first ever discotheque, Whisky à Gogo in Paris.
The Ealing Comedies employed a regular cast similar to repertory theatre with actors being used across several films. Alec Guinness, Alastair Sim, Stanley Holloway, Joan Greenwood, Barbara Murray, Gordon Jackson, John Gregson, Basil Radford, and Naunton Wayne all appeared in more than one of the films.
Behind the scenes also, a regular team of writers, directors, and producers were utilised by the legendary Ealing boss Michael Balcon to create the memorable and enduring films, including writers T.E.B. ("Tibby") Clarke & William Rose; and directors Charles Crichton, Basil Dearden, Charles Frend, Robert Hamer, & Alexander Mackendrick.
Years before he became synonymous with the Carry On films, Charles Hawtrey appeared in "Passport to Pimlico" with Margaret Rutherford, and before Audrey Hepburn became an international icon, she had a bit-part in "The Lavender Hill Mob".

An official collaboration with Studiocanal, Art & Hue had the pleasure to delve into the archives of the classic Ealing Comedies to create these stylish pop art prints, all available in 3 sizes & 18 colours.
Exclusively by Art & Hue, all pop art is printed on museum-quality archival card of 310gsm, made from 100% cotton, with fine-art pigment inks for longevity.
(Keen-eyed Ealing fans may be wondering where The Ladykillers are – stay tuned for new prints inspired by the film later this year. Subscribe, for free, to the mailing list to get email updates about new pop art collections).

Rewatch, or discover anew, the classic Ealing Comedies on DVD & Bluray from Amazon:
"Barnacle Bill" (1957), "Dead of Night" (1945), "Hue & Cry" (1947), "Kind Hearts & Coronets" (1949), "The Lavender Hill Mob" (1951), "The Love Lottery" (1954), "The Man in the White Suit" (1951), "Meet Mr. Lucifer" (1953), "Passport to Pimlico" (1949), "The Titfield Thunderbolt" (1953), "Whisky Galore!" (1949), "Who Done It?" (1956), Copyright © STUDIOCANAL Films Ltd, All rights reserved.
Copyright © Art & Hue® 2019. All rights reserved.