Joyce Grenfell stylish pop art print.
Famous for her one-woman shows and monologues, Joyce Grenfell created her own unique characters through her performances, such as inventing a harassed school teacher whose catchphrase, "George, don't do
that
" will forever be associated with her.
A multi-faceted talent, with a gift for comedy, singing, writing, and producing, Joyce is widely revered by comedians and still enjoyed through her classic film performances and recordings.
Born in Knightsbridge, the entertainment industry was not the traditional path expected for a privately-educated gal who had attended finishing school in Paris.
Grenfell made her stage debut in 1939 and went on to entertain the troops during the Second World War with her singing and comedy. After the war, she collaborated with Stephen Potter, the writer of "School for Scoundrels", for BBC radio in the satirical "How To" series.
Appropriately enough for the daughter of wealthy clothiers, Joyce appeared as a haughty vendeuse in the 1949 Ealing comedy "A Run for your Money" with Alec Guinness.
Joyce appeared in many films including "Poet's Pub" with Barbara Murray, "Stage Fright" with Alastair Sim, "The Happiest Days of Your Life" with Alistair Sim & Margaret Rutherford, "The Galloping Major" with Basil Radford, Janette Scott, Sid James & Charles Hawtrey, "The Magic Box" with Richard Attenborough, Dennis Price, Margaret Rutherford, Cecil Parker, Sid James, Stanley Holloway, and Janette Scott, "The Pickwick Papers" with Hattie Jacques, "The Good Campanions" with Janette Scott & Carole Lesley, "Happy is the Bride" with Ian Carmichael, Janette Scott, Cecil Parker, Terry-Thomas, and Irene Handl, and "The Old Dark House" with Fenella Fielding & Janette Scott.
Joyce Grenfell starred in three St. Trinian's films set in the unruly girls school. She appeared in the first of the film series, "The Belles of St. Trinian's" alongside
Alastair Sim
,
Beryl Reid
,
Irene Handl
,
Joan Sims
, and
Barbara Windsor
, and returned for "Blue Murder at St Trinian's" with
Terry-Thomas
, and "The Pure Hell of St Trinian's" with Cecil Parker,
Sid James
, Dennis Price, and
Liz Fraser
.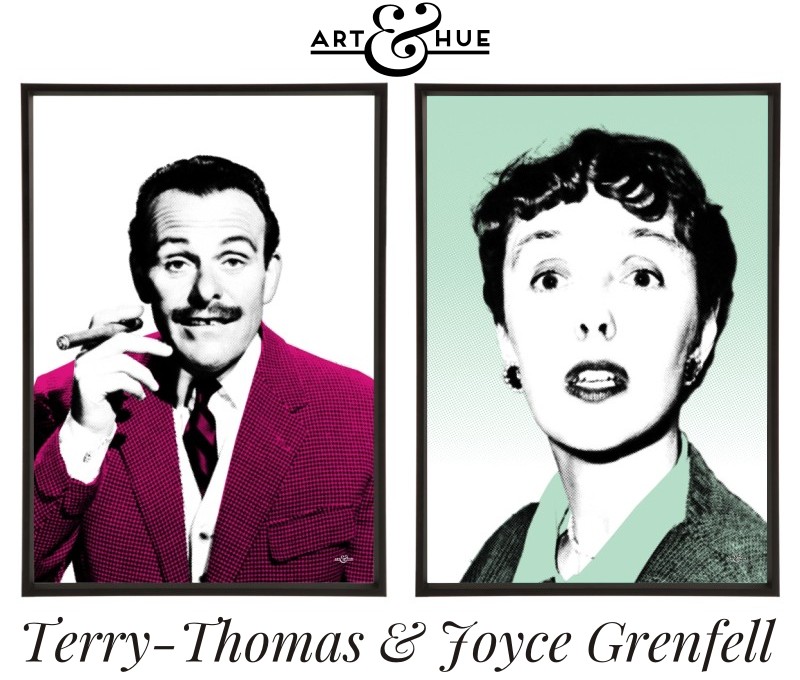 Joyce Grenfell starred in "Laughter in Paradise" with Alastair Sim, along with an early cameo by Audrey Hepburn as a cigarette girl, in which family members must follow the instructions of a will in order to get their hands on an inheritance. The film was remade in 1970 as "Some Will, Some Won't" with Ronnie Corbett, Dennis Price, and Barbara Murray.
Joyce Grenfell Pop Art
Art & Hue had the pleasure to delve into the archives for the film "Laughter in Paradise" to create this stylish pop art print of the Joyce Grenfell, available in three sizes and 20 colours.
Available in A4, A3, and A2 sizes to fit standard-size picture frames. Please note that black frame is not included – for a guide on choosing a frame size take a look here.
An official collaboration with Studiocanal, this print is part of the Funny Women collection of stylish pop art prints inspired by classic British comediennes and comic actresses, featuring Art & Hue's signature halftone style (halftone is an age-old technique that uses dots to make up the printed image, similar to newspapers or comic books). As well as the Funny Women collection, discover the Funny Men pop art.
"Laughter In Paradise" Copyright © STUDIOCANAL Films Ltd. (1951). All rights reserved.
Copyright © Art & Hue® 2019. All rights reserved.