From the classic Ealing Comedy "Kind Hearts & Coronets", Dennis Price stylish pop art print.
Kind Hearts & Coronets
Regarded by many as the finest Ealing comedy, "Kind Hearts & Coronets" sees Dennis Price's disowned character Louis Mazzini plot to kill off the entire D'Ascoyne family so he can inherit the dukedom.
"Kind Hearts & Coronets" was one of the most popular films of 1949 and, along with "Whisky Galore!", "A Run For Your Money", and "Passport to Pimlico", all released in the same year within the space of seven months, helped to firmly establish the Ealing Comedies as a British cinematic institution.
"Kind Hearts & Coronets" opened at the Leicester Square Odeon cinema in London on the 23rd of June 1949, appropriately enough on Dennis Price's birthday.
Starring Alec Guinness as all nine members of the D'Ascoyne family who stand in the way of Dennis Price's goal, the film sees Louis Mazzini torn between the affections of Edith D'Ascoyne, played by Valerie Hobson, and his childhood friend Sibella, played by Joan Greenwood.
Art & Hue had the pleasure to delve into the archives for the Ealing Comedy "Kind Hearts & Coronets" to create this stylish pop art print of Dennis Price, available in three sizes and 20 colours.
Also available as part of a pair: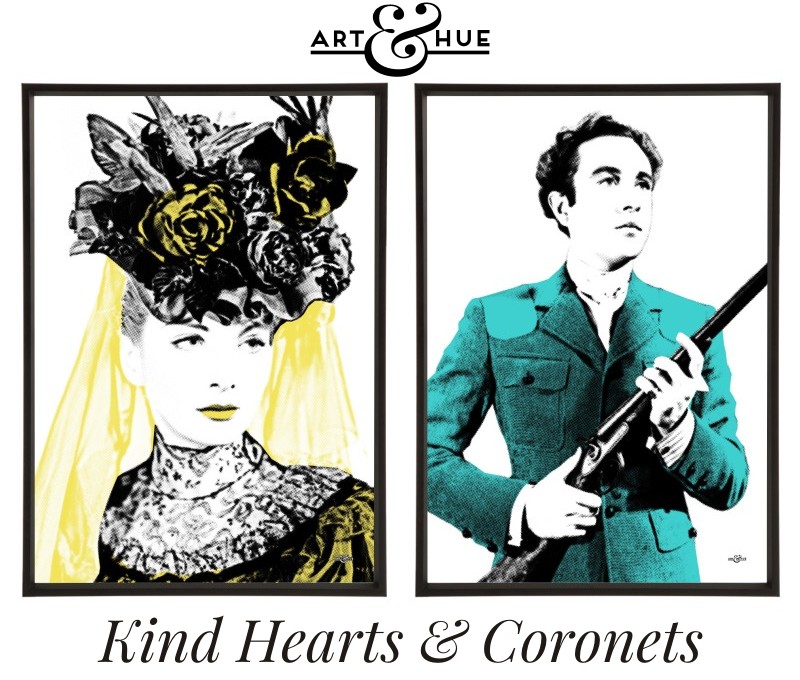 Order the film on DVD or Bluray or watch on iTunes now.

Dennis Price
Alongside his career-defining role in "Kind Hearts and Coronets", Dennis Price was a hard-working actor who appeared in many radio, film & television productions.
Just a few of his many film credits include "Snowbound" with Stanley Holloway & Herbert Lom, "Bikini Baby" with Diana Dors, Sid James, Joan Collins, & Alastair Sim, "For Better, For Worse" with Dirk Bogarde & Susan Stephen, "That Lady" and "She Played with Fire", both with Christopher Lee, "The Naked Truth" with Terry-Thomas & Joan Sims, "I'm All Right Jack" with Peter Sellers & Richard Attenborough, "School for Scoundrels" with Janette Scott, Ian Carmichael, & Hattie Jacques, "Tunes of Glory" with Alec Guinness, Gordon Jackson, & Peter McEnery, "The Pure Hell of St. Trinian's" with Cecil Parker & Joyce Grenfell, "The Rebel" with Tony Hancock & Liz Fraser, "Double Bunk", "Watch it Sailor" with Irene Handl & Frankie Howerd, "The Pot Carriers" with Carole Lesley, "Play it Cool" with Helen Shapiro, "The Amorous Mr Prawn" with Joan Greenwood & Sandra Dorne, "The Wrong Arm of the Law" with Bernard Cribbins & Michael Caine, "Doctor in Distress" with Fenella Fielding, Amanda Barrie, Ronnie Barker, & Barbara Murray, "The V.I.P.s" with Elizabeth Taylor, Richard Burton, Margaret Rutherford, Maggie Smith, & Orson Welles, "They All Died Laughing" with Leonard Rossiter, "Ten Little Indians" with Shirley Eaton, "Some Will, Some Won't" with Ronnie Corbett, "Horror Of Frankenstein" with David Prowse & Kate O'Mara, "The Rise & Rise of Michael Rimmer" with John Cleese, and "Theatre of Blood" with Diana Rigg & Madeline Smith.
On television Dennis Price is well-remembered for playing the implacable Jeeves in "The World of Wooster" with Ian Carmichael, and has appeared in TV shows including a Tara King episode of "The Avengers" with Patrick Macnee, Linda Thorson, and Valerie Leon, "Sherlock Holmes" with Peter Cushing, "Jason King" with Peter Wyngarde, "Callan" with Edward Woodward, "The Adventurer" with Barbara Murray, and many more.

Dennis Price Pop Art
Available in A4, A3, and A2 sizes to fit standard-size picture frames. Please note that black frame is not included – for a guide on choosing a frame size take a look here.
An official collaboration with Studiocanal, this print is part of the Ealing Comedies collection of stylish pop art prints inspired by the classic British comedy films made at Ealing Studios, featuring Art & Hue's signature halftone style (halftone is an age-old technique that uses dots to make up the printed image, similar to newspapers or comic books).
"Kind Hearts & Coronets" Copyright © STUDIOCANAL Films Ltd. (1949). All rights reserved.
Copyright © Art & Hue® 2019. All rights reserved.