Mid-Century Motoring
Stylish pop art prints inspired by the Modernist era of Mid-Century motoring.
Like the age of the
Jet-Set
, motoring had a golden era of travelling in style.
With exciting & sleek motor vehicles designs, and the forward-thinking architecture of motorway service stations, road travel was enjoyable & modern.
Art & Hue has created a new collection of six stylish pop art prints inspired by Mid-Century motoring, which includes classic vehicles and Modernist buildings of the 1960s.
Inspired by Mid-Century print techniques and the graphic vernacular of the time, there are four prints of vehicles including the Jag, Mini, Camper Van, and Scooter.
The striking space-age tower of Forton Services near Lancaster on the M6 is paired with the concrete restaurant bridge of Charnock Richard, designed by the art director of the classic film "School For Scoundrels" and the first service station to open on the M6 motorway.
Presented in a vibrant palette reminiscent of old Haynes car manuals, which used yellow and magenta inks singly or overlapped to create red, all art prints are available in a wide choice of colour options and three sizes.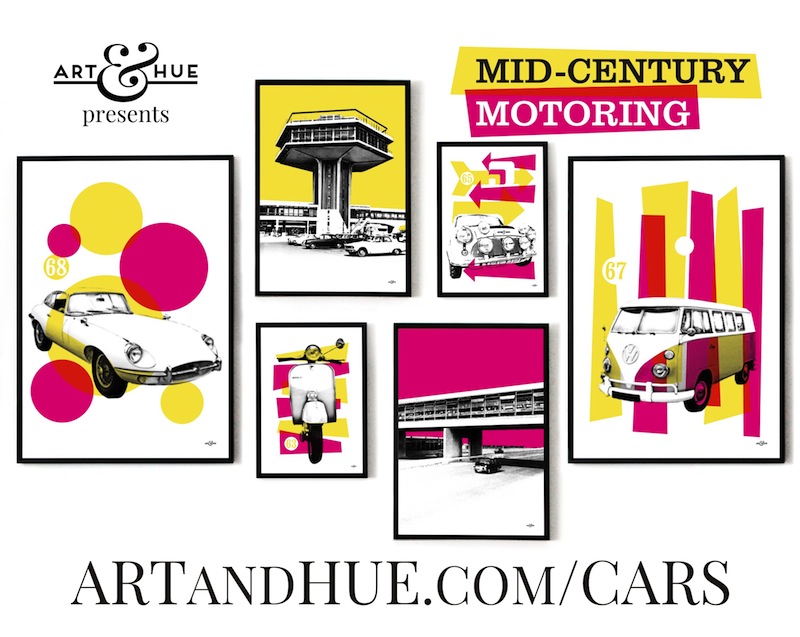 For more motoring inspired prints, discover the Car Parks collection of Modernist & Brutalist car parks.
Take to the open road with Art & Hue's Mid-Century motoring prints & discover the art below.