Art & Hue presents Audrey
Delving into Studiocanal's extensive archive library at Pinewood Studios, Art & Hue had the privilege to access rare publicity images of the young actress on the threshold of international fame to create this new collection of Audrey pop art prints, exclusive to Art & Hue.
Audrey was a British actress who went on to create memorable roles that are still cherished to this day, from the fluctuating emotions of Holly Golightly in "Breakfast at Tiffany's" to the pure charm of the beatnik bookworm transformed into a fashion butterfly in "Funny Face".
An official collaboration with Studiocanal, the copyright-holders of early Ealing Studios titles, Art & Hue is pleased to release this new collection of six pop art prints featuring the enduring screen icon Audrey.
Available in 20 colours, including a pink inspired by Funny Face called "Think Pink", the fine art prints come in three sizes that fit widely-available picture frames.
Audrey had bit-parts in classic Ealing comedies such as "The Lavender Hill Mob", but it was dancing as a chorus girl in the West End where she was spotted by director Thorold Dickinson who cast Audrey in her first main supporting role in the film "Secret People", which opened at the Odeon Leicester Square on the 8th of February 1952.
An exciting time for the young actress, Audrey was studying at the legendary Rambert School of Ballet under the founder Marie Rambert when she was cast as a dancer for the tale of political subversion. Audrey wanted to be a ballet dancer so when she got her first major part in film, it was a dream role to portray a ballerina.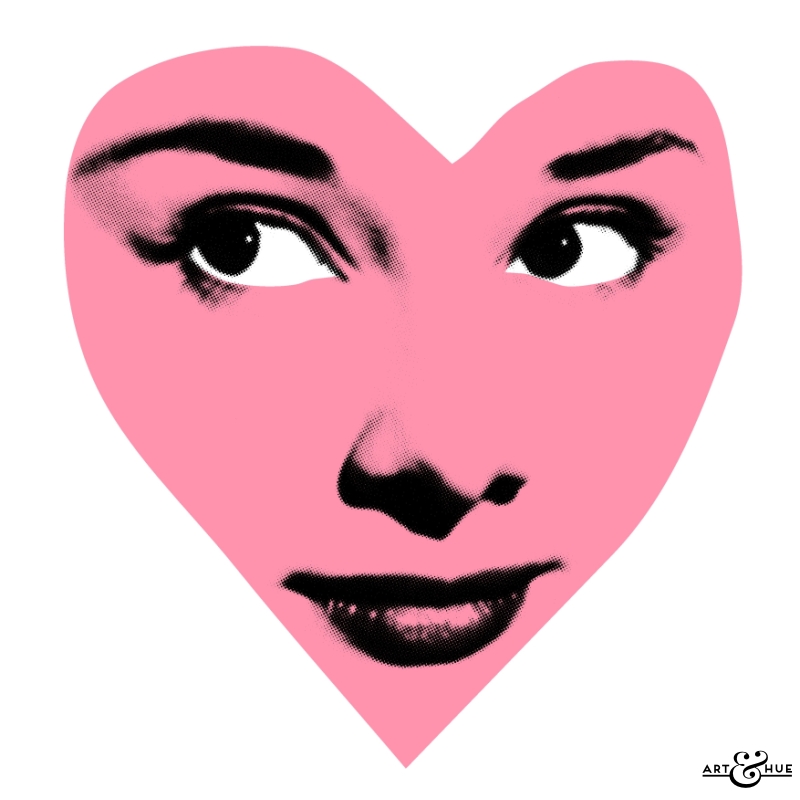 The director of "Secret People", Thorold Dickinson, also filmed Audrey's important screen test for "Roman Holiday".
Performing all her own ballet moves during the dance sequences, the director of "Secret People" went on to film the very important screen test of Audrey which led to international stardom. Thorold Dickinson's screen test was sent to director William Wyler and secured her the role of Princess Ann in "Roman Holiday". The screen test also inspired the formidable costume designer Edith Head to create the movie's wardrobe.
Audrey won her first Academy Award for her Hollywood debut in "Roman Holiday", winning the Oscar for Best Actress, and went on to be nominated on four further occasions as well as winning a posthumous Oscar for her dedication to humanitarian causes.
If it wasn't for Thorold Dickinson casting Audrey in "Secret People", and then filming her screen test for "Roman Holiday" (described by Wyler as "a fine piece of work" and "as good as any I've seen in a long time"), the world may have been deprived of Audrey's iconic characters that defined Mid-Century cinema.
Despite her harrowing childhood in Nazi-occupied Holland, Audrey could convey pure joy and love alongside charming comic timing. Her natural grace endeared her to audiences in romantic roles as well as dramatic ones whilst her infectious smile continues to inspire happiness.
Whilst we're happy to claim Audrey as British and one of our own, she truly was a global citizen. Inheriting British nationality from her father (who himself was Scottish yet born in the Czech Republic), Audrey was born in Belgium to her Dutch mother and spent her childhood in Kent then the Netherlands during the Second World War. She spoke five languages fluently and epitomised cosmopolitan style.
Love + Laughter + Beauty + Style + Ballet + Modernity = Audrey
Frequently described as an ingénue or gamine, Audrey's performances seemed modern, self-assured and mature beyond her years, which is probably why she was able to play so well against older male actors such as Cary Grant in "Charade" and Rex Harrison in "My Fair Lady". With her pixie haircut and elfin make-up, she was the very picture of modernity, refinement, and style throughout the 1950s and 60s.
Audrey is still renowned as a fashion icon who developed her own distinctive style, but even before she began her lifelong collaboration with designer Hubert de Givenchy on Sabrina, Audrey carried herself with elegance as the publicity images from "Secret People" demonstrate.
With a natural awareness of the camera and the garments, the modern and angular pose in the pop art print of Audrey Style could be mistaken to be a contemporary supermodel were it not for Audrey's unique features. Her style continues to resonate and influence to this day with the Audrey look widely revered and replicated.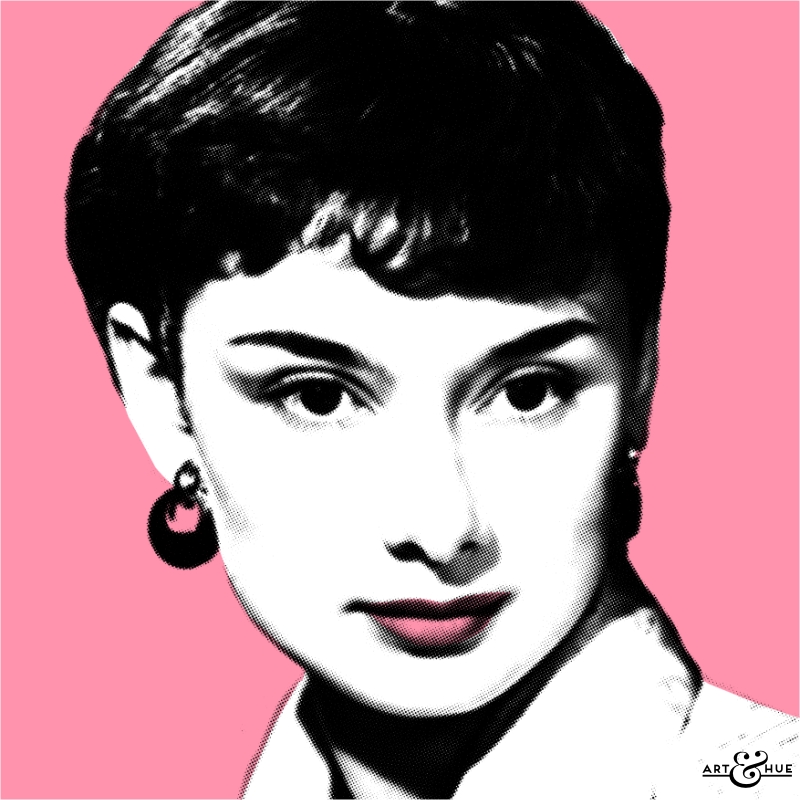 Art & Hue had the pleasure of delving into the archives of Studiocanal to uncover rare photographs of the young Audrey at Ealing Studios, which have been given the stylish pop art treatment.
Acid-free and of museum quality, all Art & Hue prints are produced on 310gsm archival matte card, made from 100% cotton, with fine-art pigment inks for longevity.
Available for a limited time only, discover the full Audrey collection below.
"Secret People" Copyright © STUDIOCANAL Films Ltd, (1951). All rights reserved. "Young Wives' Tale" Copyright © STUDIOCANAL Films Ltd, (1951). All rights reserved. | Copyright © Art & Hue® 2016-2020. All rights reserved.