Movie Map of America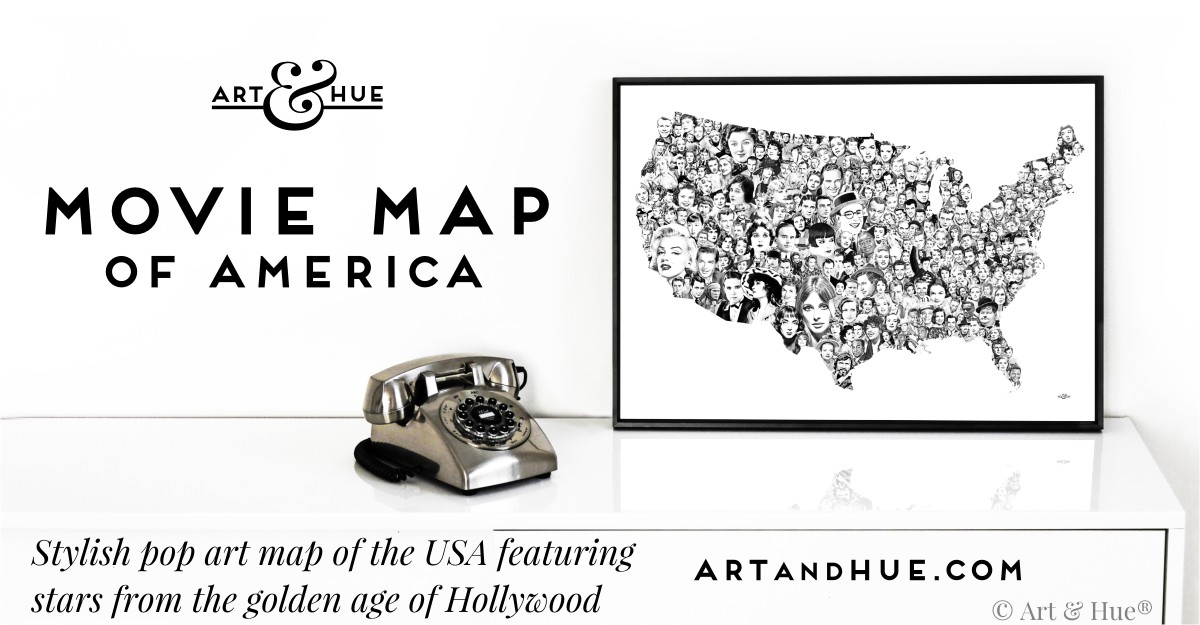 Celebrate the Golden Age of Hollywood with Art & Hue's Movie Map of America.
Step into the glamour of Hollywood's golden age with Art & Hue's newest print release, the Movie Map of America. This visually detailed pop art map is a tribute to the iconic actors and actresses who defined an era of cinematic brilliance.
Immerse yourself in the magic of classic Hollywood as you explore this unique map, meticulously crafted in homage to the movie stars that made history on the silver screen.
Art & Hue's Movie Map of America is a true celebration of Hollywood's most beloved stars. The map showcases an intricate collage of actors and actresses, representing an exciting period in American cinema.
The result of many months of research and creation, Art & Hue's Movie Map of America features over 270 legendary actors and actresses geographically in the States of their birth or upbringing.
From the timeless elegance of Pennsylvanian Grace Kelly to the magnetic charisma of Indiana-born Jimmy Dean, this map brings together an illustrious ensemble that shaped the cultural landscape.
Whether you're a devoted fan of Californian Marilyn or admire the impressive talent of Nebraskan Montgomery Clift, embark on a visual journey through cinema's most cherished era with this new print release by Art & Hue.
A blend of nostalgia and cinematic heritage, this stylish pop art print is available in A2 size to serve as the perfect centrepiece for any cinephile's collection.
With a wide selection of 28 colour options to choose from, you can find the perfect hue that resonates with your personal style and complements your living space.
Whether you're a film buff or a collector of unique artwork, this stylish pop art map is a must-have addition to your collection.
Exclusively by Art & Hue, the Movie Map of America is an unframed print available in A2 size, to fit widely-available picture frames, and in many colour options, printed on museum-quality archival card of 310gsm, made from 100% ethically-sourced cotton, with fine-art pigment inks for longevity.
Copyright © Art & Hue® 2023. All rights reserved.

Movie Map of America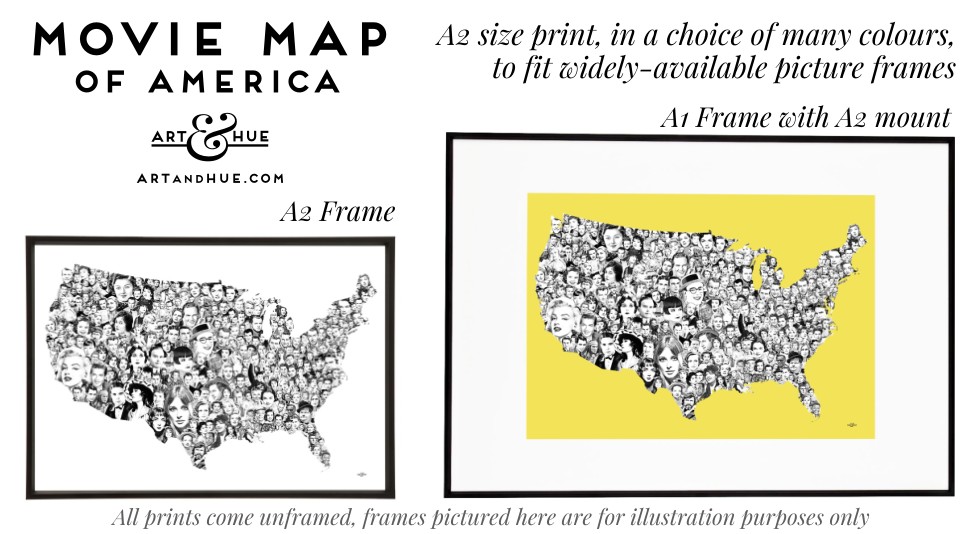 Available in A2 size – 420 x 594 mm (16.5″ x 23.4″) – to fit standard-size picture frames. You may wish to frame your print in an A2 frame or in a larger frame such as an A1 size with an A2 mount.
Please note that all prints come unframed and black frame is not included – for a guide on choosing a frame, take a look at the
Framing Guide here
.
Over 270 performers on the Movie Map of America
Each print comes with a numbered guide referencing each performer.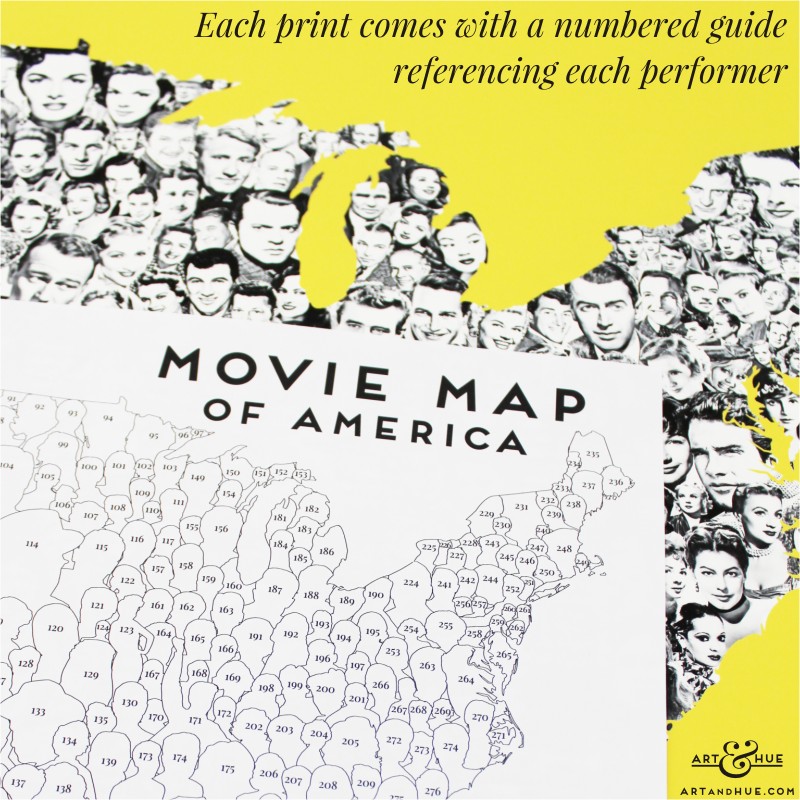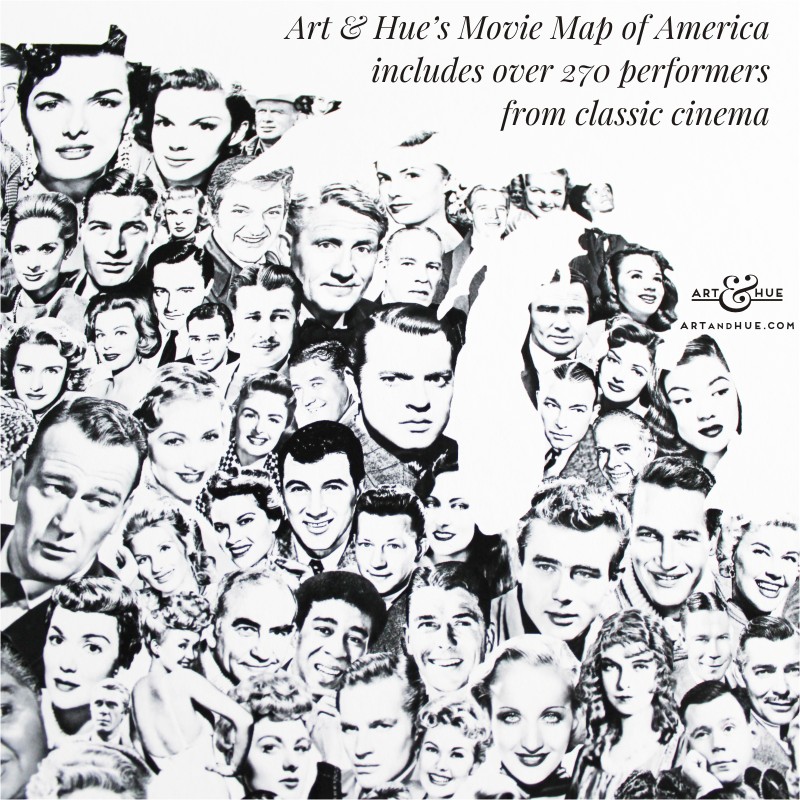 Art & Hue's Movie Map of America features over 270 performers including, to name just a few:
Don Ameche, Eve Arden, Fred Astaire, Lauren Bacall, Josephine Baker, Lucille Ball, Tallulah Bankhead, John Barrymore, Warren Beatty, Humphrey Bogart, Marlon Brando, James Brolin, Bud & Lou, James Cagney, Lon Chaney, Montgomery Clift, James Coburn, Nat King Cole, Joseph Cotten, Buster Crabbe, Joan Crawford, Bing Crosby, Tony Curtis, Bette Davis, Doris Day, Jimmy Dean, Faye Dunaway, Dick van Dyke, Douglas Fairbanks, Jane Fonda, Judy Garland, James Garner, Liberace, Lillian Gish, Betty Grable, Cary Grant, Oliver Hardy, Jean Harlow, Goldie Hawn, Rita Hayworth, Tippi Hedren, Katharine Hepburn, Charlton Heston, Celeste Holm, Rock Hudson, Tab Hunter, Buster Keaton, Gene Kelly, Grace Kelly, Alan Ladd, Veronica Lake, Dorothy Lamour, Burt Lancaster, Janet Leigh, Jack Lemmon, Harold Lloyd, Carole Lombard, Myrna Loy, Shirley MacLaine, Jayne Mansfield, Dean Martin, Walter Matthau, Victor Mature, Virginia Mayo, Hattie McDaniel, Ann Miller, Robert Mitchum, George Nader, Paul Newman, Gregory Peck, Sidney Poitier, Steve Reeves, Thelma Ritter, Ginger Rogers, Jane Russell, Rosalind Russell, Kurt Russell, Cherilyn Sarkisian, Satch, Frank Sinatra, Barbara Stanwyck, James Stewart, Barbra Streisand, Gloria Swanson, Sharon Tate, Shirley Temple, Spencer Tracy, Lana Turner, Robert Vaughn, Orson Welles, Spencer Williams Jr., Anna May Wong, Joanne Woodward, Jane Wyman & Loretta Young, plus many more.
Notes on the creation of the Movie Map of America
During the creation of the
Wales
,
Scotland
, and
Ireland
maps
which feature iconic actors & actresses from those countries, it occurred that there has never been a similar map of the U.S.A. with American performers, despite the influential movie-making history of the States.
Art & Hue has spent several months mulling, researching, editing, and creating this American Movie Map which features iconic U.S. actors & actresses. The actors are placed in their home State geographically (not on their exact street address) – by birth or upbringing – but with some artistic license (for example, Cary Grant was famously born Archibald Leach in Bristol, UK, and Angela Lansbury in London, but they both made California their home; Tony Curtis is from New York but the closest he could be placed in the North East is near Maine, next to Jack Lemmon, which seems appropriate given their famous roles in "Some Like it Hot").
There are obviously many more actors & actresses from across America but they couldn't all be included, either because of the lack of a suitable image or because they simply wouldn't fit, so the final group is very much a subjective selection that works aesthetically.
The fact this type of map has never been done before, that Art & Hue knows about at least, is perhaps for a couple of reasons, namely: time; and the varying laws of different countries.
Art & Hue has always been happy to devote time and effort when experimenting and creating art prints – even if they never get released, they're completed to see the final results.

Whilst time-consuming, it's always an enjoyable process to research, create, and edit artworks, even if the whole process takes months.
It may be that someone had the idea before, perhaps an artist in the USA or Europe, but had not been able to consider such a map as each actor & actress would need to agree to their likeness being used in those regions.
The United Kingdom is different in that there are no likeness rights in English law which holds that there "is no 'image right' or 'character right' which allows a celebrity to control the use of his or her name or image".
As Art & Hue is based in the United Kingdom, with a website provided for customers who are predominantly based in the U.K., it means this map artwork was possible to consider creating, and here is the result of many hours (days/weeks/months) of creation.
Notes: All items used in the creation of this original artwork have been researched and no infringement is intended. All images are believed not to infringe any likeness rights as Art & Hue is based in the United Kingdom where there are no image rights, and this website is aimed at a UK audience where the majority of Art & Hue's customers are based, given the small amount of contact or unintentional direction outside of the UK (such as through social media networks beyond our control) which would be unreasonable. Any enquiries, get in touch via the Contact page.

Copyright © Art & Hue® 2023. All rights reserved.