Cherilyn pop art print.
From "I've Got You Babe" to "Mamma Mia", Cherilyn has had a long, varied and successful career in entertainment.
Starting as a back-up singer (her vocals are on The Ronettes' classic "Be My Baby"), Cherilyn went on to release hit after hit with Sonny Bono including "I Got You Babe" and "The Beat Goes On", as well as solo hits such as "Bang Bang (My Baby Shot Me Down)", "Gypsys, Tramps & Thieves", and "Dark Lady".
Cherilyn also recorded the Burt Bacharach classic "Alfie" for the American release of the Michael Caine film, originally performed by Millicent Martin for the British release, but it was Cilla Black who achieved British chart success with the song.
In later years, Cherilyn had continued success with the rock anthem "If I Could Turn Back Time", where she straddled a warship wearing a black ribbon, and "Do You Believe", the dance track which turned auto-tune into an instrument.
As well as music, Cherilyn demonstrated her sense of humour in the Comedy Hour nd launched a respected and lauded acting career. Her first film appearance in Robert Altman's "Come Back to the Five and Dime, Jimmy Dean, Jimmy Dean" led to praise and further acting roles, including "Silkwood" with Meryl Streep, for which she received an Academy Award nomination, and her Oscar-winning performance in "Moonstruck".
Known for her ever-changing styles and fashions, from 60s Californian folk to 80s glamour, Cherilyn will forever be associated with the designer Bob Mackie, thanks to their long-standing collaboration which saw her wear his glitzy creations on TV and to awards ceremonies.
The Oscar-winning actress also appears on the Movie Map of America print.

Part of the
1960s Songbirds
collection: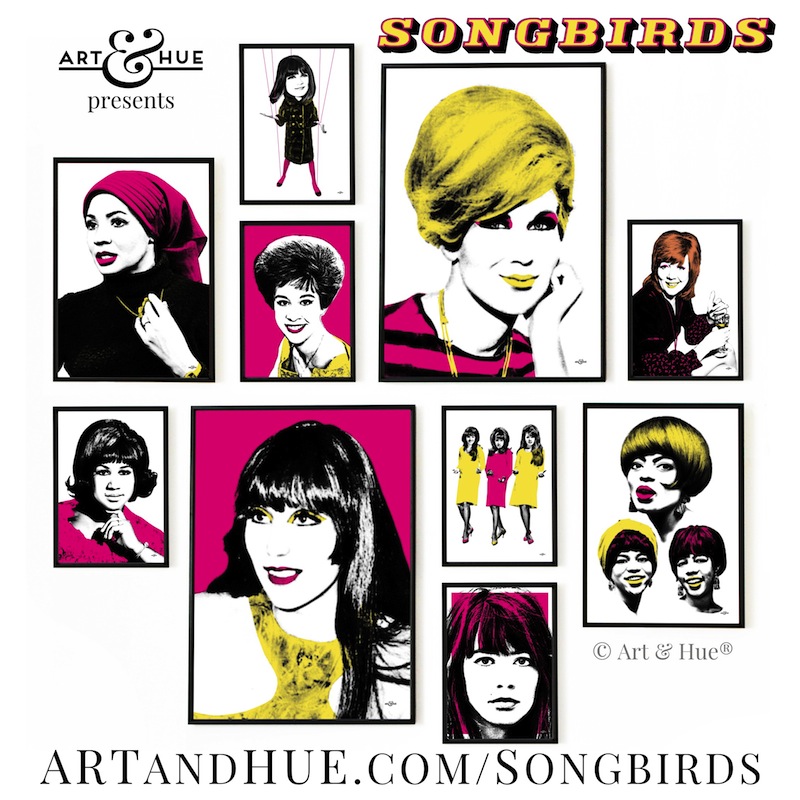 Available in A4, A3, and A2 sizes to fit standard-size picture frames. Please note that black frame is not included – for a guide on choosing a frame size take a look here.
Part of the 1960s Songbirds collection of stylish pop art prints inspired by female singers of the 1960s, and the Las Vegas Headliners, featuring Art & Hue's signature halftone style (halftone is an age-old technique that uses dots to make up the printed image, similar to newspapers or comic books).
Dedicated to the memory of Cherilyn superfans Simon Midgley & Richard Dyson.
Copyright © Art & Hue® 2018-2021. All rights reserved.