Art & Hue presents Nancy Kwan
Art & Hue presents Nancy Kwan – stylish pop art featuring the 60s icon in "The Wild Affair".
Art & Hue presents Nancy Kwan, stylish pop art featuring the 60s icon who redefined fashion with her Vidal Sassoon bob & Quant wardrobe.
In 1963, Nancy Kwan's long hair, famous from "The World of Suzie Wong", was chopped into a sharp modernist bob by Vidal Sassoon for the film "The Wild Affair", at the request of director John Krish.
Vidal cut away three feet of her hair whilst she played chess, after which Terence Donovan photographed the new style on the 9th of August 1963. The image of her new hairstyle was published in the October editions of British & American Vogue (the 1st then 15th October issues respectively) and circled the world.
The revolutionary bob cut heralded a new era of women's mod fashion, as well as making Vidal Sassoon a globally famous hairdresser. Vidal's new hairstyle was previously called the "Quant cut", as it had first featured in her fashion show, but became universally known as the "Nancy Kwan cut".
Co-starring Terry-Thomas, "The Wild Affair" sees Nancy's character Marjorie being egged on by her alter-ego Sandra to shake off so-called "respectable" behaviour and to enjoy life ahead of marriage.
Whilst promotion at the time focused on the wild office party and the optimistic trope of a boss having an affair with his secretary, at the film's heart are the progressive desires of modern womanhood seeking independence and enjoyment.
The film's release was delayed because of various distribution issues at the time, finally opening in cinemas nationwide on the 7th of November 1965, including the ABC Wallasey in Merseyside and the ABC Ardwick Green in Manchester. The film went on to open in London cinemas from the 28th of November 1965.
An official collaboration with Studiocanal, Art & Hue has delved into the archives to uncover images of the modernist beauty Nancy Kwan, which have been transformed into stylish pop art prints.

Exclusively by Art & Hue, the Nancy Kwan collection is available in three sizes & 20 colours, printed on museum-quality archival card of 310gsm, made from 100% cotton, with fine-art pigment inks for longevity.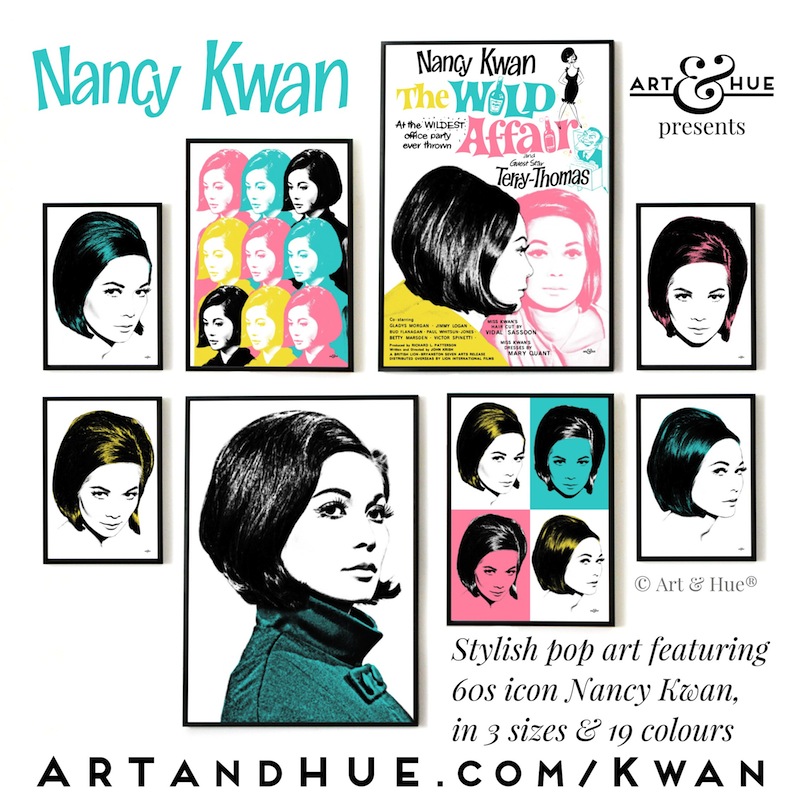 Rewatch, or discover anew, the film on DVD from Amazon or Network

"The Wild Affair" Copyright © STUDIOCANAL Films Ltd, (1963). All rights reserved. | Pop Art Copyright © Art & Hue® 2021. All rights reserved.