The Wild Affair Pop Art
Stylish pop art print re-imagining the poster of the 1963 film "The Wild Affair", starring Nancy Kwan and
Terry-Thomas
, with Nancy Kwan's wardrobe by Mary Quant and hair by Vidal Sassoon.
Also available as part of a pair and a group.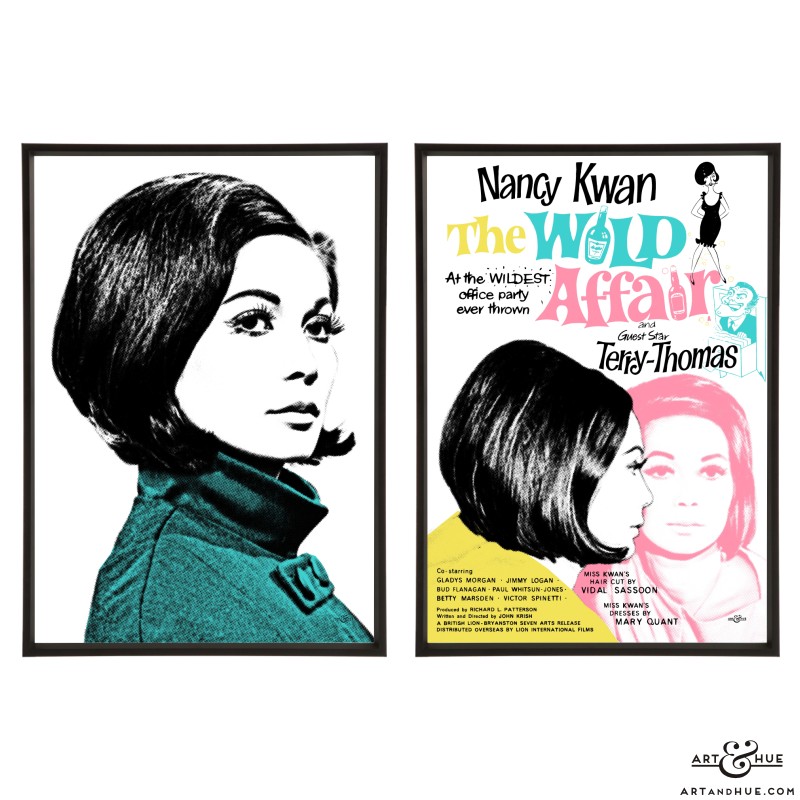 "The Wild Affair" features main titles by Maurice Binder, the designer famous for creating the opening graphics for many films including the Bond series from "Dr. No" with Sean Connery up to "License to Kill" with Timothy Dalton, excluding "From Russian With Love" and "Goldfinger", with Honor Blackman, which were designed by Robert Brownjohn.
Alongside Nancy Kwan, "The Wild Affair" stars Terry-Thomas and a cast including Frank Thornton before "Are You Being Served?" fame; Betty Marsden, perhaps best known for her role as Terry Scott's wife in the Carry On film "Carry On Camping", as well as Madame in the first series of "French & Saunders"; Victor Spinetti, who also appeared in "Sparrows Can't Sing"; Paul Whitsun-Jones, known to fans of "The Avengers" as hotelier Max Chessman; Scottish entertainer Jimmy Logan; entertainer Bud Flanagan, of Flanagan & Allen fame; Oscar-nominated actress Bessie Love, who also appeared in Ealing Studios' "Nowhere to Go" and the Bond film "On Her Majesty's Secret Service"; and the only film appearance of Gladys Morgan, the comedian known as the "Queen of Comedy" from the Welsh variety show "Welsh Rarebit".
Based on William Sansom's novel "The Last Hours or Sandra Lee", the film was directed by John Krish, who was also the director of "Unearthly Stranger". Music for the film was by Martin Slavin who previously worked with Helen Shapiro, and cinematography by Arthur Ibbetson who also filmed "Stop Press Girl" with Basil Radford & Naunton Wayne, "The League of Gentlemen", "Murder at the Gallop" with Margaret Rutherford, "Willy Wonka & the Chocolate Factory", "The Railway Children" with Sally Thomsett, "The Medusa Touch" with Richard Burton, and "Witness for the Prosecution" with Diana Rigg.
An official collaboration with Studiocanal, this print is part of the Nancy Kwan pop art collection, featuring Art & Hue's signature halftone style (halftone is an age-old technique that uses dots to make up the printed image, similar to newspapers or comic books).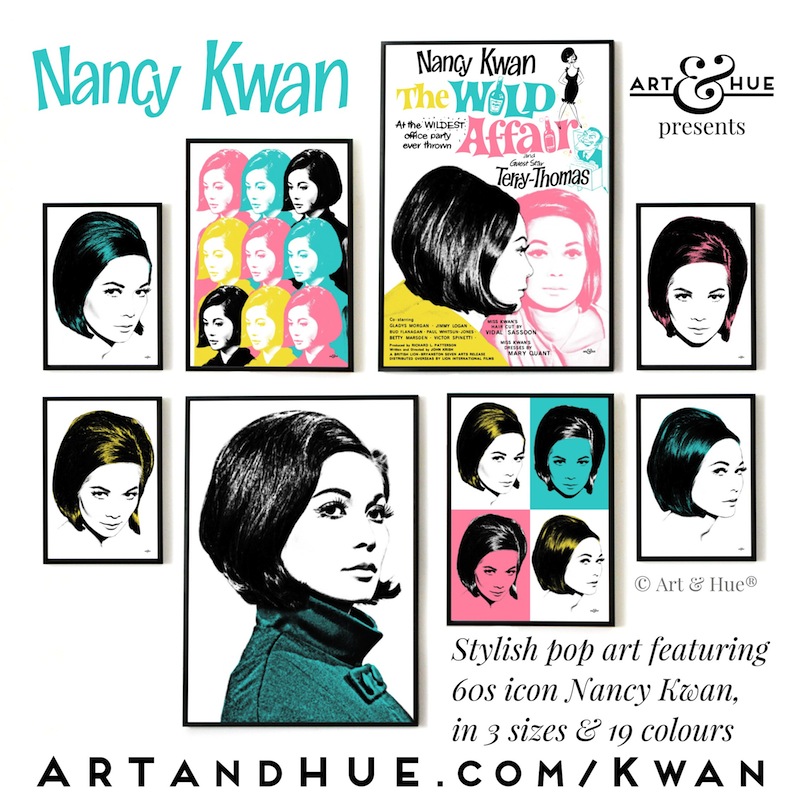 Exclusively by Art & Hue, the Nancy Kwan pop art collection is available in three sizes and many colours, all printed on museum-quality archival matte card of 310gsm, made from 100% cotton, with fine-art pigment inks for longevity.
Available in A4, A3, and A2 sizes to fit standard-size picture frames. Please note that black frame is not included – for a guide on choosing a frame size take a look here.
Rewatch, or discover anew, the film on DVD from Amazon or Network.
"The Wild Affair" Copyright © STUDIOCANAL Films Ltd, (1963). All rights reserved.
Copyright © Art & Hue® 2021. All rights reserved.