Timothy Dalton pop art illustration by Art & Hue
Born in
Wales
, Timothy Dalton is a renowned theatre actor who has also appeared in many film & TV productions.
Dashing Welsh actor Timothy Dalton took up the mantel of Bond in "The Living Daylights" and "Licence to Kill" before the films paused for six years with studio issues to take care of.
The classically trained actor is renowned for his theatre work, as well as cult projects such as playing Prince Barin in "Flash Gordon", and brought a different dimension to the role of Bond in an era of the "new man".
Trained at RADA & the National Youth Theatre, Dalton's theatre career began in 1964 in a production of "Coriolanus" and would go on to include the classics including acclaimed performances in "Anthony & Cleopatra", both parts of "Henry VI", and many more.
Other films including "Wuthering Heights" with Harry Andrews & Hugh Griffith; "Cromwell" with Alec Guinness; "Mary, Queen of Scots" with Patrick McGoohan & Andrew Keir; "Permission to Kill" with Dirk Bogarde; the cult curio "Sextette" with Mae West, Tony Curtis & George Hamilton; "Agatha" with Vanessa Redgrave; "The Doctor and the Devils" with Twiggy & Beryl Reid; "Hot Fuzz" with Edward Woodward & Kenneth Cranham; & "The Tourist" with Angelina Jolie; to name a few.
Television credits include "Charlie's Angels"; "Sins" with Joan Collins & Capucine; "Centennial" with Barbara Carrera; "Doctor Who"; "Doom Patrol"; and more.
Also available as part of
group of 6
: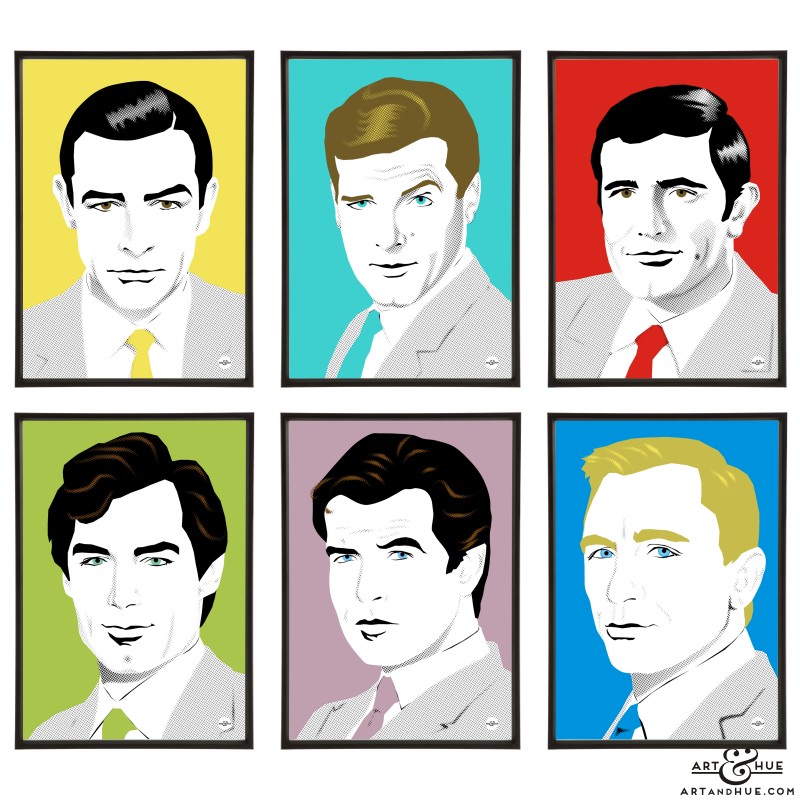 Available in A4, A3, and A2 sizes to fit standard-size picture frames. Please note that black frame is not included – for a guide on choosing a frame size take a look here.
This illustrated print, exclusively by Art & Hue, features Art & Hue's signature halftone style (halftone is an age-old technique that uses dots to make up the printed image, similar to newspapers or comic books) along with graphic blocks of colour.

Copyright © Art & Hue ® 2022. All rights reserved.