Capucine
Capucine starred in the classic 1963 crime caper directed by Blake Edwards, "
The Pink Panther
", alongside
David Niven
,
Peter Sellers
, &
Claudia Cardinale
.
Close friends with Audrey Hepburn, Capucine was an elegant and beautiful actress of whom Federico Fellini is quoted as saying "she had a face to launch a thousand ships… but she was born too late".
Capucine showed her comic side in "The Pink Panther", clowning and pratfalling alongside Peter Sellers, and the film gave birth to the animated cat as well as the classic film character of Clouseau who would return in later outings.
When Peter Sellers was cast as Inspector Clouseau in what was supposed to be a David Niven vehicle, Sellers stole the film with his bumbling police detective, but Capucine held her own in scenes with the comic actor and displayed a gift for physical comedy that punctured her dignified and elegant on-screen persona.
One of cinema's most wonderful scenes is at the beginning of the film when Capucine is attempting to evade capture following a jewellery heist. The section where Capucine turns her Yves Saint Laurent couture inside-out in a lift to create a whole new outfit surely ranks as one of the most stylish film moments.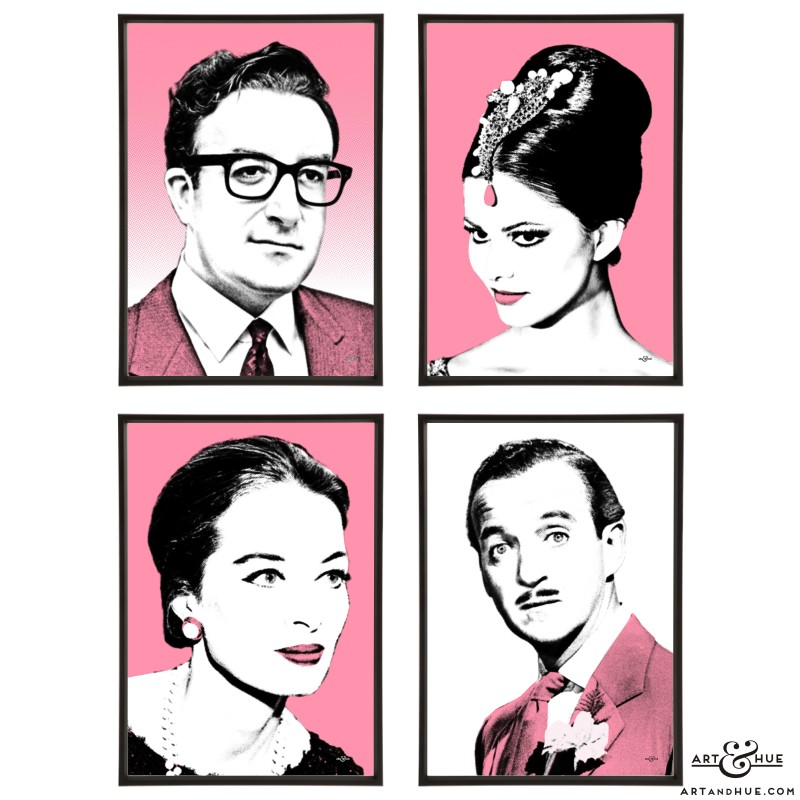 Capucine also starred in "Song Without End", her first English-speaking film, alongside Dirk Bogarde, "Walk on the Wild Side" with Laurence Harvey & Jane Fonda, "The Honey Pot" with Maggie Smith, "Fellini's Satyricon", "Arabian Adventure" with Christopher Lee, the glamourous miniseries "Sins" with Joan Collins, "Le Fate" with Monica Vitti and Claudia Cardinale, "What's New Pussycat?" with Peter Sellers, Ursula Andress, and the title song written by Burt Bacharach and sung by Thomas Woodward.

Capucine Pop Art
Exclusively by Art & Hue, the collection is available in three sizes and many colour options, all printed on museum-quality archival card of 310gsm, made from 100% cotton, with fine-art pigment inks for longevity.
Available in A4, A3, and A2 sizes to fit standard-size picture frames. Please note that black frame is not included – for a guide on choosing a frame size take a look here.
Part of the 1960s Capers collection of stylish pop art prints inspired by 1960s spy & crime films & TV shows, featuring Art & Hue's signature halftone style (halftone is an age-old technique that uses dots to make up the printed image, similar to newspapers or comic books).
Copyright © Art & Hue ® 2019. All rights reserved.