60 Years of Bond
Bond has become a British institution, recognised around the world, and the long-running spy film series all started 60 years ago. As a lifelong fan of the films, having grown up like most cinemagoers with Bond, Art & Hue is raising a martini to toast the British agent.
To help celebrate the iconic spy's 60th anniversary, here's a collation in this blog post of Art & Hue's previously-launched pop art prints featuring Bond actors & actresses who have appeared in the film franchise over the years.
From Connery in "The Frightened City" to the most recent actor to play the spy, Daniel Craig CMG, take a look at the article below in homage to 60 years of Bond.
60 years of Bond
2022 marks 60 years since the first ever Bond film when "Dr. No" started filming on the 16th of January 1962 and premiered in October of the same year.
The Connery Years
George Lazenby
The Moore Era
Timothy Dalton & Pierce Brosnan
Daniel Craig
Hope you've enjoyed Art & Hue's homage to the iconic spy in this article to mark the 60th anniversary of Bond.
Below, Bond Girls, Pinewood, unofficial Bond films, royal Bond connections, and the Carry On's pastiche.
Happy 60th birthday to the Bond films! & Many Happy Returns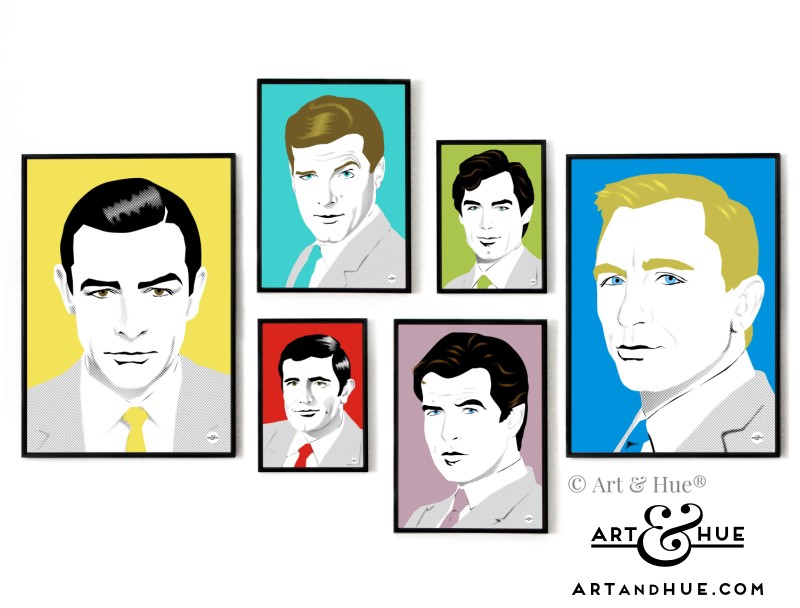 Pinewood
Unofficial Bonds
Bond Girls
Britt Ekland appeared alongside Moore in his second outing as Bond, "The Man with the Golden Gun" in 1974.
Also starring British cinema icon Christopher Lee as the villain, the film had a powerful song performed by Lulu featuring memorable lyrics.
Britt Ekland has appeared in many iconic productions including "The Wicker Man", also starring Christopher Lee, which is frequently described as the best British horror film, as well as a classic scene in Jennifer Saunders' "Absolutely Fabulous" with Joanna Lumley set in Joe's Café, also featuring Lulu.
Valerie Leon appeared in two Bond films, in a supporting role as a receptionist in "The Spy Who Loved Me" with Moore, and got frisky with Connery in "Never Say Never Again", when he reprised the role of Bond in 1983.
Other Bond girls include Anouska Hempel, who appeared in "On Her Majesty's Secret Service" alongside Jenny Hanley & Julie Ege; and Shirley Eaton, who was painted gold in "Goldfinger", as was Margaret Nolan for the title sequence.
Carry On Spying
Her Majesty The Queen