Daniel Craig stylish pop art illustration by Art & Hue
Daniel Craig was already a successful actor, on stage, film & television, before becoming
Bond
but the role of the iconic spy made him an internationally-famous star.
When Craig was initially announced as the spy, there were some detractors who decried the appointment of a blonde Bond. They have since had to eat their words given the global success and acclaim the Craig era has attracted.
Going back to the source material of Ian Fleming's novel, Daniel Craig's Bond burst into cinemas in 2006 with "Casino Royale".
The film's tone and action impressed fans and marked a more physical yet emotionally-complex spy. (Keep an eye out for 60s supermodel Veruschka at the casino table)
Portraying the character from 2006 until last year's release of his final Bond film, out of all the six Bond actors, Daniel Craig has been the spy for the longest time.
As well as Bond, Craig's films include "Elizabeth" with Richard Attenborough & Kathy Burke; "Love is the Devil"; "Some Voices"; "Hotel Splendide"; "Lara Croft: Tomb Raider" with Angelina Jolie; "Road to Perdition"; "Layer Cake" with Kenneth Cranham; "Munich"; "The Golden Compass" with Christopher Lee; "Cowboys & Aliens"; "The Girl with the Dragon Tattoo"; "Logan Lucky"; and "Knives Out"; to name a few
TV credits include the critically-acclaimed "Our Friends in the North" and "The Fortunes and Misfortunes of Moll Flanders" with Diana Rigg.
Also available as part of
group of 6
: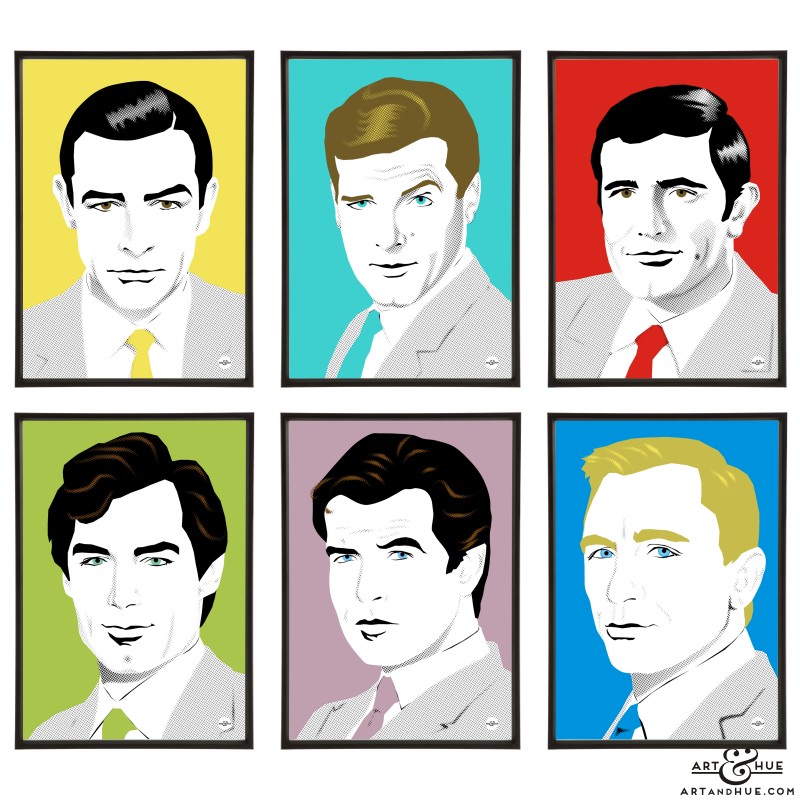 Available in A4, A3, and A2 sizes to fit standard-size picture frames. Please note that black frame is not included – for a guide on choosing a frame size take a look here.
This illustrated print, exclusively by Art & Hue, features Art & Hue's signature halftone style (halftone is an age-old technique that uses dots to make up the printed image, similar to newspapers or comic books) along with graphic blocks of colour.

Copyright © Art & Hue ® 2022. All rights reserved.