A competitive bodybuilder, Sean modelled for the first fashion boutique in the Carnaby area of Soho (Vince Mans Shop on Newburgh Street).
Connery went on to appear in supporting roles in a number of films before landing a lead part in "The Frightened City". Released the year before the first ever Bond film "Dr. No" started production, Connery cut a dash as a London gangster in the British noir film.
Seduction, guns, judo, and drinks – with hindsight it makes perfect sense that Cubby Broccoli would want to cast the vital Scotsman as Bond after seeing Connery steal this tale of London crime gangs and protection rackets.
The ultimate film spy of the 1960s, Connery helped establish a film franchise with a swagger and ruthlessness that captivated filmgoers across the world.
Gadgets, glamour, and guns – they've become familiar to global audiences and no spy film or TV show can use them without being aware of the legacy of the suave British agent. Bond has become a British institution recognised around the world and the long-running spy film series continues to appeal to filmgoers.
Available in A4, A3, and A2 sizes to fit standard-size picture frames. Please note that black frame is not included – for a guide on choosing a frame size take a look here.
Also available as part of
group of 6
: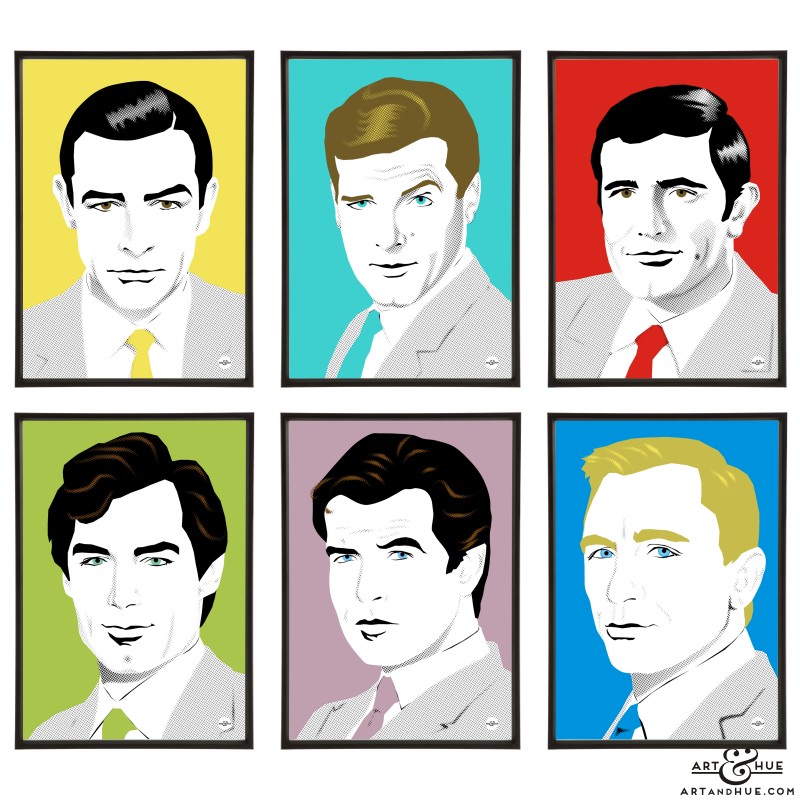 This illustrated print, exclusively by Art & Hue, features Art & Hue's signature halftone style (halftone is an age-old technique that uses dots to make up the printed image, similar to newspapers or comic books) along with graphic blocks of colour.

Copyright © Art & Hue ® 2017-2022. All rights reserved.