Invasion pop art print
Stylish pop art re-imagining the film poster for the 1966 British science-fiction film "Invasion", part of the
Sci-fi
collection by Art & Hue.
"Invasion" is a rare British film with a headline cast of East Asian actors. Whilst the initial instinct may be to assume the casting of Japanese and Chinese performers as aliens seems xenophobic, the story develops to show that this is far more nuanced, with the alien protaganists turning out to be law-abiding justice-seekers.
Yoko Tani plays a vital role in the film. The Japanese actress, born in Paris, had a varied career, appearing in many French, Italian, and English films and TV shows, including "Danger Man" with Patrick McGoohan, and "Man in a Suitcase".
Also in "Invasion" is Chinese actress Tsai Chin, the daughter of respected actor Zhou Xinfang, who has appeared in many classic productions, including "Dixon of Dock Green" with Jack Warner, cult 60s film "Blow-Up!" with David Hemmings, Vanessa Redgrave, Peggy Moffitt, and Veruschka, the Bond film "You Only Live Twice" with Sean Connery, and "The Blood of Fu Manchu" with Christopher Lee. Tsai Chin is still active with recent appearances in the Bond film "Casino Royale", "Agents of Shield", and "Now You See Me 2" with Michael Caine.
Ric Young, billed in his youth as Eric Young, has also had a long career in film & TV, appearing in "The Saint" with Roger Moore, "You Only Live Twice", "Jason King" with Peter Wyngarde, "Bless This House" with Sid James, "Are You Being Served?", "Alias", and "The Transporter" with Jason Statham.
The film also stars Edward Judd, who appeared in "Carry On Sergeant", "The Human Jungle" with Herbert Lom, "The Professionals", "Coronation Street", "The New Avengers" with Joanna Lumley, and the "Jack the Ripper" mini-series starring Michael Caine & Lewis Collins.
Based on an original story by the prolific "Doctor Who" writer Robert Holmes, the film was written by Roger Marshall who also scripted many classic episodes of "
The Avengers
" during the
Cathy Gale
&
Emma Peel
eras, as well as episodes of "
The Sweeney
" and "
The Professionals
", and was the creator of "Public Eye" and "Zodiac" with
Anouska Hempel
.
Invasion opened at the ABC Lime Street cinema in Liverpool on the 15th of May 1966.
Art & Hue has reimagined the film posters of British vintage films to create the new Sci-fi collection of science-fiction pop art prints.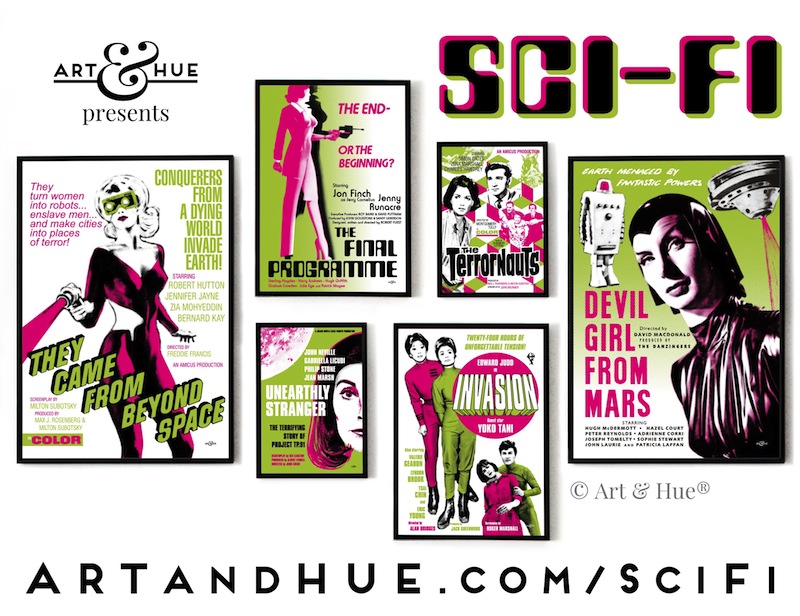 An official collaboration with Studiocanal, the Sci-fi pop art collection is available in 3 sizes & 15 colours, printed on museum-quality archival card of 310gsm, made from 100% cotton, with fine-art pigment inks for longevity, exclusively by Art & Hue.
Available in A4, A3, and A2 sizes to fit standard-size picture frames. Please note that black frame is not included – for a guide on choosing a frame size, visit here.
Rewatch, or discover anew, the film on DVD & Bluray from Amazon:
"Invasion" Copyright © STUDIOCANAL Films Ltd. (1966). All rights reserved.
Copyright © Art & Hue® 2020. All rights reserved.