Lewis Collins, Martin Shaw, & Gordon Jackson stylish pop art graphic illustrations, available in 3 sizes and 26 colour options.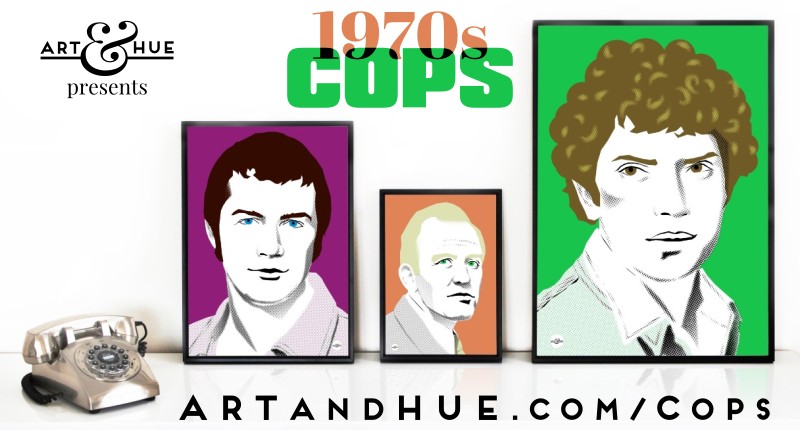 The Professionals
Hot on the heels of "The New Avengers", which starred Patrick Macnee and Joanna Lumley, the same creative and production team of Brian Clemens and Albert Fennell created "The Professionals".
"The Professionals" had a fictional CI5 department that answered only to itself, and possibly the Home Secretary, and would use any means necessary to foil criminal activity. Headed by Gordon Jackson as George Cowley, CI5, an amalgam of acronyms CID and MI5, recruited exceptional candidates including the department's main exponents Bodie & Doyle.
Played by Lewis Collins and Martin Shaw, their occasionally abrasive relationship, whilst both looking out for each other, hooked viewers along with the action sequences.
Lewis Collins & Martin Shaw were first paired in "The New Avengers" episode "Obsession", the spiky chemistry between the two actors led to their casting as Bodie & Doyle in "The Professionals".
Incidentally, elements of the plot of "Obsession" were later recycled in "The Professionals" episode "Close Quarters".
"The Professionals" has one of TV's most memorable theme tunes by Laurie Johnson who also wrote the themes for "The Avengers", "Jason King" with Peter Wyngarde, and "The New Avengers" with Joanna Lumley.
Art Prints
Please note the orange in the Purple & Orange option is a brighter, almost neon, shade than the softer orange of the Copper colour option.
Available in A4, A3, and A2 sizes to fit standard-size picture frames. Please note that black frames are not included – for a guide on choosing a frame size take a look here.
This trio of illustrated prints is part of the 1970s Cops collection of stylish pop art prints, exclusively by Art & Hue, inspired by 1970s police detectives and features Art & Hue's signature halftone style (halftone is an age-old technique that uses dots to make up the printed image, similar to newspapers or comic books) along with graphic blocks of colour.
Copyright © Art & Hue ® 2018-2020. All rights reserved.