David Hemmings
Stylish pop art of the iconic actor David Hemmings.
Before becoming a global star in iconic 1960s productions "Blow-Up" and "Barbarella", David Hemmings starred in the London musical film "Live it Up", released "Sing & Swing" in America, with Steve Marriott, Kenny Ball & His Jazzman, Gene Vincent, and Coronation Street actress Jennifer Moss.
John Stephen of Carnaby Street provided the menswear for this Joe Meek musical, whilst Mary Quant supplied women's clothing, and Vidal Sassoon created the hairstyles.
David started his career early as a child actor. His first film credits are "The Rainbow Jacket" with Sam Kydd, Honor Blackman & Sid James, and "Saint Joan" with Harry Andrews. He also appeared in "The Heart Within" with Earl Cameron, and "No Trees in the Street" with Herbert Lom & Carole Lesley.
As a teenager, David appeared in "Play it Cool" with Billy Fury & Helen Shapiro, "The Painted Smile" with Liz Fraser, "West 11" with Diana Dors, before being cast in the Lance Comfort films "Live it Up" and "Be My Guest".
Perhaps his most well-known films are the seminal 60s classics "Blowup" with Vanessa Redgrave, supermodels Veruschka & Peggy Moffitt, and "Barbarella" with Jane Fonda, Milo O'Shea & Anita Pallenberg (and the voice of Joan Greenwood).
David Hemmings Pop Art
Exclusively by Art & Hue, the
Guitars
collection is available in three sizes and many colour options, all printed on museum-quality archival card of 310gsm, made from 100% cotton, with fine-art pigment inks for longevity.
Available in A4, A3, and A2 sizes to fit standard-size picture frames. Please note that black frame is not included – for a guide on choosing a frame size take a look here.
Part of the Guitars collection of stylish pop art prints inspired by film axe men and their instruments, featuring Art & Hue's signature halftone style (halftone is an age-old technique that uses dots to make up the printed image, similar to newspapers or comic books).
Also available as part of a group of ten prints.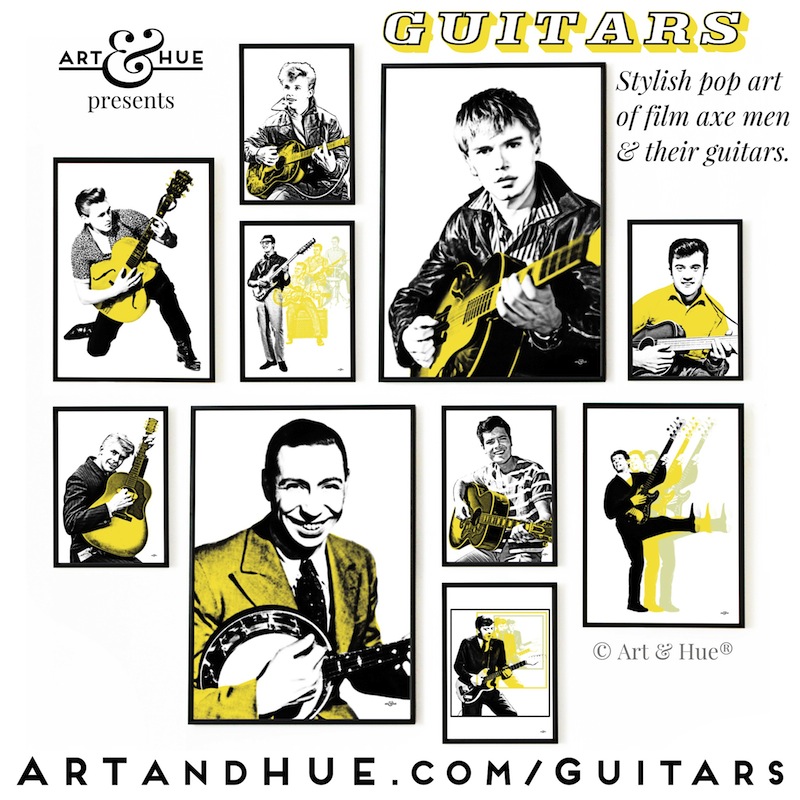 Discover, or rewatch, "Live It Up" on DVD at Renown
.
"Live It Up" Copyright © Renown Pictures Ltd, (1963). All rights reserved.
Copyright © Art & Hue ® 2019. All rights reserved.