From the classic Ealing Comedy "Kind Hearts & Coronets", Joan Greenwood stylish pop art print.
In an outfit reminiscent of the "wriggle-and-chiffon" school of Edwardian portraiture, Joan Greenwood looks both imperious and beautiful in her dramatic hat with net veil.
Kind Hearts & Coronets
Regarded by many as the finest Ealing comedy, "Kind Hearts & Coronets" sees Dennis Price's disowned character Louis Mazzini plot to kill off the entire D'Ascoyne family so he can inherit the dukedom.
"Kind Hearts & Coronets" was one of the most popular films of 1949 and, along with "Whisky Galore", "A Run For Your Money", and "Passport to Pimlico", all released in the same year within the space of seven months, helped to firmly establish the Ealing Comedies as a British cinematic institution.
"Kind Hearts & Coronets" opened at the Leicester Square Odeon cinema in London on the 23rd of June 1949, appropriately enough on Dennis Price's birthday.
Starring Alec Guinness as all nine members of the D'Ascoyne family who stand in the way of Dennis Price's goal, the film sees Louis Mazzini torn between the affections of Edith D'Ascoyne, played by Valerie Hobson, and his childhood friend Sibella, played by Joan Greenwood.
Art & Hue had the pleasure to delve into the archives for the Ealing Comedy "Kind Hearts & Coronets" to create this stylish pop art print of Joan Greenwood, available in three sizes and 20 colours.
Also available as part of a pair: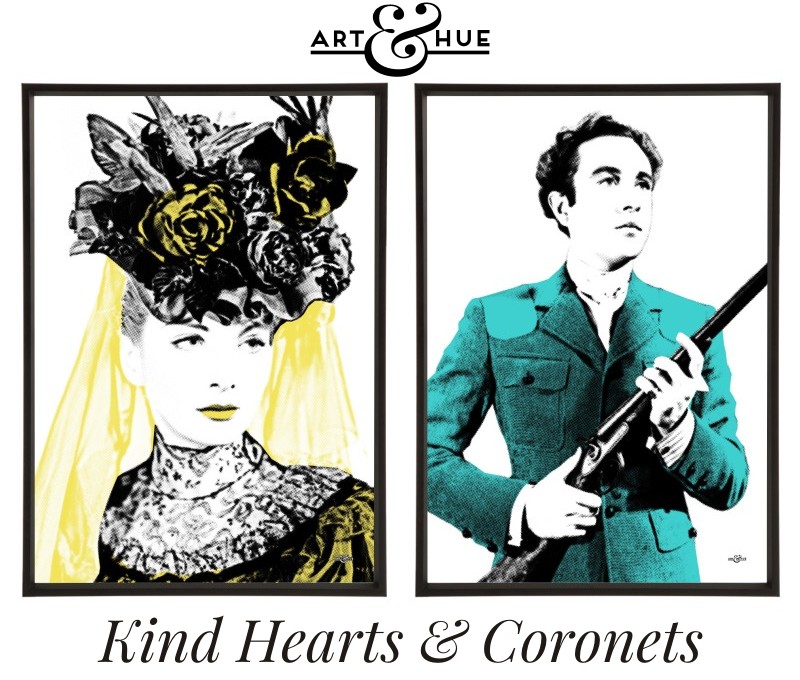 Order the film on DVD or Bluray or watch on iTunes now.

Joan Greenwood
A distinguished actress with a voice like silk, Joan Greenwood is a British cinema icon. From the classic Ealing Comedies and Oscar Wilde to cult sci-fi and alternative comedy, Joan Greenwood left her mark in distinctive productions.
Along with the classic "Kind Hearts & Coronets", Joan Greenwood also appeared in the Ealing comedies "Whisky Galore!", with Gordon Jackson & John Gregson, and "The Man in the White Suit" with Alec Guinness & Cecil Parker.
Her first credit is in 1939's "Little Ladyship" with Cecil Parker, and this was followed by many more film roles including "The Smugglers" with Richard Attenborough, "Saraband for Dead Lovers" with Barbara Murray, John Gregson, & Sandra Dorne, "Flesh & Blood" with Patrick Macnee, "Young Wives' Tales" with Audrey Hepburn & Irene Handl, "The Importance of Being Earnest" with Margaret Rutherford, "Father Brown Detective" with Alec Guinness, Cecil Parker, & Sid James, "Mysterious Island" with Herbert Lom, "The Amorous Mr Prawn" with Ian Carmichael, Cecil Parker, Dennis Price, Liz Fraser, & Sandra Dorne, "Tom Jones" with Diane Cilento,"The Moon-spinners" with Peter McEnery, "The Uncanny" with Peter Cushing, and "The Hound of the Baskervilles" with Terry-Thomas, Kenneth Williams, Penelope Keith, & Irene Handl.
She also provided her caramel tones to the cult sci-fi film "Barbarella" in which she was dubbed over Anita Pallenberg. Her smooth call of "pretty pretty" to Jane Fonda is memorable and iconic.
On television, Greenwood appeared in "Danger Man" with Patrick McGoohan, "The Great Inimitable Mr. Dickens" with Gordon Jackson & Stanley Holloway, "Triangle" with Kate O'Mara, and the mini-series "Wagner" with Vanessa Redgrave.
One of Joan Greenwood's final roles was as Lady Carlton, the eccentric landlady to Dawn French, Jennifer Saunders, Ruby Wax, and Tracey Ullman in the 1980s comedy series "Girls On Top".
Joan Greenwood Pop Art
Available in A4, A3, and A2 sizes to fit standard-size picture frames. Please note that black frame is not included – for a guide on choosing a frame size take a look here.
An official collaboration with Studiocanal, this print is part of the Ealing Comedies collection of stylish pop art prints inspired by the classic British comedy films made at Ealing Studios, featuring Art & Hue's signature halftone style (halftone is an age-old technique that uses dots to make up the printed image, similar to newspapers or comic books).
"Kind Hearts & Coronets" Copyright © STUDIOCANAL Films Ltd. (1949). All rights reserved.
Copyright © Art & Hue® 2019. All rights reserved.