Vanessa Redgrave Pop Art
Stylish pop art print of Vanessa Redgrave.
Alongside an acclaimed theatre career, Dame Vanessa Redgrave continues to have an impactful and prolific film presence. As well as seminal film "BlowUp", one of Vanessa's 60s film is "Morgan – A Suitable Case for Treatment". Vanessa was nominated for the Best Actress Oscar and won Best Actress at the Cannes Film Festival where the film was nominated for the Palme d'Or. Adapted from the television play, Vanessa reprised the role of Leonie with Richard Warner replacing Ian Hendry.
"Morgan – A Suitable Case for Treatment" opened at the Carlton Cinema in London on the 14th of April 1966.
Just some of Vanessa's many film credits include "Behind the Mask" with her father Michael Redgrave & Ian Bannen; "Morgan – A Suitable Case for Treatment" with Irene Handl; "Julia" which saw Vanessa win the Best Supporting Actress Oscar; "A Man for All season" with Orson Welles & Yootha Joyce; "BlowUp" with David Hemmings, Peggy Moffitt, & Veruschka; "Camelot" with Franco Nero & Richard Harris; "The Sailor from Gibraltar" with Hugh Griffith; "Isadora" with John Fraser; "The Sea Gull" with Alfred Lynch; "Oh! What a Lovely War" with Cecil Parker, Dirk Bogarde, Jack Hawkins, & Maggie Smith; "Mary, Queen of Scots" with Patrick McGoohan & Timothy Dalton; "The Devils" with Brian Murphy; "The Trojan Women" with Brian Blessed & Patrick Magee; "Murder on the Orient Express" with Sean Connery & Rachel Roberts; "Out of Season" with Susan George & Cliff Robertson; "The Seven-Per-Cent Solution" with Laurence Olivier; "Bear Island" with Christopher Lee; "Steaming" with Diana Dors; "Comrades" with Alex Norton & Barbara Windsor; "Prick Up Your Ears" with Julie Walters, Alfred Molina, & Gary Oldman as Joe Orton; the first "Mission: Impossible" film; "Smilla's Sense of Snow" with Richard Harris; "Crime & Punishment" with Patricia Hayes; "The Gathering Storm" with Ronnie Barker & Celia Imrie; "Atonement"; "Song for Marion" with Terence Stamp; and "Film Stars Don't Die in Liverpool" with Kenneth Cranham.
TV Credits include "Playing for Time" with Maud Adams; "Jack and the Beanstalk: The Real Story" with Richard Attenborough; "Wagner" with Richard Burton; and "The Young Indiana Jones Chronicles" which also guest-starred Daniel Craig, Christopher Lee, & Max von Sydow.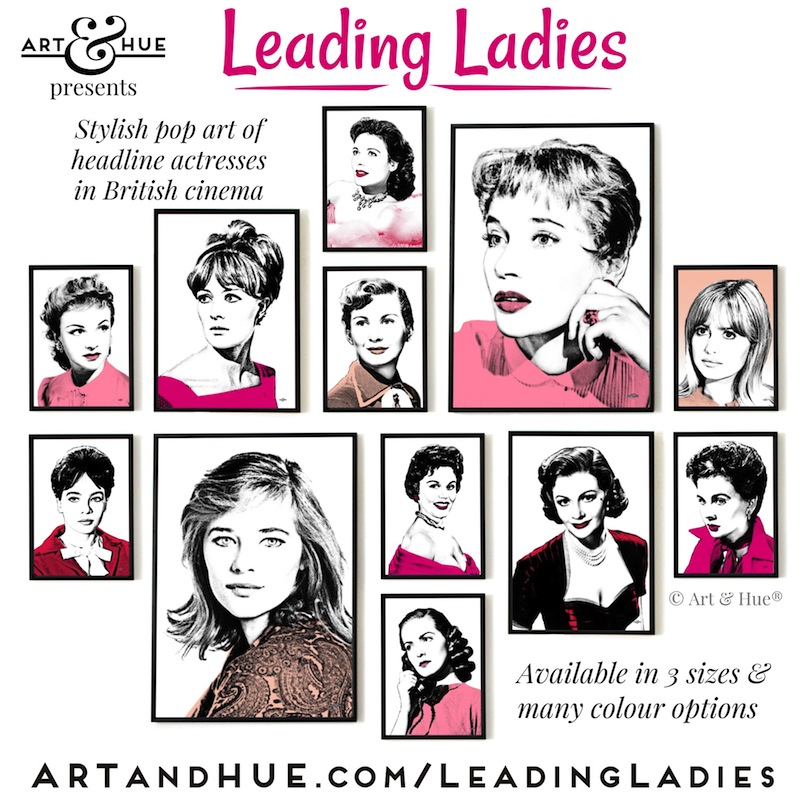 An official collaboration with Studiocanal, this print is part of the Leading Ladies pop art collection, featuring Art & Hue's signature halftone style (halftone is an age-old technique that uses dots to make up the printed image, similar to newspapers or comic books).
Exclusively by Art & Hue, the Leading Ladies pop art collection is available in three sizes and many colours, all printed on museum-quality archival matte card of 310gsm, made from 100% cotton, with fine-art pigment inks for longevity.
Available in A4, A3, and A2 sizes to fit standard-size picture frames. Please note that black frame is not included – for a guide on choosing a frame size take a look here.
Rewatch, or discover anew, the film on DVD from Amazon.
"Morgan" Copyright © STUDIOCANAL Films Ltd, (1966). All rights reserved.
Copyright © Art & Hue® 2022. All rights reserved.