Ronnie Barker stylish pop art print.
A much-loved comedy icon, Ronnie Barker has been an integral part of British television for many years. From his unique partnership with
Ronnie Corbett
to his own projects, Barker was a prolific writer and performer whose work is still enjoyed by many to this day.
Starting in 1971, it's "The Two Ronnies" that Barker is perhaps most fondly remembered for. The inspired pairing of Barker and Corbett produced one of the longest-running comedy partnerships on British television.
"The Two Ronnies" ran from 1971 until 1987 and welcomed many guest actors over the years including Diana Dors, Kate O'Mara, John Cleese, Joan Sims, Joanna Lumley, David Prowse, to name a few, and created some of the most memorable comedy sketches in British TV history.
To have one hit long-running TV show is a major accomplishment but alongside "The Two Ronnies", Ronnie Barker also had success as Fletcher in the prison sit-com "Porridge" with Fulton Mackay, and as the thrifty shopkeeper Arkwright in "Open All Hours".
Barker appeared in many TV shows across his long career, including "The Avengers" with Diana Rigg & Patrick Macnee, Benny Hill's show, "Citizen James" with Sid James, "Sykes & a" with Hattie Jacques, "The Frost Report" with John Cleese, "The Saint" with Roger Moore, "Bold as Brass" with Beryl Reid, "The Seven Faces of Jim" with June Whitfield, "Nom-de-Plume" with Peter Wyngarde, "Gaslight Theatre" with Kate O'Mara, "Barney is my Darling" with Irene Handl, and TV movie "My House in Umbria" with Maggie Smith, to name a very few.
His own shows welcomed guest-actors across the years such as "The Ronnie Barker Playhouse" with Richard O'Sullivan, "Six Dates with Barker" with Joan Sims, and "7 of 1" with Yootha Joyce.
Ronnie's first ever film role was an uncredited appearance along with Liz Fraser in "Wonderful Things!", and was followed by parts in "The Cracksman" with Dennis Price, & "Doctor in Distress" with Dirk Bogarde & Fenella Fielding, "A Home of Your Own" with Bernard Cribbins, and "Robin & Marian" with Sean Connery & Audrey Hepburn.
In 1964, Ronnie Barker starred in the film "The Bargee" with Harry H. Corbett. Corbett plays Hemel Pike, a canal casanova, who doesn't like the idea of the changes planned for the canal network. The film opened at London's Empire Cinema on Leicester Square on the 23rd of April 1964.

Art & Hue had the pleasure to delve into the archives for the film "The Bargee" to create this stylish pop art print of Ronnie Barker, available in three sizes and 20 colours.
Discover, or rewatch, The Bargee on DVD.
Also available as part of a pair with Ronnie Corbett: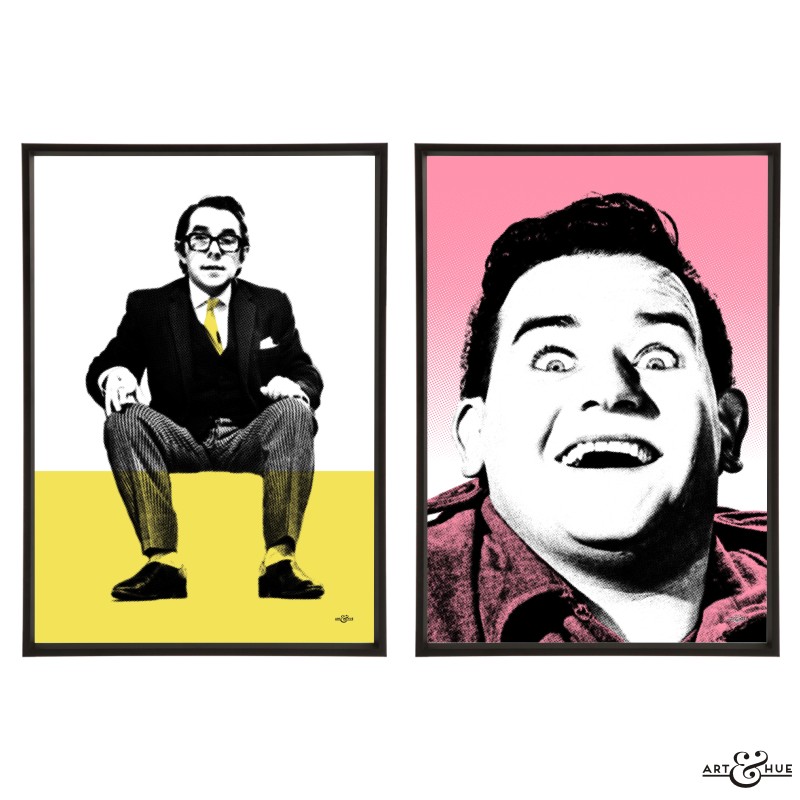 and a pair with Fulton Mackay: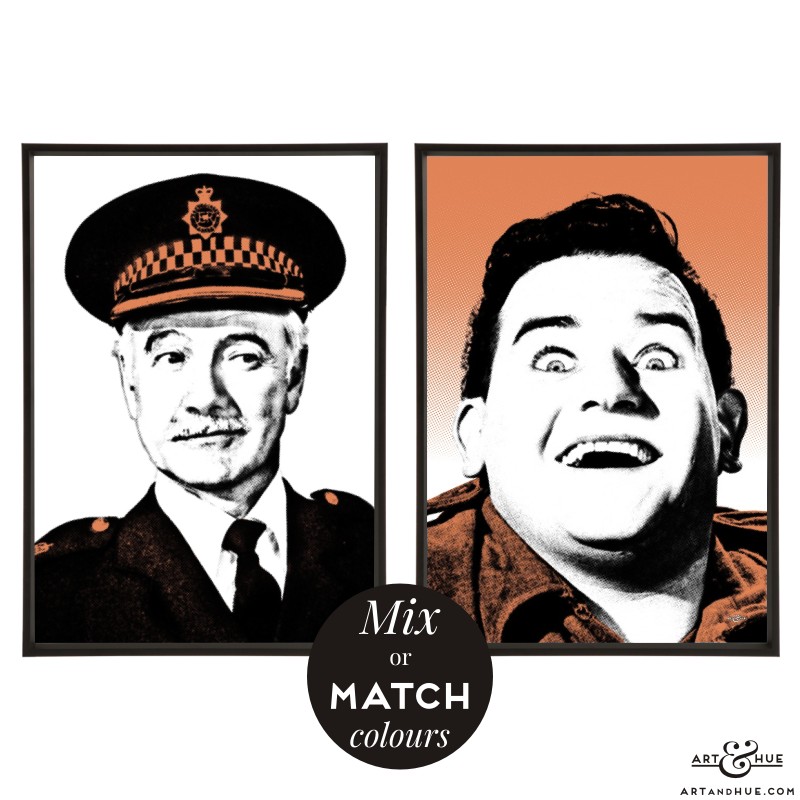 Ronnie Barker Pop Art
Available in A4, A3, and A2 sizes to fit standard-size picture frames. Please note that black frame is not included – for a guide on choosing a frame size take a look here.
An official collaboration with Studiocanal, this print is part of the Funny Men collection of stylish pop art prints inspired by classic British comedians and comic actors, featuring Art & Hue's signature halftone style (halftone is an age-old technique that uses dots to make up the printed image, similar to newspapers or comic books).
"The Bargee" Copyright © STUDIOCANAL Films Ltd. (1964). All rights reserved.
Copyright © Art & Hue® 2019-2021. All rights reserved.