Alfred Lynch Pop Art
Stylish pop art print of Alfred Lynch.
The handsome London-born actor Alfred Lynch headlined several films in the early 1960s after an impressive start on stage. A member of the Royal Court Theatre from 1958, Lynch appeared in several productions and went on to star in Joan Littlewood's production of "The Hostage", in London and New York, to critical acclaim.
After bit-parts in a few TV shows, Lynch appeared as an extra in the acclaimed 1959 film "Look Back in Anger" with Richard Burton & Mary Ure. It wasn't long before Alfred Lynch was headlining his own film when he co-starred with Sean Connery in the 1961 war comedy "On the Fiddle". Released as "Operation Snafu" in American cinemas, the film also features Cecil Parker, Stanley Holloway, Liz Fraser, & Barbara Windsor.
Roles in "Two and Two Make Six" with Janette Scott, "The Password Is Courage" with Dirk Bogarde, and "55 Days at Peking" with David Niven & Elizabeth Sellars, were to follow ahead of Lynch being cast as the leading man in Michael Winner's film "West 11" with Diana Dors & David Hemmings.
Lynch was reunited with Sean Connery on film in 1965's "The Hill" which also featured Harry Andrews, Ian Bannen, & Ian Hendry.
Whilst "West 11" wasn't the huge success that would have led to more headlining roles, Lynch continued to appear in film & TV productions, including "The Taming of the Shrew" with Elizabeth Taylor & Richard Burton, "The Sea Gull" with Vanessa Redgrave, "The Blockhouse" with Peter Sellers, "Joseph Andrews" with Beryl Reid, Kenneth Cranham, Jim Dale, & Hugh Griffith, and "Until the End of the World" with Lois Chiles.
Moving to Brighton in 1972 after his partner suffered a stroke, later years saw Lynch appear in "Doctor Who" (as Commander Millington in "The Curse of Fenric"), and "The Krays" in 1990 with the Kemp brothers, as well as various guest spots on TV shows including "Jackanory", "Lovejoy", "Kavanagh QC" with John Thaw, "Bergerac", and "Pie in the Sky".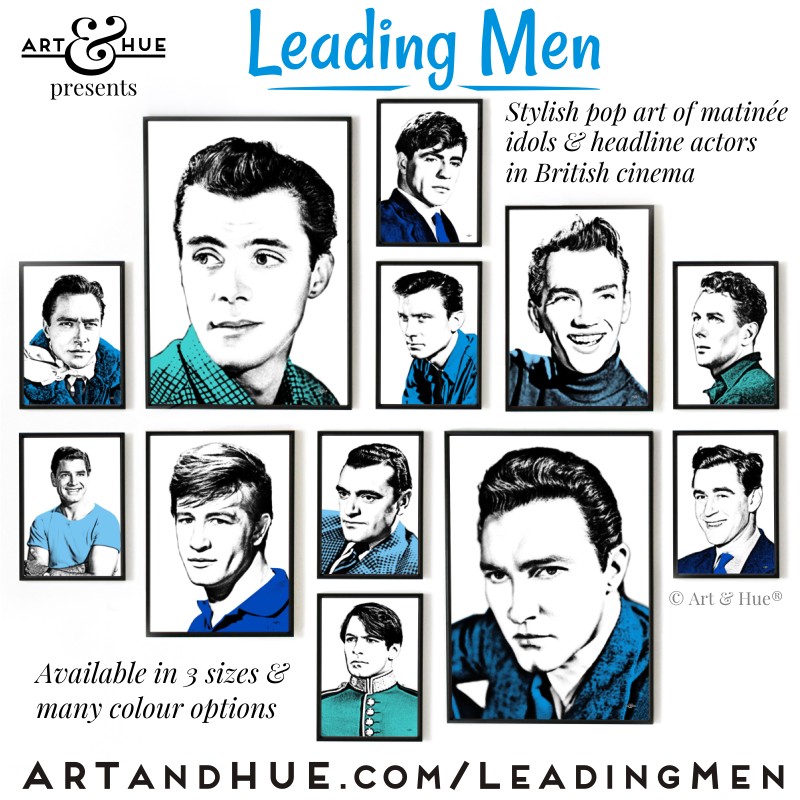 An official collaboration with Studiocanal, this print is part of the
Leading Men
pop art collection, featuring Art & Hue's signature halftone style (halftone is an age-old technique that uses dots to make up the printed image, similar to newspapers or comic books).
Exclusively by Art & Hue, the Leading Men pop art collection is available in three sizes and many colours, all printed on museum-quality archival matte card of 310gsm, made from 100% cotton, with fine-art pigment inks for longevity.
Available in A4, A3, and A2 sizes to fit standard-size picture frames. Please note that black frame is not included – for a guide on choosing a frame size take a look here.
Rewatch, or discover anew, the film on DVD from Amazon.
"West 11" Copyright © STUDIOCANAL Films Ltd, (1963). All rights reserved.
Copyright © Art & Hue® 2021. All rights reserved.