Elizabeth Sellars Pop Art
Stylish pop art print of Elizabeth Sellars.
Born in Glasgow, Sellars became one of Scotland's most popular actresses.
Her first film credit is for the beloved Scottish 1949 classic "Floodtide" with Gordon Jackson, John Laurie, Jimmy Logan, & Molly Weir.
Other films include "Hunted" & "The Gentle Gunman" with Dirk Bogarde; "Recoil" with Kieron Moore; "Forbidden Cargo" with Terence Morgan & Jack Warner; "The Barefoot Contessa" with Ava Gardner; "Désirée" with Jean Simmons; "Prince of Players" with Richard Burton; "Three Cases of Murder" with Orson Welles, John Gregson, Eddie Byrne, Zena Marshall, & Patrick Macnee; "Jet Storm" with Richard Attenborough, Stanley Baker, & Diane Cilento; "Law & Order" with Michael Redgrave & Meredith Edwards; "The Day they Robbed the Bank of England" with Andrew Keir & Hugh Griffith; "Never Let Go" with Richard Todd, Peter Sellers, Adam Faith, & Mervyn Johns; "The Webster Boy" with Richard O'Sullivan; and "55 Days at Peking" with David Niven & Harry Andrews.
Elizabeth Sellars starred in "The Man in the Sky" with Jack Hawkins. The film was first screened to the trade and cinema distributors on the 8th of January 1957 at the MGM Theatre, and received its premiere on the 24th of January 1957 at London's Empire cinema.
Television credits include "The Avengers" episode "Take-Over" with Tara King; "South Sea Bubble" with Ronald Lewis; and "First Night" with Michael Robbins.
An official collaboration with Studiocanal, this print is part of the Scottish Cinema pop art collection, featuring Art & Hue's signature halftone style (halftone is an age-old technique that uses dots to make up the printed image, similar to newspapers or comic books).
Elizabeth Sellars also features on the
Scottish Film Map
pop art print.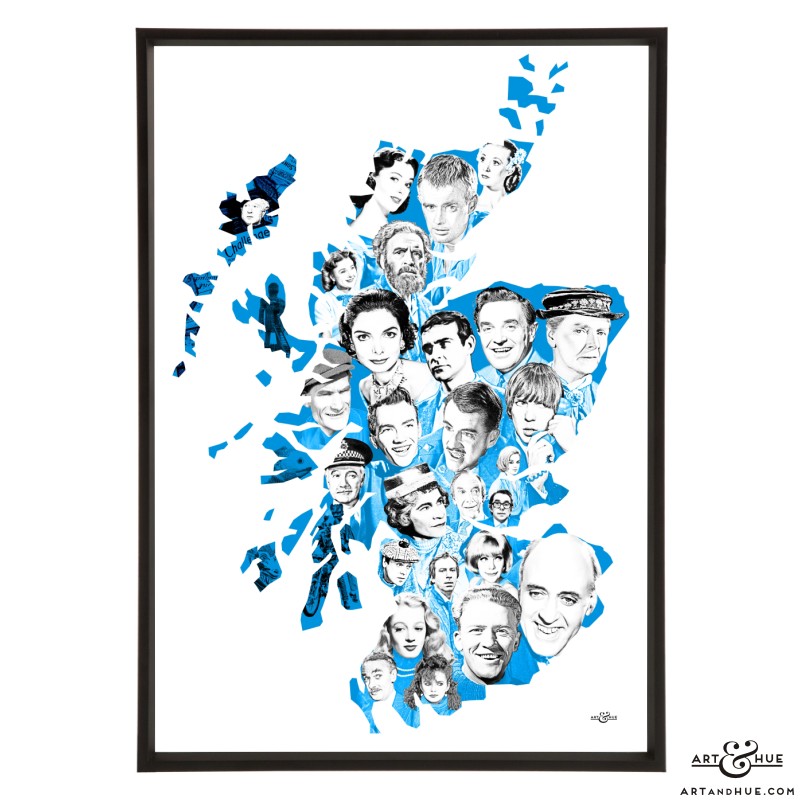 Exclusively by Art & Hue, the Scottish Cinema pop art collection is available in three sizes and many colours, all printed on museum-quality archival matte card of 310gsm, made from 100% cotton, with fine-art pigment inks for longevity.
Available in A4, A3, and A2 sizes to fit standard-size picture frames. Please note that black frame is not included – for a guide on choosing a frame size take a look here.
Rewatch, or discover anew, the film on DVD from Amazon.
"The Man in the Sky" Copyright © STUDIOCANAL Films Ltd, (1957). All rights reserved.
Copyright © Art & Hue® 2021. All rights reserved.