From the classic Ealing Comedy "Whisky Galore!", Gordon Jackson stylish pop art print.
Whisky Galore!
"Whisky Galore!" was one of the most popular films of 1949 and, along with "Passport to Pimlico", "A Run For Your Money", and "Kind Hearts & Coronets" all released in the same year within the space of seven months, firmly established the Ealing Comedies as a British cinematic institution.
A classic comedy, very much rooted in its Scottish location but appealing to cinemagoers worldwide, "Whisky Galore!" tells the story, apparently based on true events, of a fictional Scottish island in the Outer Hebrides that has run dry of whisky but whose inhabitants are gifted a shipwreck carrying 50,000 cases of the spirit.
With opposition from the local law enforcers, the islanders plot to salvage and hide the drink. Like other Ealing comedies, "Whisky Galore!" presents the tale of the small underdog battling a larger enemy, in this case the state bureaucracy of the Home Guard & customs officials.
Also starring Joan Greenwood, Duncan Macrae, Jean Cadell, & Basil Radford, international cinemagoers were captivated by the whisky-dependent islanders in "Whisky Galore!" – the film was renamed "Tight Little Island" for American audiences and the French title inspired the name of the world's first ever discotheque, Whisky à Gogo in Paris.
The film opened in two London cinemas on June 16th 1949, the Haymarket Gaumont & the Marble Arch Pavilion.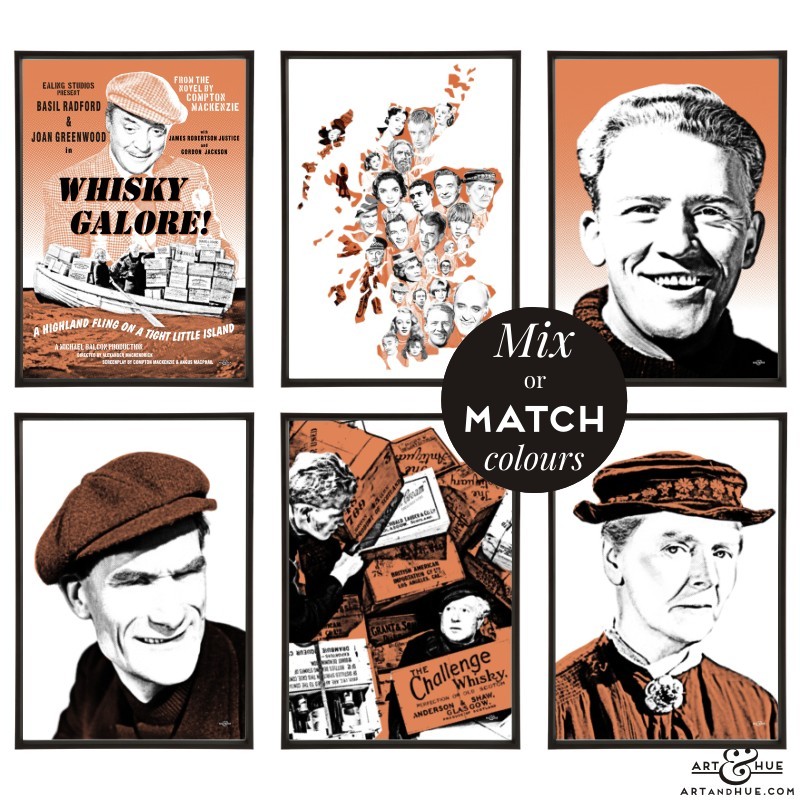 Gordon Jackson
From the Ealing Comedies to 70s cop dramas, Gordon Jackson was a pillar of British film and television for many years.
Part of the Ealing Comedies troupe of regular actors, his prolific film career included "Whisky Galore!" with Joan Greenwood & John Gregson, "Meet Mr. Lucifer" with Stanley Holloway, Barbara Murray, Joan Sims, Irene Handl, Ian Carmichael, & an uncredited Diane Cilento, and "The Love Lottery" with David Niven, Hattie Jacques, & Herbert Lom.
Jackson's film appearances are wide and varied including "Hell Drivers" with Sean Connery, Patrick McGoohan, Sid James, William Hartnell, David McCullum, and Herbert Lom, as well as "The Ipcress File" with Michael Caine, "Malta Story" with Alec Guinness, "Castle In The Air" with Margaret Rutherford, "The Delavine Affair" with Honor Blackman, "Happy Go Lovely" with David Niven, "Moby Dick Rehearsed" with Christopher Lee, Patrick McGoohan, Orson Welles, & Kenneth Williams, "The Great Escape" with Richard Attenborough & David McCallum, Vera-Ellen, & Sandra Dorne, and the Edinburgh-set musical "Let's Be Happy".
Gordon Jackson's credits are peppered with film & TV policemen so it seems only natural that he would be promoted to running his own department with the career-defining role of George Cowley in "The Professionals".
He played a policeman in "Gideon C.I.D." with John Gregson, "The Befrienders", "Death Goes To School", "Daylight Robbery", and "Blind Date".
Gordon Jackson had previously worked with the same production team of "The Professionals" in "The Avengers" episode "Castle De'Ath" in 1965 but was also well-known for classic British film appearances including "The Prime of Miss Jean Brodie" with Maggie Smith, and "Those Magnificent Men In Their Flying Machines" with Terry-Thomas, Benny Hill, and Tony Hancock.

Order "Whisky Galore!" on DVD or Bluray or watch on iTunes now.
Gordon Jackson Whisky Galore Pop Art
Art & Hue had the pleasure to delve into the archives for the Ealing Comedy "Whisky Galore!" to create this stylish pop art print of Gordon Jackson & Morland Graham, available in three sizes and 20 colours.
Available in A4, A3, and A2 sizes to fit standard-size picture frames. Please note that black frame is not included – for a guide on choosing a frame size take a look here.
An official collaboration with Studiocanal, this print is part of the Ealing Comedies collection of stylish pop art prints inspired by the classic British comedy films made at Ealing Studios, featuring Art & Hue's signature halftone style (halftone is an age-old technique that uses dots to make up the printed image, similar to newspapers or comic books).
"Whisky Galore" Copyright © STUDIOCANAL Films Ltd. (1949). All rights reserved.
Copyright © Art & Hue® 2019. All rights reserved.