Duncan Macrae Pop Art
Stylish pop art print of Duncan Macrae.
One of Scotland's leading stage actors, Glasgow-born Duncan Macrae appeared in few but classic film & TV productions.
Macrea featured in the Ealing comedy "Whisky Galore!", a Scottish cinema must-watch, alongside Jean Cadell, Basil Radford, Joan Greenwood, Gordon Jackson, Morland Graham, Duncan Macrae, & John Gregson. The follow-up, called "Rockets Galore!", including Ronnie Corbett & John Laurie, had its world premiere at the Odeon Marble Arch on the 19th of September 1958.
Other film credits include "Our Man in Havana" with Alec Guinness & Maureen O'Hara; "The Brothers"; "The Woman in Question" with Dirk Bogarde; "You're Only Young Twice" with Charles Hawtrey; "Geordie" with Alastair Sim, Bill Travers, & Stanley Baxter; "Tunes of Glory" with Dennis Price, John Fraser, Susannah York, Peter McEnery, & Andrew Keir; "Girl in the Headlines" with Ian Hendry & Kieron Moore; the bonkers 1967 Bond-spoof "Casino Royale" with Peter Sellers, David Niven, David Prowse, Orson Welles, Caroline Munro, and the soundtrack performed by Herb Alpert & the Tijuana Brass; and his final film "30 is a Dangerous Age, Cynthia" with Patricia Routledge & Frank Thornton.
TV credits include "The Avengers" episode "Esprit de Corps" with Honor Blackman, Patrick Macnee, & John Thaw; "The Prisoner" episode "Dance of the Dead" with Fenella Fielding's voice; "Comedy Playhouse" with Bernard Cribbins & Yootha Joyce; "Play of the Week" with Harry H. Corbett; and "Dr. Finlay's Casebook".
A regular on "The White Heather Club", Macrae's annual performances were a mainstay of Hogmanays in the early 60s.
Duncan Macrae also features on the
Scottish Film Map
pop art print.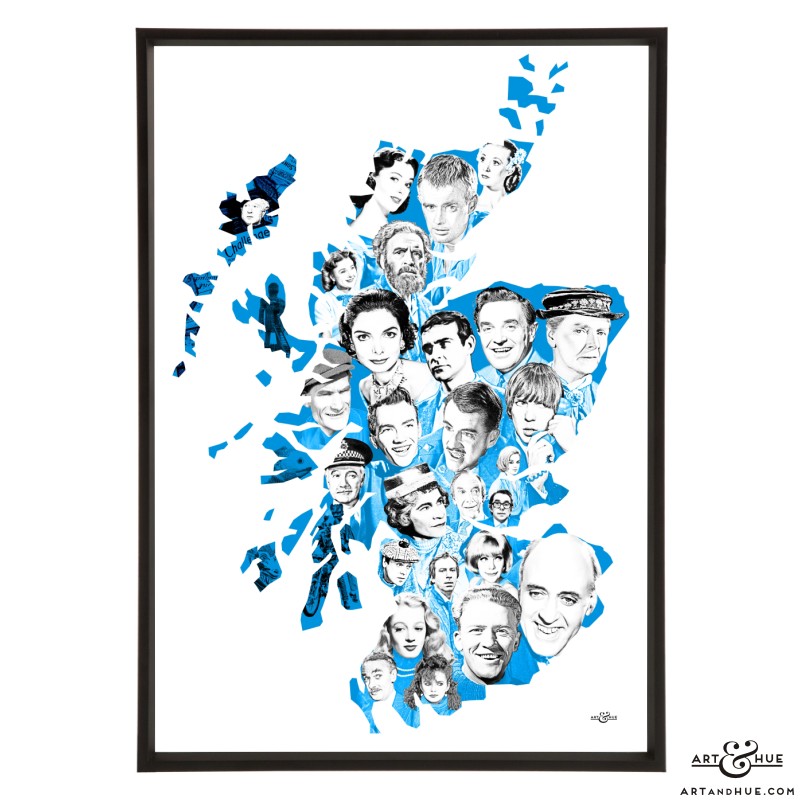 An official collaboration with Studiocanal, this print is part of the Scottish Cinema pop art collection, featuring Art & Hue's signature halftone style (halftone is an age-old technique that uses dots to make up the printed image, similar to newspapers or comic books).
Exclusively by Art & Hue, the Scottish Cinema pop art collection is available in three sizes and many colours, all printed on museum-quality archival matte card of 310gsm, made from 100% cotton, with fine-art pigment inks for longevity.
Available in A4, A3, and A2 sizes to fit standard-size picture frames. Please note that black frame is not included – for a guide on choosing a frame size take a look here.
Rewatch, or discover anew, the film on DVD from Amazon.
"Whisky Galore!" Copyright © STUDIOCANAL Films Ltd, (1949). All rights reserved.
Copyright © Art & Hue® 2021. All rights reserved.