Whisky Galore stylish pop art print, featuring Gordon Jackson & Morland Graham amongst whisky crates.
Whisky Galore!
"Whisky Galore!" was one of the most popular films of 1949 and, along with "Passport to Pimlico", "A Run For Your Money", and "Kind Hearts & Coronets" all released in the same year within the space of seven months, firmly established the Ealing Comedies as a British cinematic institution.
A classic comedy, very much rooted in its Scottish location but appealing to cinemagoers worldwide, "Whisky Galore!" tells the story, apparently based on true events, of a fictional Scottish island in the Outer Hebrides that has run dry of whisky but whose inhabitants are gifted a shipwreck carrying 50,000 cases of the spirit.
With opposition from the local law enforcers, the islanders plot to salvage and hide the drink. Like other Ealing comedies, "Whisky Galore!" presents the tale of the small underdog battling a larger enemy, in this case the state bureaucracy of the Home Guard & customs officials.
Also starring Joan Greenwood & Basil Radford, international cinemagoers were captivated by the whisky-dependent islanders in "Whisky Galore!" – the film was renamed "Tight Little Island" for American audiences and the French title inspired the name of the world's first ever discotheque, Whisky à Gogo in Paris.
The film opened in two London cinemas on June 16th 1949, the Haymarket Gaumont & the Marble Arch Pavilion.
Order "Whisky Galore!" on DVD or Bluray via Amazon or watch on iTunes now.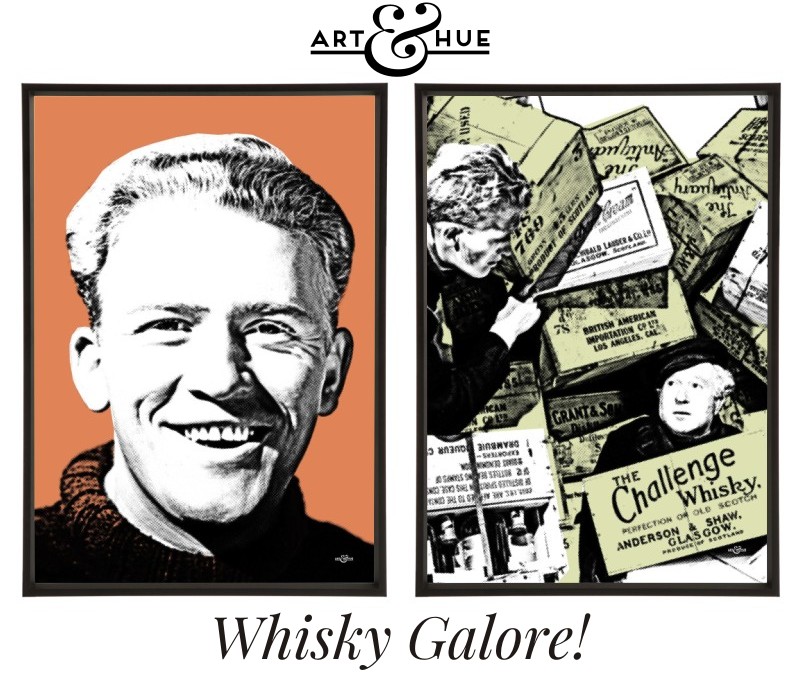 Morland Graham
"Whisky Galore!" was Morland Graham's final film role, a touching send-off to a career that started with The Scottish National Opera Company in 1924, stints at The Old Vic and Sadler's Wells, radio broadcasts as both an actor and playwright, before moving into film from 1934 onwards.
Some of Morland's film credits include "Night Train to Munich" with Basil Radford & Naunton Wayne as Charters & Caldicott, "Jamaica Inn" with Basil Radford, "Man of the Moment" with a young Charles Hawtrey, Inspector Hornleigh on Holiday" with Alastair Sim, "Medal for the General" with Irene Handl, "Gaiety George" with Roger Moore as an extra, "Esther Waters" with Dirk Bogarde, and "Bonnie Prince Charlie" with David Niven.
Whisky Galore Pop Art
Art & Hue had the pleasure to delve into the archives for the Ealing Comedy "Whisky Galore!" to create this stylish pop art print of Gordon Jackson & Morland Graham, available in three sizes and 20 colours.
Available in A4, A3, and A2 sizes to fit standard-size picture frames. Please note that black frame is not included – for a guide on choosing a frame size take a look here.
An official collaboration with Studiocanal, this print is part of the Ealing Comedies collection of stylish pop art prints inspired by the classic British comedy films made at Ealing Studios, featuring Art & Hue's signature halftone style (halftone is an age-old technique that uses dots to make up the printed image, similar to newspapers or comic books).
"Whisky Galore" Copyright © STUDIOCANAL Films Ltd. (1949). All rights reserved.
Copyright © Art & Hue® 2019. All rights reserved.