Jean Cadell Pop Art
Stylish pop art print of Jean Cadell.
Born in Edinburgh, Jean Cadell is perhaps most associated with one of the most Scottish films ever produced, and its follow-up.
The Ealing comedy "Whisky Galore!" was an international success that spread the tale of whisky-loving islanders to cinemagoers around the world. The French title inspired the name of the first ever nightclub "Whisky-a-gogo". Jean Cadell appeared in the film along with Basil Radford, Joan Greenwood, Gordon Jackson, Morland Graham, Duncan Macrae, & John Gregson. The follow-up, called "Rockets Galore!", including Ronnie Corbett & John Laurie, had its world premiere at the Odeon Marble Arch on the 19th of September 1958.
Other film credits include "I Know Where I'm Going"; "Pygmalion" (which featured Patrick Macnee as an uncredited extra); "Quiet Wedding" with Margaret Lockwood & Margaret Rutherford; "The Young Mr. Pitt" with Herbert Lom; "Dear Octopus"; "Jassy" with Dennis Price; "That Dangerous Age" with Peggy Cummins; "Marry Me" with Zena Marshall; "No Place for Jennifer" with Janette Scott; "I'm a Stranger" with Fulton Mackay; the Ealing comedy "Meet Mr. Lucifer" with Stanley Holloway, Barbara Murray, Joan Sims, Irene Handl, & Ian Carmichael; "Let's Be Happy" with Vera-Ellen, Tony Martin, Alfred Burke, & Molly Weir; "The Surgeon's Knife" with Donald Houston & Mervyn Johns; "Serious Charge" with Cliff Richard; and "A Taste of Money" with Dick Emery.
Acting must be in the Cadell genes as two of Jean's grandchildren, Simon & Selina, followed in her footsteps.
An official collaboration with Studiocanal, this print is part of the Scottish Cinema pop art collection, featuring Art & Hue's signature halftone style (halftone is an age-old technique that uses dots to make up the printed image, similar to newspapers or comic books).
Jean Cadell also features on the
Scottish Film Map
pop art print.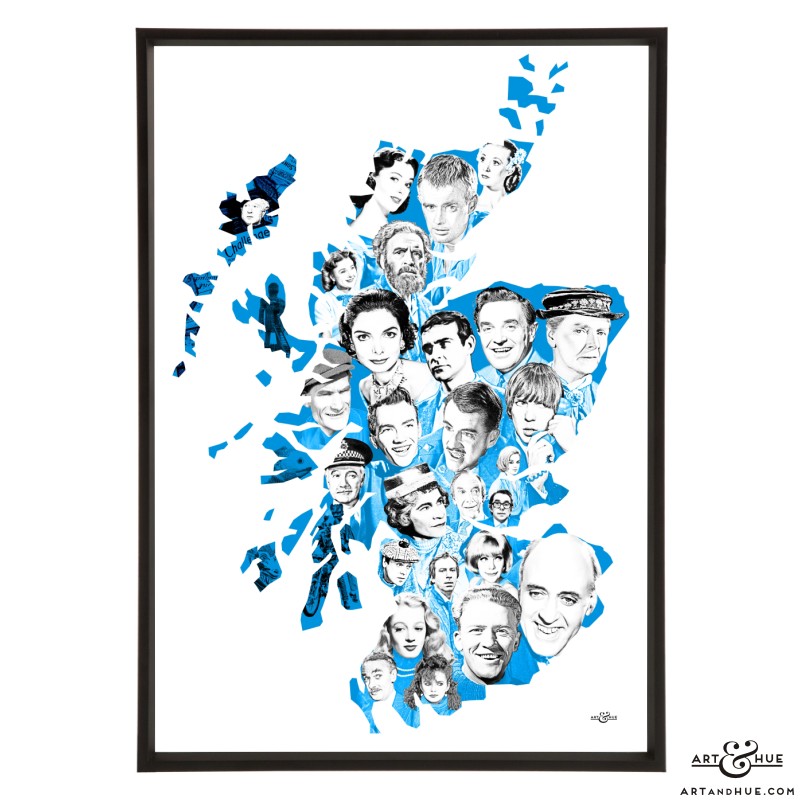 Exclusively by Art & Hue, the Scottish Cinema pop art collection is available in three sizes and many colours, all printed on museum-quality archival matte card of 310gsm, made from 100% cotton, with fine-art pigment inks for longevity.
Available in A4, A3, and A2 sizes to fit standard-size picture frames. Please note that black frame is not included – for a guide on choosing a frame size take a look here.
Rewatch, or discover anew, the film on DVD from Amazon.
"Whisky Galore!" Copyright © STUDIOCANAL Films Ltd, (1949). All rights reserved.
Copyright © Art & Hue® 2021. All rights reserved.