Dick Emery
Stylish pop art print of drag icon Dick Emery who starred in the 1972 comedy film "Ooh… You Are Awful" as many of his beloved characters including the peroxide blonde Mandy with the famous catchphrase "Ooh, you are awful – but I like you."
Dick Emery once stated "I was better in drag than combat gear" so, rather than join the army, Emery created Vera Thin, his drag homage to the Forces' Sweetheart.
His performance in ITV's "The Army Game", the show that partly inspired the very first Carry On film "Carry On Sergeant", led to a contract with the BBC to create his own show at Television Centre. The "The Dick Emery Show" went on to become one of the BBC's longest-running shows, from 1963 until 1981, during which time his characters and their catchphrases became common parlance.
The series saw him become a household name, crowned the BBC's television personality of the year in 1972, the same year the spin-off film "Ooh… You Are Awful" was released.
As well as his own television shows, Dick Emery has had a long film career, appearing in productions including "Follow a Star" with Norman Wisdom, Hattie Jacques, & Fenella Fielding, "Light Up The Sky" with Ian Carmichael, Tommy Steele, & Benny Hill, "Mrs. Gibbons' Boys" and "Baby Love" with Diana Dors, "Crooks Anonymous" with Julie Christie, Stanley Baxter, James Robertson Justice, and a very young Dennis Waterman, "The Fast Lady" with Frankie Howerd & Bernard Cribbins, "The Wrong Arm of the Law" with Peter Sellers and Michael Caine as an extra, "The Big Job", a Carry On film in all but name, with Sid James, Joan Sims, Jim Dale, & Edina Ronay, The Beatles' "Yellow Submarine", and Joe Orton's "Loot" with Richard Attenborough.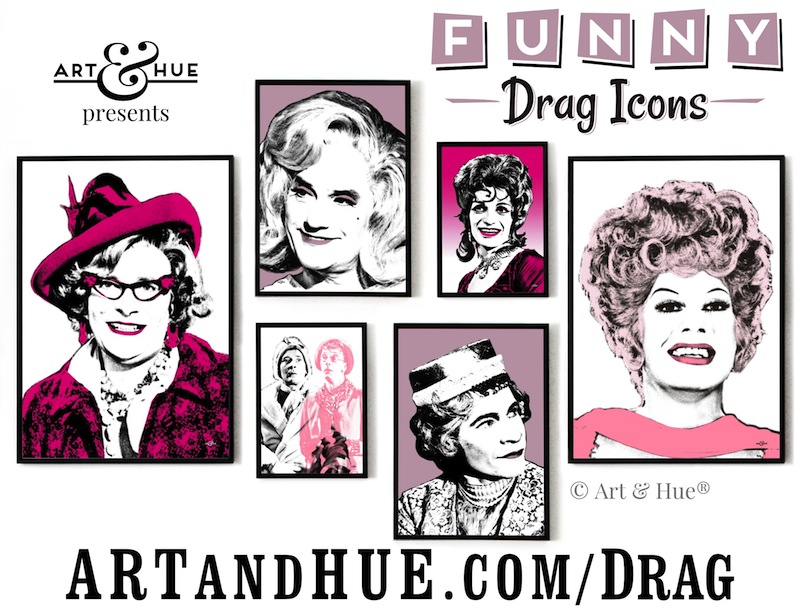 Also available as part of a
group of 6
prints.
An official collaboration with Studiocanal, this print is part of the Funny Drag Icons collection of stylish pop art prints inspired by classic British drag artistes from film & TV comedies, featuring Art & Hue's signature halftone style (halftone is an age-old technique that uses dots to make up the printed image, similar to newspapers or comic books).
As well as the Drag Icons collection, discover the Funny Men and Funny Women pop art.
Exclusively by Art & Hue, the Drag Icons pop art collection is available in three sizes and 20 colours, all printed on museum-quality archival card of 310gsm, made from 100% cotton, with fine-art pigment inks for longevity.
Available in A4, A3, and A2 sizes to fit standard-size picture frames. Please note that black frame is not included – for a guide on choosing a frame size take a look here.
"Ooh… You Are Awful" Copyright © STUDIOCANAL Films Ltd. (1972). All rights reserved.
Copyright © Art & Hue® 2020. All rights reserved.