Peggy Cummins pop art print
Stylish pop art of Peggy Cummins from the Ealing comedy film "The Love Lottery", part of the
Welsh Ffilm
&
Ealing Comedies
collections by Art & Hue.
Born in Prestatyn, North Wales, Peggy Cummins was raised in Dublin by her Irish parents, but if BAFTA are happy to refer to Peggy as a "Welsh actress", that's good enough for us to claim her as one of Wales' own.
With a career spanning the 40s to the 60s, Peggy's work traversed British and Hollywood studios, appearing in American film noir productions and Ealing comedies.
Spotted on the London stage by American producer Darryl F. Zanuck, one of Cummins' most revered performances was as the femme fatale in film noir "Gun Crazy".
One of Peggy's most popular films, still regularly shown on TV, is the crime drama "Hell Drivers" with an all-star cast including Herbert Lom, Stanley Baker, Patrick McGoohan, William Hartnell, Sid James, Gordon Jackson, David McCallum, and Sean Connery.
Peggy appeared in the Ealing comedies "Meet Mr. Lucifer" with Stanley Holloway & Barbara Murray, and "The Love Lottery" with David Niven.
Other comedy credits include "Carry On Admiral" with Eunice Gayson, not part of the Carry On series but it does feature Joan Sims, "Dentist in the Chair" with Bob Monkhouse & Kenneth Connor, and her final film "In the Doghouse' with Hattie Jacques & Fenella Fielding.
Art & Hue had the pleasure to attend Peggy's final public appearance at a star-studded event at Elstree Studios in 2017 to celebrate the studios' anniversary.
Art & Hue presents Welsh Ffilm, stylish pop art inspired by classic Welsh films & actors from Mid-century cinema.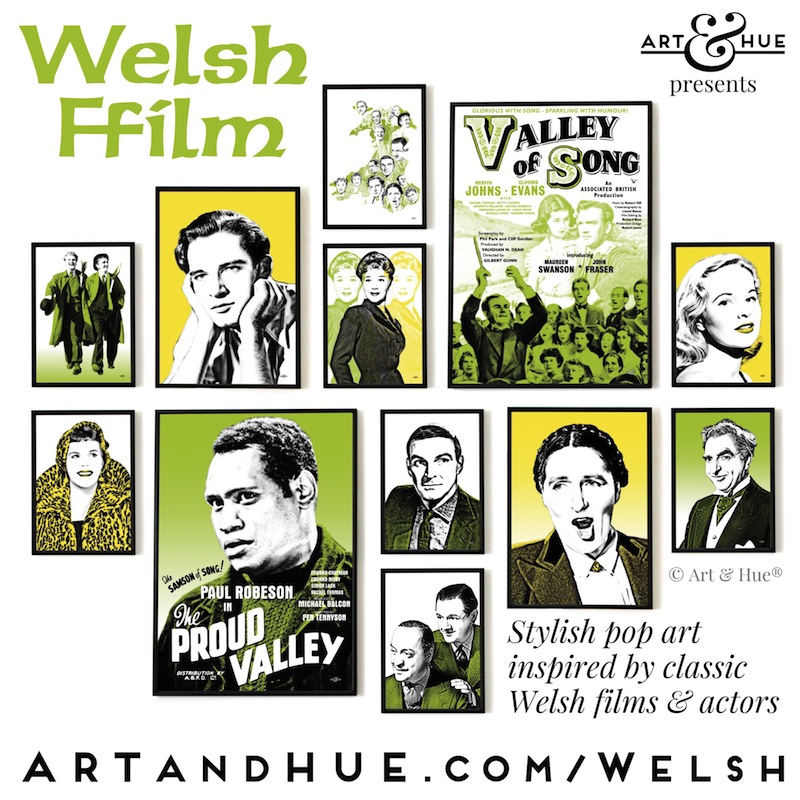 An official collaboration with Studiocanal, the Welsh Ffilm pop art collection is available in 3 sizes & 20 colours, printed on museum-quality archival card of 310gsm, made from 100% cotton, with fine-art pigment inks for longevity, exclusively by Art & Hue.
Available in A4, A3, and A2 sizes to fit standard-size picture frames. Please note that black frame is not included – for a guide on choosing a frame size, visit here.
Rewatch, or discover anew, the film on DVD & Bluray from Amazon:
"The Love Lottery" Copyright © STUDIOCANAL Films Ltd. (1954). All rights reserved.
Copyright © Art & Hue® 2021. All rights reserved.