Eunice Gayson Pop Art
Stylish pop art print of Eunice Gayson.
The first Bond girl, Eunice Gayson played Sylvia Trench in the first two Bond films, "Dr. No" & "From Russia With Love", and even prompted the spy to deliver his name in the now-iconic way by introducing herself at the casino table as "Trench, Sylvia Trench".
Eunice starred in the jet set film "Out of the Clouds" (with Anthony Steel, James Robertson Justice, Katie Johnson, & Sid James) which opened at the Leicester Square Theatre in London on the 10th of February 1955. Set during the golden age of air travel, the production filmed on location at "London Airport" which later expanded to became Heathrow.
Other film credits include "My Brother Jonathan" with Michael Denison & Dulcie Gray; "The Huggetts Abroad" with Jack Warner & Dinah Sheridan; "Dance Hall" with Diana Dors & Donald Houston; "Down Among the Z Men" with Peter Sellers; "Miss Robin Hood" with Margaret Rutherford, Ian Carmichael, Reg Varney, & Dora Bryan; "Street Corner" with Peggy Cummins, Terence Morgan, & Barbara Murray; "Dance, Little Lady" with Richard O'Sullivan; "The Last Man to Hang" with Elizabeth Sellars; "Zarak" with Eddie Byrne; "Carry On Admiral" with Joan Sims; "The Revenge of Frankenstein" with Peter Cushing; and, of course, the Bond films "Dr. No" with Sean Connery & Zena Marshall; and "From Russia With Love" with Lois Maxwell.
TV credits include "Turkey Time" with Mollie Sugden; "Sunday-Night Theatre" with Jean Cadell; "Stryker of the Yard" with Clifford Evans; "Danger Man" with Patrick McGoohan & Wanda Ventham; "The Saint" with Roger Moore; "The Avengers" with Diana Rigg & Patrick Macnee; "The Dick Emery Show"; "The Reluctant Romeo" with Amanda Barrie; and "The World of Beachcomber" with Michael Redgrave, Frank Thornton, & Patricia Hayes.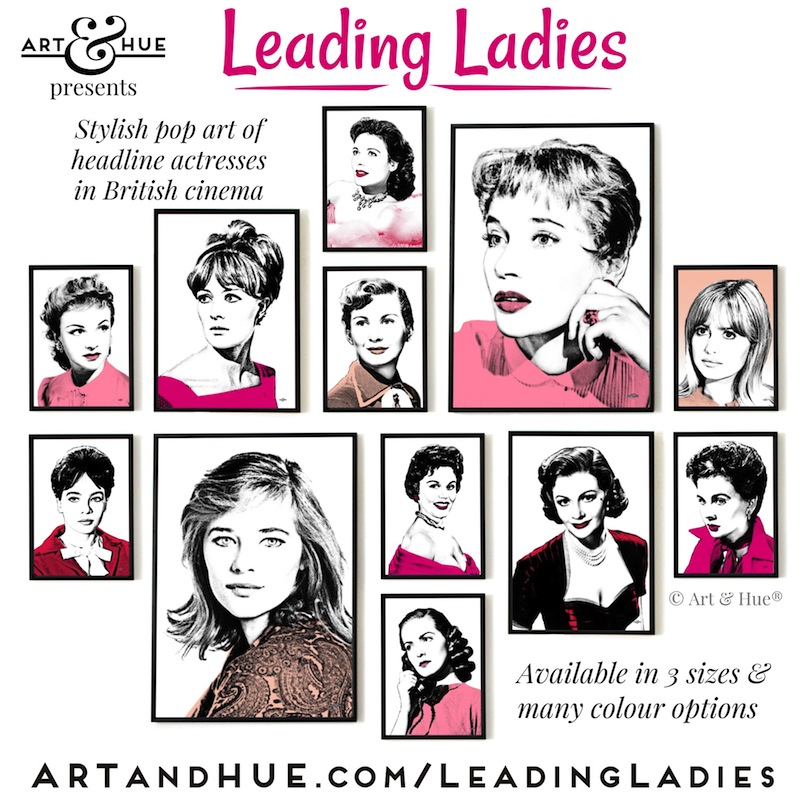 An official collaboration with Studiocanal, this print is part of the
Leading Ladies
pop art collection, featuring Art & Hue's signature halftone style (halftone is an age-old technique that uses dots to make up the printed image, similar to newspapers or comic books).
Exclusively by Art & Hue, the Leading Ladies pop art collection is available in three sizes and many colours, all printed on museum-quality archival matte card of 310gsm, made from 100% cotton, with fine-art pigment inks for longevity.
Available in A4, A3, and A2 sizes to fit standard-size picture frames. Please note that black frame is not included – for a guide on choosing a frame size take a look here.
Rewatch, or discover anew, the film on DVD from Amazon.
"Out of the Clouds" Copyright © STUDIOCANAL Films Ltd, (1955). All rights reserved.
Copyright © Art & Hue® 2022. All rights reserved.