Mollie Sugden stylish pop art print.
Mollie Sugden entered the hearts of the nation, and viewers internationally, as the shop assistant Mrs. Slocombe in "
Are You Being Served?
".
With her ever-changing hair colour and affection for her feline companion, much humour was wrung from Mrs. Slocombe's cat.
Aired on the 8th of September 1972, Mollie would continue to portray Mrs Slocombe from "Are You Being Served?" up until 1993.
"Are You Being Served?" ran for 10 series with 69 episodes in total, a film, and a spin-off show "Grace & Favour", which produced 12 episodes in 1992 & 1993.
Before becoming a household name as Mrs Slocombe, Mollie Sugden appeared in many television shows, including "Benny Hill", "Hugh and I" with John Inman, "Jackanory", "Z Cars", "Just Jimmy", "Steptoe & Son", "Oh Brother!", "The Goodies", "The Liver Birds", "Coronation Street", "Up Pompeii!" with Frankie Howerd, and "For The Love of Ada" with Irene Handl.
After the fame that "Are You Being Served?" brought, Mollie later appeared in "Cluedo" with Lewis Collins and David McCallum, "Little Britain", "My Husband and I", "Come back Mrs Noah", and "That's My Boy".
Written by David Croft and Jeremy Lloyd, Joanna Lumley's first husband, who made his screen debut in the classic British comedy "School For Scoundrels", "Are You Being Served?" was one of the most popular television shows of the 1970s which led to a film version of the same name.

With the staff of Grace Brothers jetting off to the Spanish resort of Costa Plonka for a holiday, the film, which opened in cinemas from the 31st of July 1977 onwards, features Andrew Sachs as the hotel owner, who was himself highly-recognisable as the Spanish waiter Manuel in "Fawlty Towers" by
John Cleese
.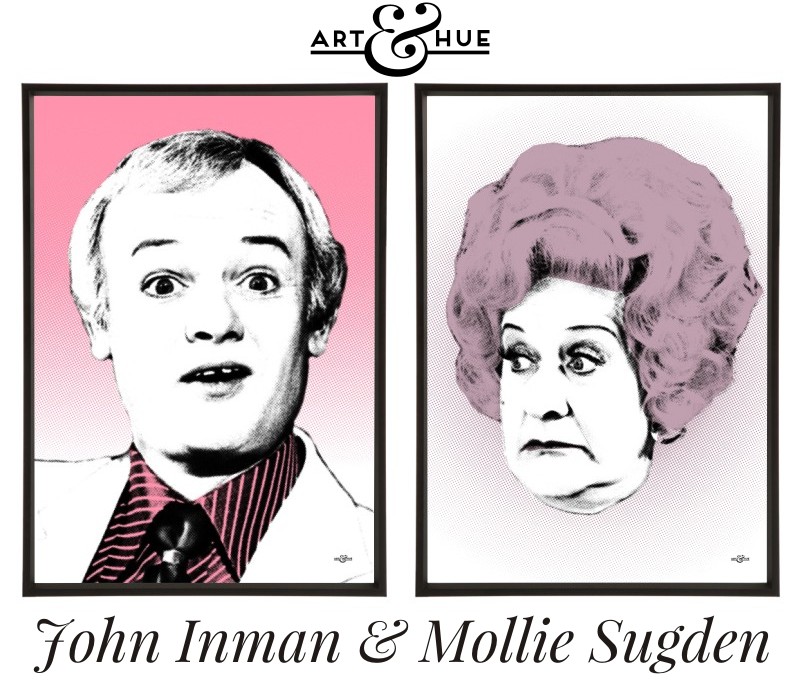 Art & Hue had the pleasure to delve into the archives for the film "Are You Being Served?" to create this stylish pop art print of Mollie Sugden, available in three sizes and 20 colours.
Mollie Sugden Pop Art
Available in A4, A3, and A2 sizes to fit standard-size picture frames. Please note that black frame is not included – for a guide on choosing a frame size take a look here.
An official collaboration with Studiocanal, this print is part of the Funny Women collection of stylish pop art prints inspired by classic British comediennes and comic actresses, featuring Art & Hue's signature halftone style (halftone is an age-old technique that uses dots to make up the printed image, similar to newspapers or comic books). As well as the Funny Women collection, discover the Funny Men pop art.
"Are You Being Served?" Copyright © STUDIOCANAL Films Ltd. (1977). All rights reserved.
Copyright © Art & Hue® 2019. All rights reserved.