Are You Being Served? poster pop art print
Stylish pop art print which reimagines the film poster of "Are You Being Served?" starring
Mollie Sugden
,
John Inman
, Wendy Richard, Frank Thornton, Trevor Bannister, Nicholas Smith, & Arthur Brough. Opening in cinemas from the 31st of July 1977 onwards, the film version of the TV sitcom sees the staff of Grace Bros. jetting off to Costa Plonka.
Written by the prolific screenwriting partnership of David Croft & Jeremy Lloyd who, as well as the film and TV series of "Are You Being Served?", wrote "'Allo 'Allo".
David Croft also co-wrote "Dad's Army", "It Ain't Half Hot Mum", and "Hi-de-Hi!", and Jeremy Lloyd was an actor who, as well as marrying Joanna Lumley, appeared in "School for Scoundrels", "Play it Cool" with Billy Fury & Helen Shapiro, "Crooks Anonymous" with Julie Christie, James Robertson Justice, & Stanley Baxter, "The Assassination Bureau" with Diana Rigg, and "Smashing Time", the satirical film about the Swinging Sixties with Valerie Leon's first film appearance, Irene Handl, and shots of John Stephen's boutiques on Carnaby Street.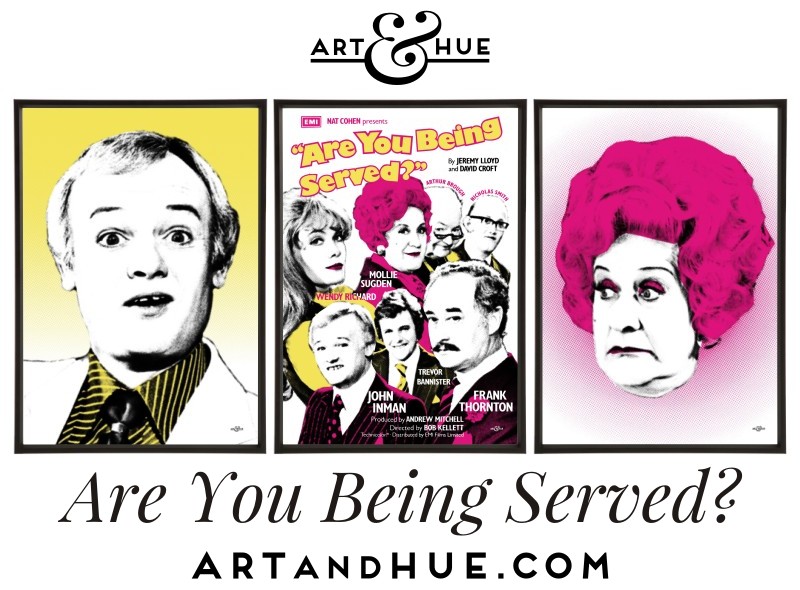 Also available as part of a
group of 6
and a
trio
.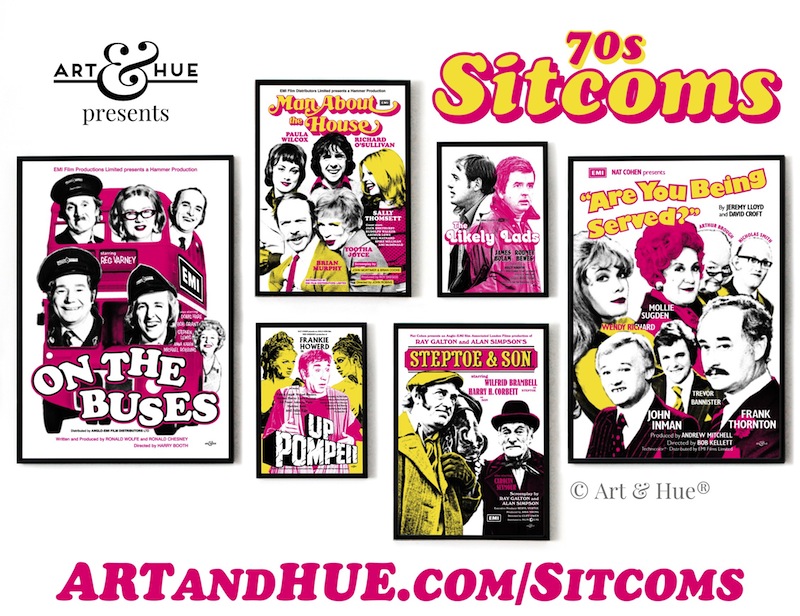 Available in A4, A3, and A2 sizes to fit standard-size picture frames. Please note that black frame is not included – for a guide on choosing a frame size take a look here.
An official collaboration with Studiocanal, this print is part of the 70s Sitcoms collection of stylish pop art prints inspired by film versions of 70s TV comedies, featuring Art & Hue's signature halftone style (halftone is an age-old technique that uses dots to make up the printed image, similar to newspapers or comic books).
Exclusively by Art & Hue, the 70s Sitcoms pop art collection is available in three sizes and 29 colour options, all printed on museum-quality archival card of 310gsm, made from 100% cotton, with fine-art pigment inks for longevity.
"Are You Being Served?" Copyright © STUDIOCANAL Films Ltd. (1977). All rights reserved.
Copyright © Art & Hue® 2020. All rights reserved.