70s Sitcoms Group of pop art prints
All six pop art prints from the 70s sitcoms pop art collection by Art & Hue.
An official collaboration with Studiocanal, these prints are part of the 70s Sitcoms collection of stylish pop art prints inspired by film versions of 70s TV comedies, and the Funny Men & Women pop art collection, featuring Art & Hue's signature halftone style (halftone is an age-old technique that uses dots to make up the printed image, similar to newspapers or comic books).
Available in A4, A3, and A2 sizes to fit standard-size picture frames. Please note that black frames are not included – for a guide on choosing a frame size take a look here.
Exclusively by Art & Hue, the 70s Sitcoms pop art collection is available in three sizes and 29 colour options, all printed on museum-quality archival card of 310gsm, made from 100% cotton, with fine-art pigment inks for longevity.
Also available
individually
.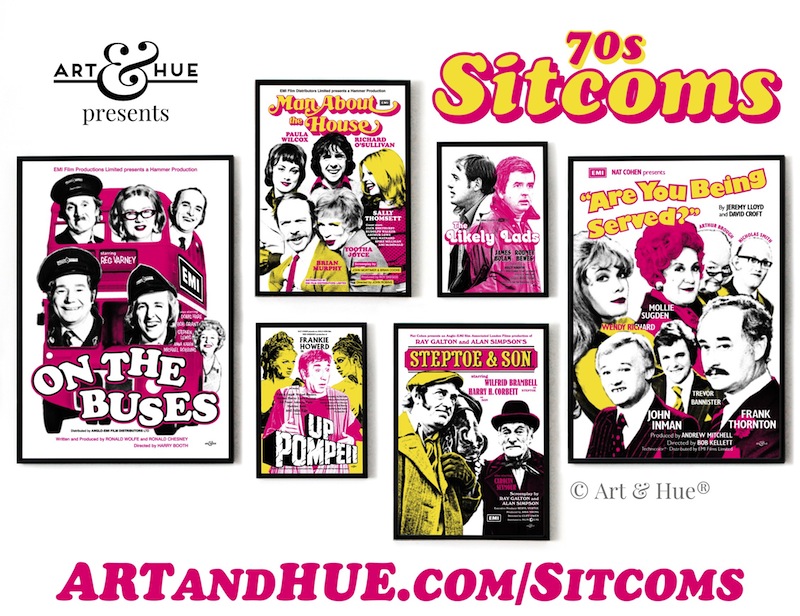 "Are You Being Served?" (1977), "The Likely Lads" (1976), "Man About The House" (1974), "On The Buses" (1971), "Steptoe & Son" (1971), "Up Pompeii" (1971), Copyright © STUDIOCANAL Films Ltd, All rights reserved. | Copyright © Art & Hue® 2020. All rights reserved.