John Inman stylish pop art print.
Before "
Are You Being Served?
" became a hit television show, Inman first shared screen credits with
Mollie Sugden
in the 1966 sitcom "Hugh & I".
Bit-parts in television shows and films were to follow, including "Tit-Pu" with Hattie Jacques, "Iolanthe" with Joan Sims, "Two in Clover" with Sid James, before "Comedy Playhouse" in 1972 which included the pilot episode of the sitcom that would make Inman famous.
Aired on the 8th of September 1972, Inman would continue to portray the flamboyant Mr Humphries from "Are You Being Served?" up until 1993.
The success of the show led to two further sitcoms with John Inman as the lead including "Odd Man Out" and "Take a Letter Mr. Jones".
Popular all over the world, Inman headed down-under to star as Mr. Humphries in the show "Are You Being Served in Australia?" which sees him heads up the menswear department in Aussie store Bone Brothers.
Written by David Croft and Jeremy Lloyd, Joanna Lumley's first husband, who made his screen debut in the classic British comedy "School For Scoundrels", "Are You Being Served?" was one of the most popular television shows of the 1970s which led to a film version of the same name.
With the staff of Grace Brothers jetting off to the Spanish resort of Costa Plonka for a holiday, the film, which opened in cinemas from the 31st of July 1977 onwards, features Andrew Sachs as the hotel owner, who was himself highly-recognisable as the Spanish waiter Manuel in "Fawlty Towers" by John Cleese.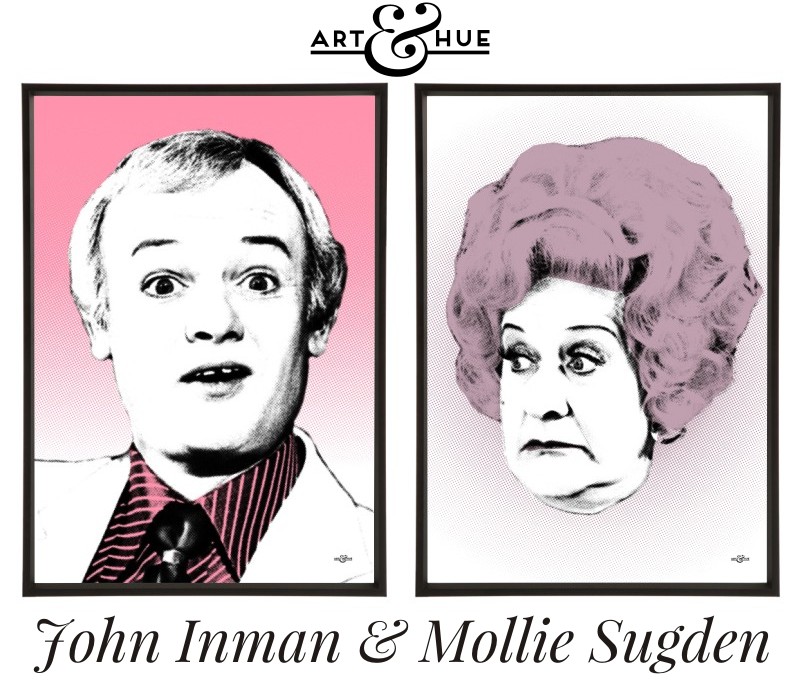 The success of the show and Mr. Humphries, with his unique catchphrase of "I'm free!" came to define John Inman's career. "Are You Being Served?" ran for 10 series with 69 episodes in total, a film, and a spin-off show "Grace & Favour", which produced 12 episodes in 1992 & 1993.
John Inman's character's antics and witticisms were all popular with audiences and, whilst Mr. Humphries' sexuality was never explicity mentioned, he became an icon in an era when representation on television was sparse.
Art & Hue had the pleasure to delve into the archives for the film "Are You Being Served?" to create this stylish pop art print of John Inman, available in three sizes and 20 colours.
John Inman Pop Art
Available in A4, A3, and A2 sizes to fit standard-size picture frames. Please note that black frame is not included – for a guide on choosing a frame size take a look here.
An official collaboration with Studiocanal, this print is part of the Funny Men collection of stylish pop art prints inspired by classic British comedians and comic actors, featuring Art & Hue's signature halftone style (halftone is an age-old technique that uses dots to make up the printed image, similar to newspapers or comic books).
"Are You Being Served?" Copyright © STUDIOCANAL Films Ltd. (1977). All rights reserved.
Copyright © Art & Hue® 2019. All rights reserved.