Anthony Steel Pop Art
Stylish pop art print of Anthony Steel.
The dashingly handsome Anthony Steel was the go-to hunk of choice in the 1950s, frequently voted one of the most popular British stars from 1952 to 1956.
Steel worked his way up in film, with uncredited appearances and small roles in the late 1940s and early 50s, including "Saraband for Dead Lovers" with Joan Greenwood, his first film, "Once Upon a Dream" with Googie Withers, "Don't Ever Leave Me" with Barbara Murray, "Helter Skelter" with Mervyn Johns & Terry-Thomas, "The Blue Lamp" with Jack Warner & Dirk Bogarde, "The Mudlark" with Alec Guinness, "Laughter in Paradise" with Alastair Sim, Hugh Griffith, Joyce Grenfell, John Laurie, & Audrey Hepburn, "Another Man's Poison" with Bette Davis, "Albert R.N.", "The Planter's Wife" with Jack Hawkins, and "Emergency Call" with Earl Cameron & Sid James.
By 1951, Steel headlined as the leading man in films "Where No Vultures Fly" (released as "Ivory Hunter" in the U.S.) with Dinah Sheridan & Meredith Edwards, "Something Money Can't Buy", "West of Zanzibar", "Passage Home" with Diane Cilento, Gordon Jackson, & Patrick McGoohan, "Storm Over the Nile" with Laurence Harvey, Ian Carmichael, & Mary Ure, "Checkpoint" with Stanley Baker, "A Question of Adultery" with Donald Houston, "The Switch" with Zena Marshall, & appeared in the ensemble war film "The Sea Shall Not Have Them" with Michael Redgrave, Dirk Bogarde, Joan Sims, & Eddie Byrne.
One of his most memorable films is "Out of the Clouds" (with Eunice Gayson, Katie Johnson & James Robertson Justice), the charming story filmed on location at "London Airport", now Heathrow. Opening at the Leicester Square Theatre on the 10th of Feb 1955, it's wonderful to see the golden age of the jet set and Mid-century travel.
From 1956 to 1959, Steel was married to the iconic actress Anita Ekberg, known by many for the fountain scene in the Federico Fellini film "La Dolce Vita".
As leading men roles in British cinema waned, Steel turned to German and Italian films including "La Fate" (known as "Sex Quartet" in the UK) with Monica Vitti, Claudia Cardinale, & Capucine, "Massacre in Rome" with Richard Burton, and 1977's "Twilight of Love", the final film in which Steel received top billing.
Steel appeared in a series of racier films, although always fully-dressed, including "Story of O" and
Jackie Collins
' "The World Is Full of Married Men".
Later credits include the horror anthology "The Monster Club" with Vincent Price & Britt Ekland, and TV shows including "The Protectors" with Robert Vaughn, "Crossroads", "Tales of the Unexpected", "The Professionals", "Bergerac", "Robin of Sherwood", and his final role in "The Broker's Man".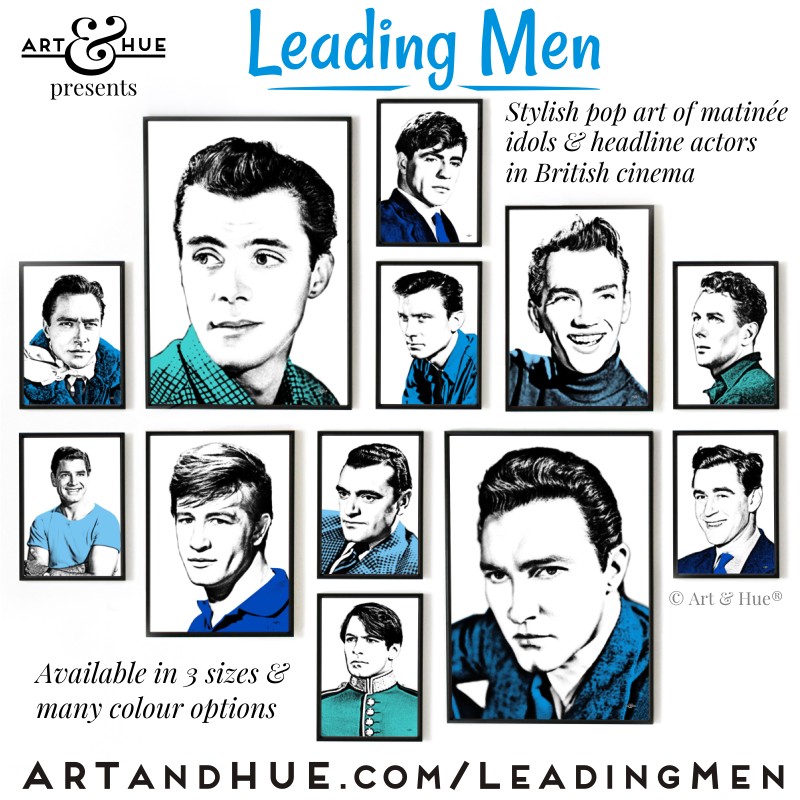 An official collaboration with Studiocanal, this print is part of the Leading Men pop art collection, featuring Art & Hue's signature halftone style (halftone is an age-old technique that uses dots to make up the printed image, similar to newspapers or comic books).
Exclusively by Art & Hue, the Leading Men pop art collection is available in three sizes and many colours, all printed on museum-quality archival matte card of 310gsm, made from 100% cotton, with fine-art pigment inks for longevity.
Available in A4, A3, and A2 sizes to fit standard-size picture frames. Please note that black frame is not included – for a guide on choosing a frame size take a look here.
Rewatch, or discover anew, the film on DVD from Amazon.
"Out of the Clouds" Copyright © STUDIOCANAL Films Ltd, (1955). All rights reserved.

Copyright © Art & Hue® 2021. All rights reserved.