The Terrornauts pop art print
Stylish pop art re-imagining the film poster for the 1967 British science-fiction film "The Terrornauts", part of the
Sci-fi
collection by Art & Hue.
You couldn't find a more homegrown British science-fiction film, where an accountant and a tea lady battle alien invaders. Although, "battle" perhaps overestimates the action in this low-budget cult curio.
Simply described, Charles Hawtrey & Mrs Overall play The Adventure Game in the 1967 British scf-fi "The Terrornauts".
British scientists are monitoring the air waves for signs of extra-terrestial intelligence and, upon discovering an alien signal on their equipment, the whole facility is transported to a meteor with a space station.
What starts as a "first contact" sci-fi film about meeting a race from another planet soon turns into a series of puzzles, like a basic 8-bit video game, with the team progressing to the next level upon successful completion of each task.
In place of an actual alien, the facility is manned by a robot acting as the gamesmaster, who leads the baffled cast from one puzzle to another, until they make it to the chamber of knowledge filled with black boxes.
Playing an accountant caught up in the science-fiction shenanigans, Charles Hawtrey twitches his way through the film in much the same way he does in the Carry On films, whilst Patricia Hayes lays on the cor-blimey tea lady as thick as the presumably over-buttered sandwiches that grace her trolley.
It's as if Pintpot and Mrs Overall are transported to the planet Arg to play The Adventure Game.
Released as part of a double feature with "They Came from Beyond Space", "The Terrornauts" is based on the novel "The Wailing Asteroid" by prolific science-fiction writer Murray Leinster.
This 1967 Amicus production was the last film to be directed by Montgomery Tully, the director closely-associated with the Edgar Wallace and Scotland Yard series of crime stories.
The film stars Simon Oates who appeared in many cult TV shows including "Doomwatch", "Man in a Suitcase", "Jason King", "Department S", "The New Avengers" with Joanna Lumley, "The Professionals", and "The Avengers".
Oates would go on to play John Steed in the 1971 stage show of The Avengers with Kate O'Mara, which opened in Birmingham before transferring to London's Prince of Wales Theatre. The Avengers stage adaptation was written by Brian Clemens & Terence Feeley, and directed by Leslie Phillips.
The Terrornauts was Zena Marshall's final film after a career that started with an uncredited appearance in the 1945 film "Caesar and Cleopatra" with Cecil Parker, Stanley Holloway, and Roger Moore as an extra. Her credits include the first Bond film "Dr. No" with Sean Connery & Eunice Gayson, "Those Magnificent Men in their Flying Machines" with Terry-Thomas, Benny Hill, Tony Hancock, and Gordon Jackson, "Snowbound" with Herbert Lom, "Helter Skelter" with Basil Radford & Naunton Wayne, "Let's Be Happy" with Vera-Ellen & Tony Martin, "Three Cases of Murder" with Orson Welles, "Sleeping Car to Trieste" with Bonar Colleano, and "Danger Man" with Patrick McGoohan.
Perhaps most well known for her BAFTA-winning performance in "Edna, the Inebriate Woman", Patricia Hayes also appeared in "The Bargee" with Ronnie Barker & Harry H. Corbett, the Charles Crichton film "A Fish Called Wanda" with John Cleese, "The Benny Hill Show", "Hancock", and many more.
The experimental soundtrack was by Elisabeth Lutyens, the first female British composer to score any film, starting with the Diana Dors film "Penny and the Pownall Case" in 1948, and going on to score Hammer horror and Amicus films. Alongside her own serial compositions for performance in classical music venues, Lutyens became known as the "Horror Queen" for her film soundtracks.
Art & Hue has reimagined the film posters of British vintage films to create the new Sci-fi collection of science-fiction pop art prints.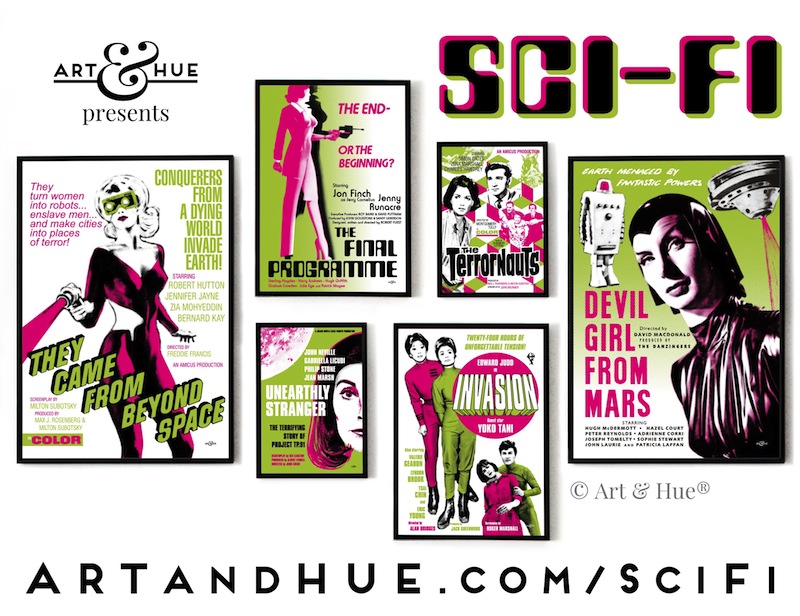 An official collaboration with Studiocanal, the Sci-fi pop art collection is available in 3 sizes & 15 colours, printed on museum-quality archival card of 310gsm, made from 100% cotton, with fine-art pigment inks for longevity, exclusively by Art & Hue.
Available in A4, A3, and A2 sizes to fit standard-size picture frames. Please note that black frame is not included – for a guide on choosing a frame size, visit here.
Rewatch, or discover anew, the film on DVD & Bluray from Amazon:
"The Terrornauts" Copyright © STUDIOCANAL Films Ltd. (1967). All rights reserved.
Copyright © Art & Hue® 2020. All rights reserved.