John Cleese stylish pop art print.
Starting as a writer and performer in the famous comedy breeding ground of Footlights at Cambridge University, and following a successful Edinburgh Festival show, Cleese started writing for BBC radio & television shows including the satirical "That Was The Week That Was".
Writing for "The Frost Report" was to follow, as well as performing in the famous Class Sketch with Ronnie Barker & Ronnie Corbett, after which Cleese went on to band together with what was to become one of the most successful and influential comedy teams of all time.
Their irreverent, surreal, and groundbreaking sketch show "Monty Python's Flying Circus" lampooned the establishment and gained an ardent global fanbase for their unique comedy.
The team went on to create four envelope-pushing films and would continue to perform live together for years to come at such events as "The Secret Policeman's Ball", founded by Cleese, and "Monty Python Live (Mostly)".
One of British comedy's most cherished characters is Basil Fawlty. Cleese's tense and tetchy Torquay hotel owner in "Fawlty Towers" is widely regarded as one of the greatest comedy creations of all time. Basil's attempts to ingratiate himself with those he regards as worthwhile, whilst being rude to others, takes place across 12 perfect episodes.
Placing authority figures in chaotic situations continued with "Clockwise", the 1986 film which sees Cleese's uptight headmaster being tested as events progressively get worse.
"Clockwise" opened in seven cinemas in Central London on the 14th of March 1986 before going on general release nationwide from the 21st. The film was a success in Britain and apparently inspired Cleese to create "A Fish Called Wanda" in 1988 to reach a wider American audience.
"A Fish Called Wanda" was directed by Ealing Comedies titan Charles Crichton who had previously directed "Hue & Cry", "Dead of Night", "The Lavender Hill Mob", "The Titfield Thunderbolt", and "The Love Lottery".
The cast of John Cleese, Jamie Lee Curtis, Kevin Kline and Michael Palin reunited in 1997 for "Fierce Creatures" which also starred Ronnie Corbett.

Cleese's many film credits include "The Bliss of Mrs. Blossom" with Richard Attenborough, "The Rise & Rise of Michael Rimmer" with Valerie Leon, Ronnie Corbett, & Dennis Price, "The Magic Christian' with Peter Sellers, Richard Attenborough, Dennis Price, Christopher Lee, & Hattie Jacques, "The Statue" with David Niven & Robert Vaughn, "The Great Muppet Caper" with Diana Rigg & Peter Ustinov, "Time Bandits" with Sean Connery, "Yellowbeard" with Beryl Reid, and "Bullseye!" with Michael Caine & Roger Moore.
Cleese appeared in two Bond films with Pierce Brosnan, "The World is Not Enough" and "Die Another Day", where he succeeded Desmond Llewellyn's Q.
Cleese also appeared in a Tara King episode of The Avengers called "Look – (Stop Me If You've Heard This One) But There Were These Two Fellers.." which also featured Bernard Cribbins.
With surprising appearances in numerous productions, such as Doctor Who, Cheers, Entourage, Last of the Summer Wine, Will & Grace, and Charlie's Angels, to name a very few, a John Cleese cameo adds an unexpected joy to a film or TV show.
Art & Hue had the pleasure to delve into the archives for the film "Clockwise" to create this stylish pop art print of john Cleese, available in three sizes and 20 colours.
Also available as part of a pair: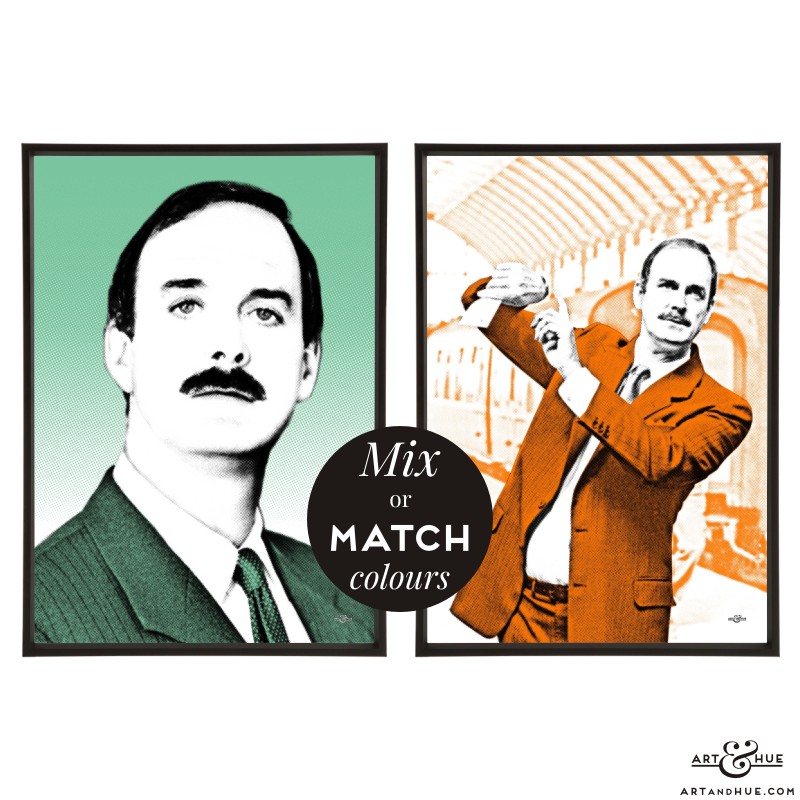 Discover Clockwise, or relive the comic misadventures, on DVD.
John Cleese Pop Art
Available in A4, A3, and A2 sizes to fit standard-size picture frames. Please note that black frame is not included – for a guide on choosing a frame size take a look here.
An official collaboration with Studiocanal, this print is part of the Funny Men collection of stylish pop art prints inspired by classic British comedians and comic actors, featuring Art & Hue's signature halftone style (halftone is an age-old technique that uses dots to make up the printed image, similar to newspapers or comic books).
"Clockwise" Copyright © STUDIOCANAL Films Ltd. (1986). All rights reserved.
Copyright © Art & Hue® 2019-2023. All rights reserved.