Pierce Brosnan pop art illustration by Art & Hue
One of Ireland's most famous actors, Pierce Brosnan's long and successful career has spanned television and film across six decades.
Brosnan starred in "Remington Steele" as the eponymous detective for 94 episodes over five years. The globally-popular show made Pierce a household name, similar to the fame Moore found internationally with The Saint.
Before becoming Remington Steele & Bond, Irish actor Pierce Brosnan appeared in productions including "Hammer House of Horror"; "The Mirror Crack'd" with Elizabeth Taylor, Anthony Steel, & Dinah Sheridan; "The Professionals" episode "Blood Sports" with Ruby Wax; "Nancy Astor" with Sylvia Syms; "Noble House" with Nancy Kwan, Gordon Jackson, & Ric Young; to name a few.
As well as the four Bond films, Brosnan has starred in "The Fourth Protocol" with Michael Caine; "Mister Johnson" with Edward Woodward; cult sci-fi "The Lawnmower Man"; "Mrs Doubtfire"; "Mars Attacks!" with Tom Jones & Pam Grier; "Dante's Peak"; "The Thomas Crown Affair"; "The Tailor of Panama"; "Evelyn" with Alan Bates; "Mamma Mia!" with Julie Walters; "The Ghost Writer"; "The Love Punch" with Celia Imrie; "The November Man"; "Final Score"; and many more.
When the time came to bring Bond back to the screen, Pierce Brosnan stepped into the spy's shoes for "Goldeneye".
Brosnan returned for "Tomorrow Never Dies", "The World is Not Enough" (the first appearance of John Cleese in the Q department), and bowed out with "Die Another Day" which marked 40 years of Bond.
The Brosnan era introduced Judi Dench as Bond's boss M, a nod to Stella Rimington perhaps, the real-life female head of MI5 at the time. M's importance increased and featured prominently in "Skyfall" with
Daniel Craig
.
Also available as part of group of 6: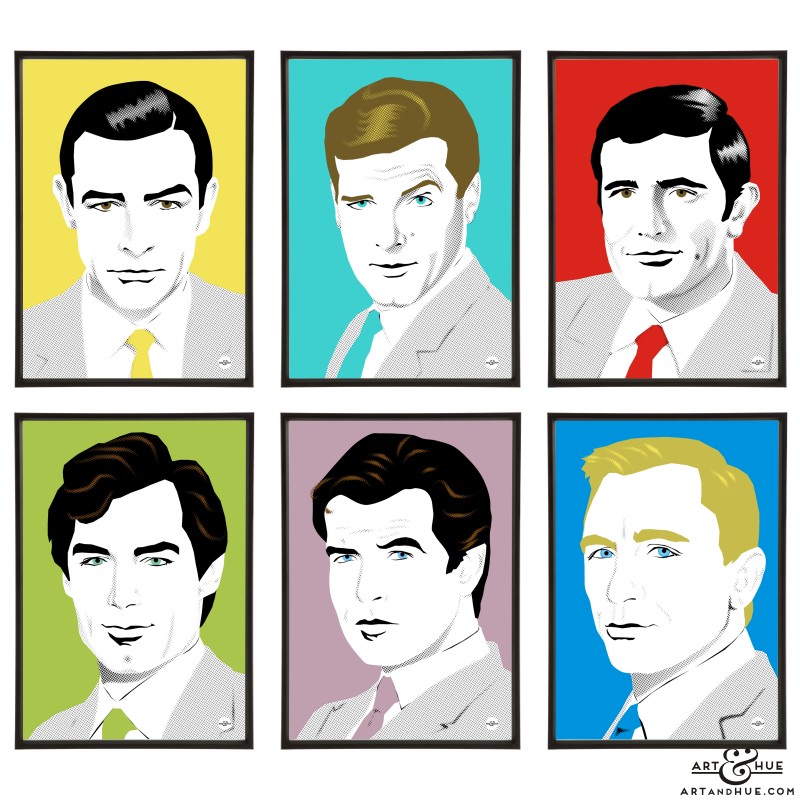 Available in A4, A3, and A2 sizes to fit standard-size picture frames. Please note that black frame is not included – for a guide on choosing a frame size take a look here.
This illustrated print, exclusively by Art & Hue, features Art & Hue's signature halftone style (halftone is an age-old technique that uses dots to make up the printed image, similar to newspapers or comic books) along with graphic blocks of colour.

Copyright © Art & Hue ® 2022. All rights reserved.